Zion National Park is one of Utah's largest parks, covering over 2 million acres. There are plenty of trails to hike, from short walks to long treks.
The park offers some of the best views of the Colorado River canyon and has several waterfalls, lakes, and other natural wonders.
Zion National Park is located near Springdale in the state of Utah and is home to the famous Zion Canyon.
What to Expect from Zion National Park
This stunningly beautiful landscape features red rock cliffs, towering sandstone monoliths, and deep green forests.
Hiking is a great way to get away from it all and enjoy nature.
Hiking in the park is free, but you'll need to pay for camping or lodging at nearby hotels, luckily these are the best day hikes in Zion National Park, so fear not, you should be back in your warm bed by the evening.
Weeping Rock – Easy to Moderate
This is a pretty small trail that only takes around half an hour and only takes up 0.6 km/0.4 miles. In essence, this is a steep walk up to the Weeping Rock itself.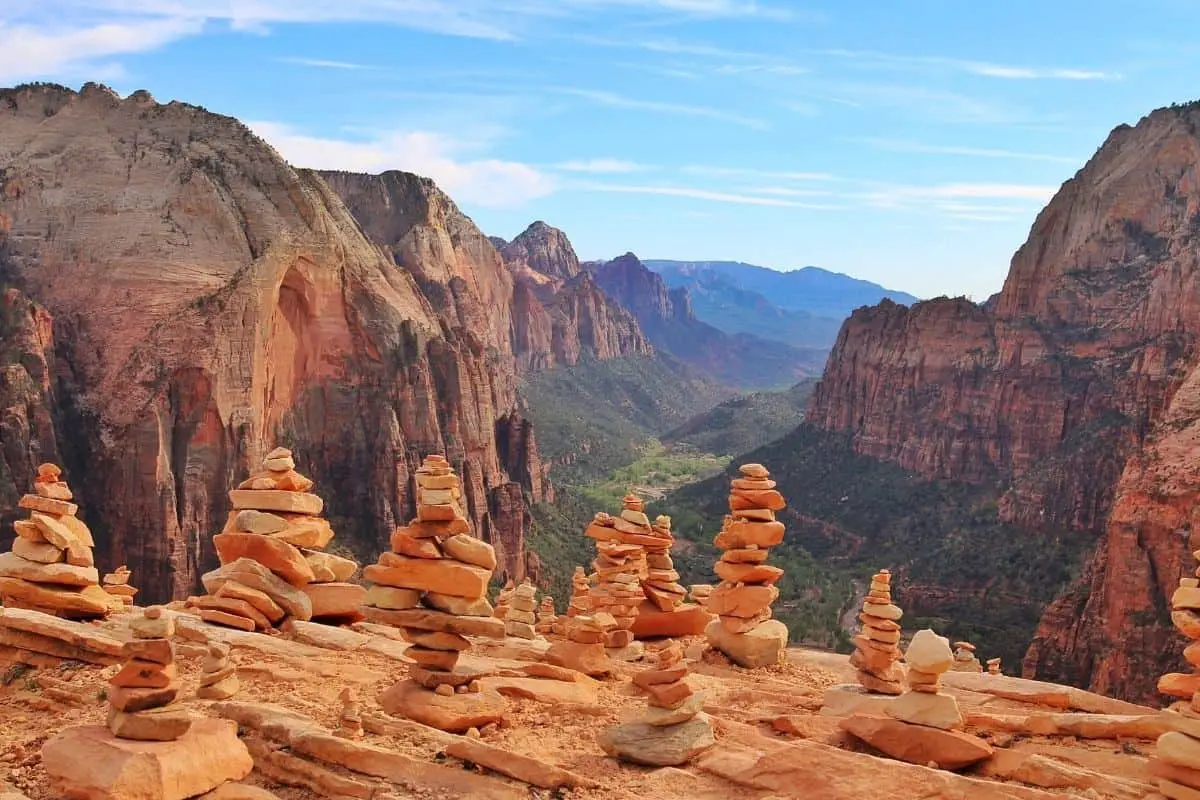 As this is one of the smaller trails within the park it can often be crowded on a sunny day.
The main attraction is Weeping Rock. A large overhang that seems like it is weeping as there is a small stream of water that runs through it.
This hike could easily be done in one day, while a strenuous uphill gradient is very short. A great way to test your cardio on a less busy day.
Occasionally, the Weeping Rock isn't accessible due to rockfall, this is pretty quickly cleared out as it is a regular occurrence each season.
Emerald Pool Trail – Moderate
This is another really popular trail with Zion National Park so be sure to prepare if you think it will be the kind of weather to attract lots of people.
The great thing about this trail is that it can start off relatively easy but gets a little harder as it goes on. A great way to test your friends hiking skills.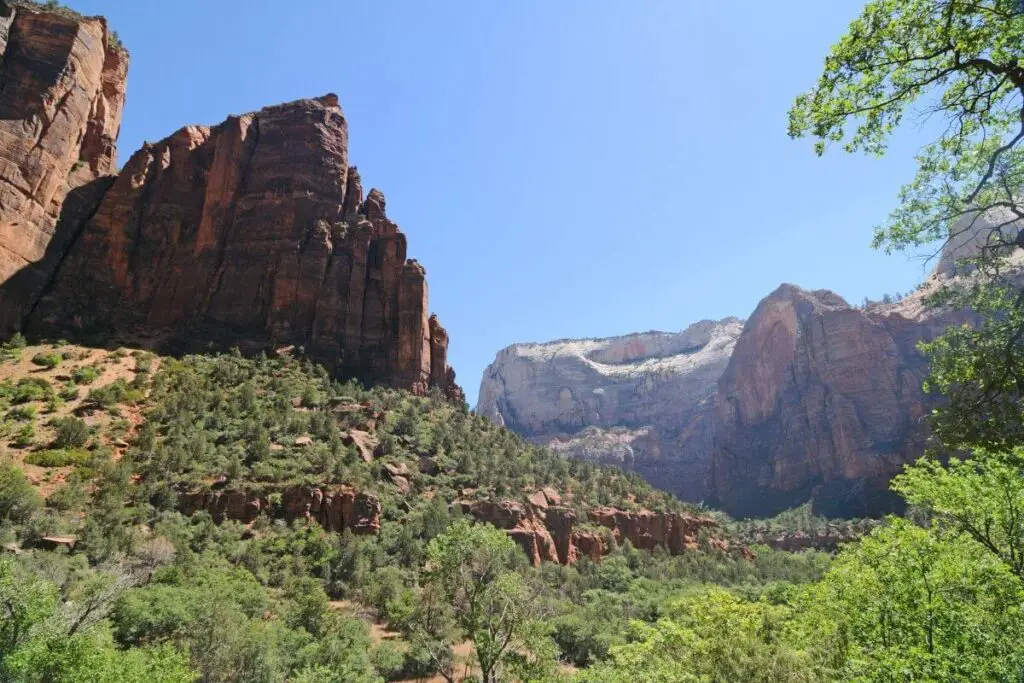 The trail is around 1.5 – 3 miles depending on how far you go. Similarly it will take around 2 to 4 hours too. We recommend starting in the early morning, if taking the trail in summer.
The trail will be much cooler in the morning. Taking this trail in the afternoon sun could be a big mistake.
There are two pools that are worth stopping at on your hike.
From Zion Lodge, where the trail starts, it's a pretty easy stroll to the Lower Emerald Pools which are a little more impressive in the rainy season.
But they are still a great place to start your trail. As after these pools it's all the way up to the Upper Emerald Pools.
The Upper Emerald Pools are much cooler than the lower ones, being surrounded by tall redstone cliffs that surround the glistening pools.
You may think this is an oasis, but don't worry this is the top! Overall, a great hike to challenge those more moderate hikers that will still have you home for supper.
Canyon Overlook Trail – Easy
This trail is a little easier than the last but perhaps has more rewarding sights to draw you closer to the peak.
Take Highway 9 to find this trail, it's around 1 mile and you should complete it in around 1 hour. This is a great way to start your day for sure.
To be honest, this trail is a gem among all the national parks of the US. Considering how short it is, the views are truly stellar.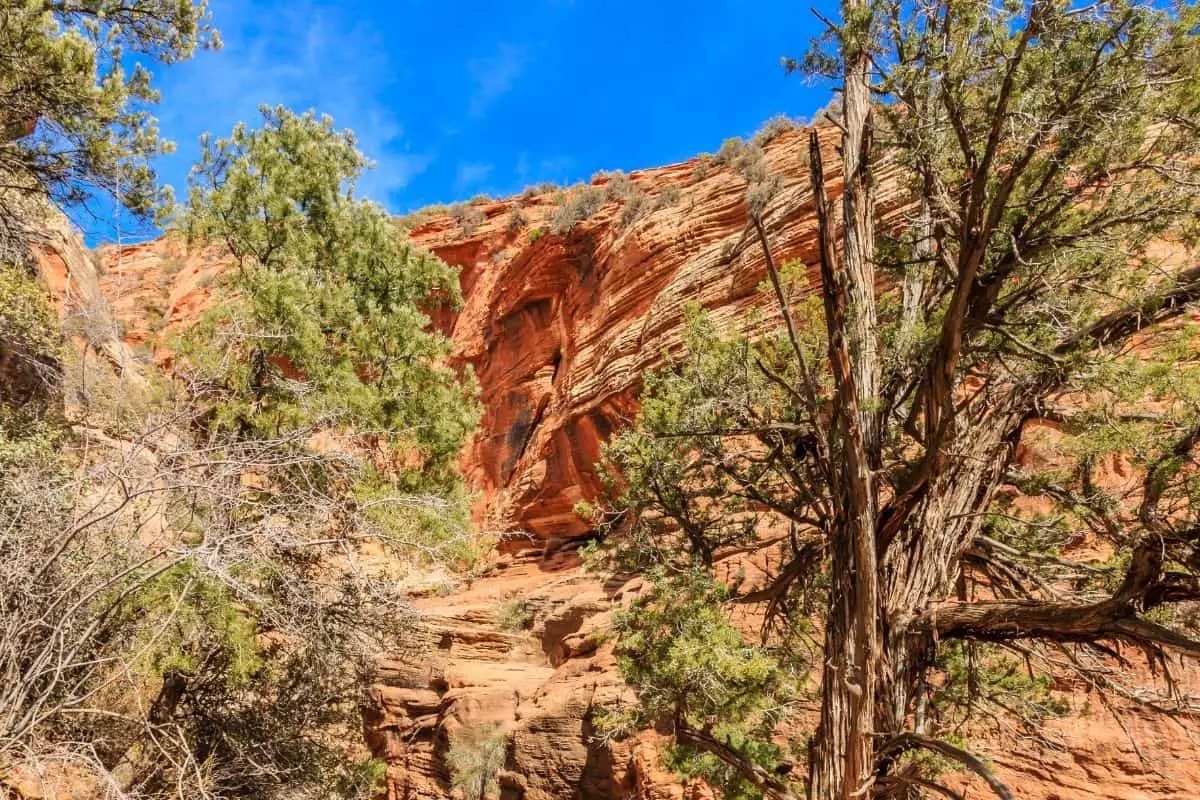 The hike isn't even that hard but is actually quite fun as it goes up the mountain and reveals new sights to gaze in awe at. If you want to see all the peaks and troughs of the valley, these views are worth the wait.
We can't recommend this one enough as a day trail, and could even be one of the better day trails in America. For something so short this is quite rewarding, great for someone less mobile and for kids too.
Moreover, at only 1 mile you could do this at any time of the day no matter how sunny.
Riverside Walk – Easy
For something a little easier that you can meander on while also getting some more green sights of the summertime foliage, then the Riverside Walk could be just right for you.
You will find this walk hidden away at stop #9 just next to the Temple of Sinawava (worth a look if it's open).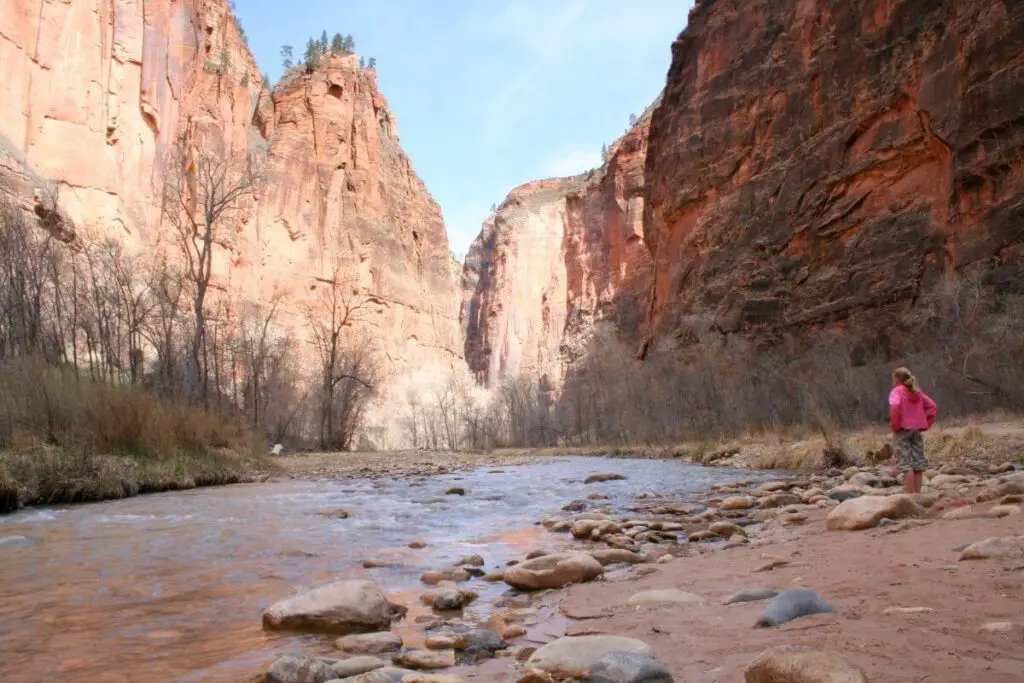 If you are less mobile or just want to get some exercise without straining yourself on a steep gradient, this is the trail for you.
The trail remains pretty flat for the most part, winding around the Virgin River. This is a really tranquil place where water, earth, and plants meet.
The trail, while flat, remains pretty long. Even at around 2.2 miles, you should be able to get this one done within 2 hours if not less, considering the gradient.
This is a great one to take grandparents on as well as smaller kids – you can easily meander and chat while the kids run off ahead.
Angels Landing – Hard
Are you seeking some real adventure, a trail that can test your mettle and hiking prowess, all while still making it home for supper? Angel's Landing can provide the challenge you need.
Keep the kids at home for this one, as this is a strenuous but seriously fun trail that is made for the thrill seekers.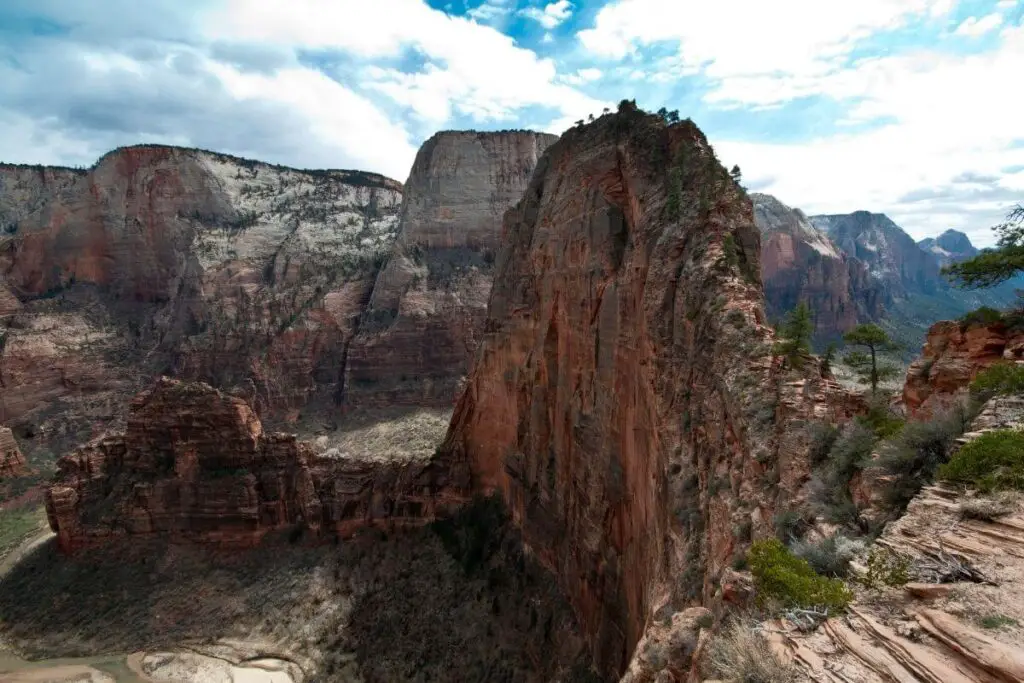 There's no surprise people come to Zion National Park specifically for this hike. It remains pretty unique among other trails within and outside of the park.
The distance of the whole trail is around 5.4 miles, the pace you choose to complete this is up to you but even on a bad day you should be able to conquer the trail within 5 hours, and for those who are sprightly, it has been done as quick as 3 hours. Either way you will still get it done in one day.
The main part of the hike is a relatively normal yet strenuous trail. The gradient slowly increases but more than anything the trail is exposed and long. The final part of the trail is certainly no stroll to the finish line.
To actually reach Angel's Landing you have to scale a pretty arduous rocky ridge that leads to the top. The Park Rangers have placed these fun and useful guide rails that allow you to keep your balance safely.
With these rails it's become much safer and easier to complete, prior to these rails you likely would have needed more gear.
Considering how popular this trail has become, mainly due to this fun scramble at the end, you now require a permit to walk the trail in order to limit the queues that had occurred.
Permits aren't easy to get though, they rely on a lottery ticket. It costs $6 to enter the lottery, and if you are chosen you pay an extra $3 per person to get on the trail. Good Luck, it's worth it!
The Watchman Trail – Easy
This is another fairly easy trail that rewards its hikers with more great, yet different, views of the Zion National Park.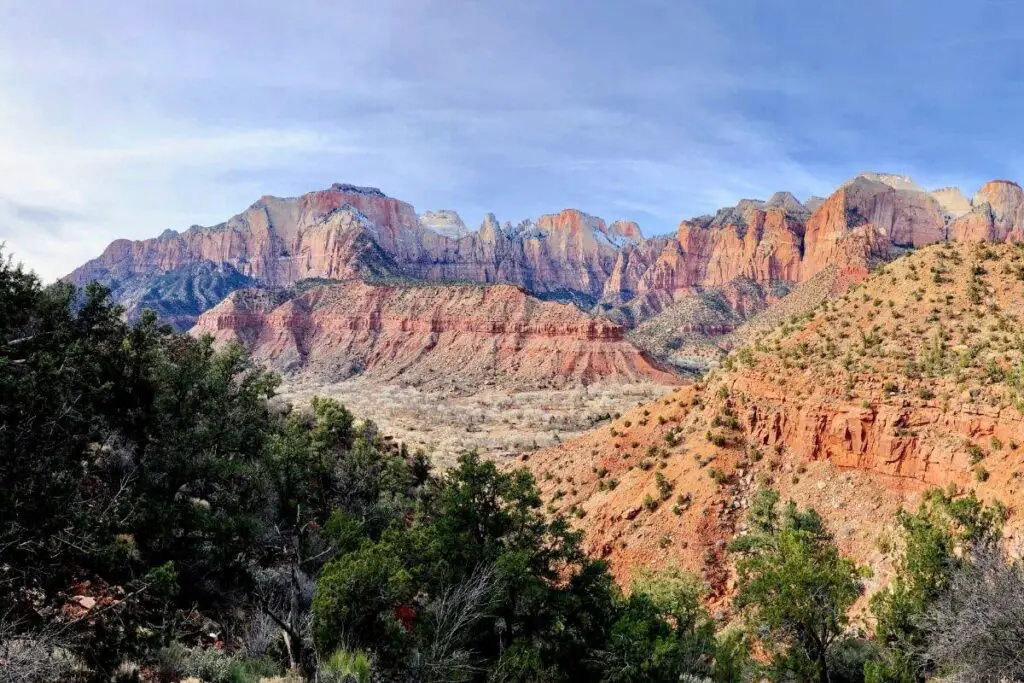 At around 3.3 miles the trail should take a minimum of two hours which is a perfect morning undertaking.
For newcomers to the park there are certainly better trails that have more scenic views. If you are a regular in the Zion National Park, then this could provide some new and different ways to see the mountains you know all so well.
There is a lot of fun history behind the trail though, if you enjoy cowboys or anything to do with the early days of the American Postal Service, the trail certainly echoes these moments in American history.
Final Thoughts
There are a plethora of things to see in the Zion National Park, whether that is the summer foliage, the burning red rocks, or topography of the mountain ranges, there is so much to fill a day with.
In addition to the trails we have mentioned there are some more strenuous, complicated, trails that will require more than a day's undertaking.
The West Rim, Observation Point, and The Subway are both trails that are almost a full day of walking, this requires a little more planning than your simple day walk.
Moreover, other trails such as The Zion Narrows are much more complicated and require planning as well as more than a full day to complete.
These trails should be reserved for those who want a real challenge and want more than one full day of hiking.
As the park is so large, though, there is something for everyone here whether you are a grandparent, a parent with children, or just not the fittest hiker just yet, there are loads of these smaller trails that provide a satisfactory view without the sun burn and blisters.
Choose your own adventure in Zion National Park today!