The White Mountains make up nearly a quarter of New Hampshire, featuring a rugged mountain landscape, state parks, a portion of the Appalachian Trail, and the White Mountain National Forest.
This rich natural landscape makes the White Mountains the dream location for hikers and adventure seekers. In this blog, we look at the best day hikes on offer.
1. Artists Bluffs Loop – Easy To Moderate
The first hike on our list is ideal for families who want a pleasant day out in the mountains without having to get a sweat on.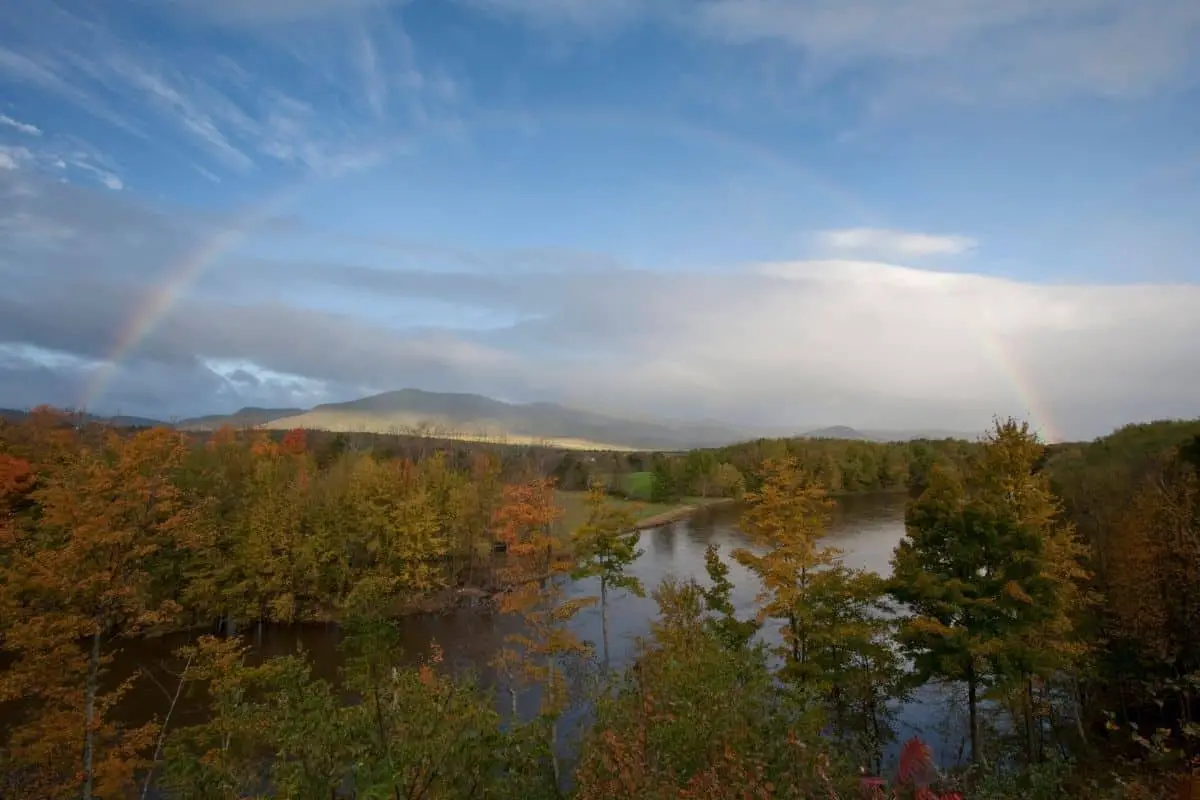 One of the most popular family-friendly trails in the White Mountains, this relatively easy route is a flat top trail that offers spectacular views of Echo Lake and Franconia National Park.
Only 1.5 miles long, the looped trail doesn't vary much in elevation, with the whole hike only gaining an elevation of 387 feet.
Not only is this scenic hike a great introduction to the White Mountains, but it is also a fantastic place to bird-watch. A big hit with bird watchers, artists also frequently visit the area to take in the lush landscape.
2. Baldface Trail – Moderate To Difficult
More experienced hikers will enjoy this 10-mile loop hike found near Chatham.
Featuring several fun stream crossings and plenty of impressive views, this hike involves a lot of open ledges walking and a sharp increase in elevation.
Along this strenuous trail, hikers have the opportunity to scale two summits and peaks. From these summits, you can expect unparalleled views of Mount Washington in the distance.
Starting from the Baldface Circle Trailhead, by taking the route clockwise, hikers can hit the steepest 3.5 miles of the walk first. After that, things are mostly smooth across the peaks and ridges.
Hikers are recommended to hit this trail in the summer months. During the winter month, the trail can be a lot harder to scramble along due to ice and snow.
3. Arethusa Falls – Moderate To Difficult
Easily one of the most popular places to hike in the White Mountains is around Arethusa Falls. Arethusa Falls is a breathtaking 140 waterfalls.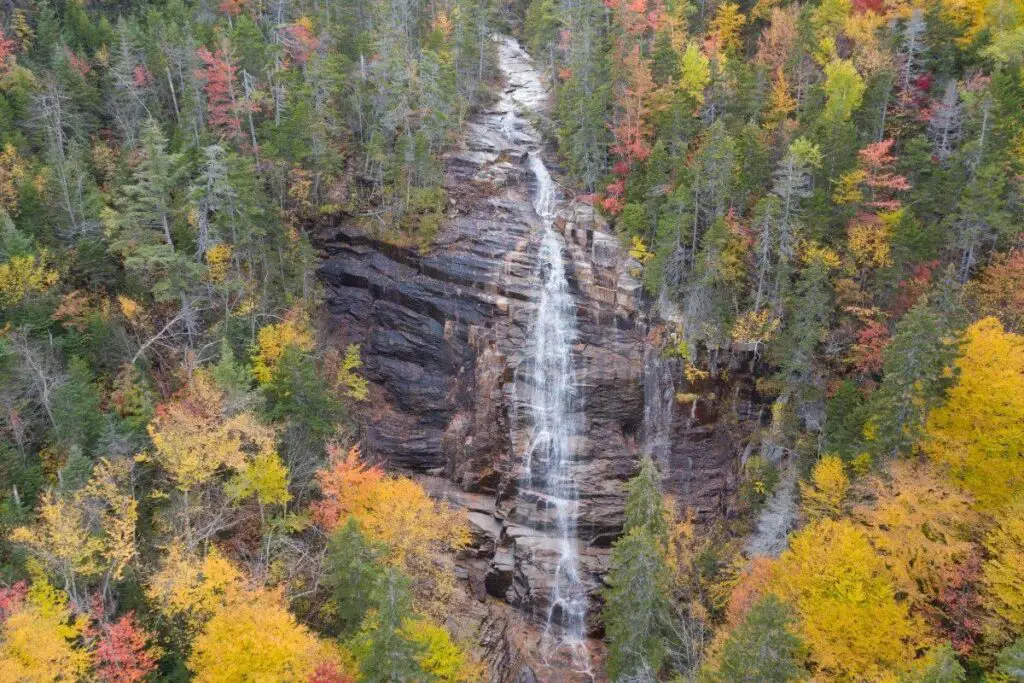 Considered to be moderate to difficult, this trail isn't too long, but instead steep and rocky. Having said that, it is a doable trail for young hikers and families who love to climb.
The main trail is 1.5 miles long and takes hikers to the waterfall. For those wanting more adventure, the hike can be extended to Frankenstein Cliffs.
This extends the hike by 4.5 miles. Offering sweeping views of the rugged landscape, Frankenstein's Cliff is a popular hiking spot in the winter months, when snowshoers and ice climbers hit the trail hard.
4. Middle & North Sugarloaf – Easy To Moderate
Located outside Twin Mountain, New Hampshire, Middle & North Sugarloaf are both small mountains that offer an excellent day of hiking.
Providing hikers with incredible views from all sides, if you want to maximize your hiking experience in the White Mountains, this is the trail for you.
Only 3.3 miles long, this out and the back trail takes you along both peaks, giving you wide views of the surrounding landscape.
The Middle Sugarloaf summit features a 270-degree open ledge. Here you will find some of the finest views you can find in the White Mountains.
On a clear day, sweeping views of Rosebrook, the Presidential Mountain Ranges, and Twin are visible.
Read Next – Best Hikes In New Hampshire
5. Tuckerman Ravine and Mount Washington – Moderate To Ravine, Difficult To The Top Of Mount Washington
This 7.9-mile day hike is well worth it for the breathtaking views from the waterfall viewpoint found not too far from the Pinkham Notch Trailhead.
A good choice of a hike for relatively experienced hikers, halfway through this trail you will come across a steep but steady ascent that takes you to Tuckerman Ravine.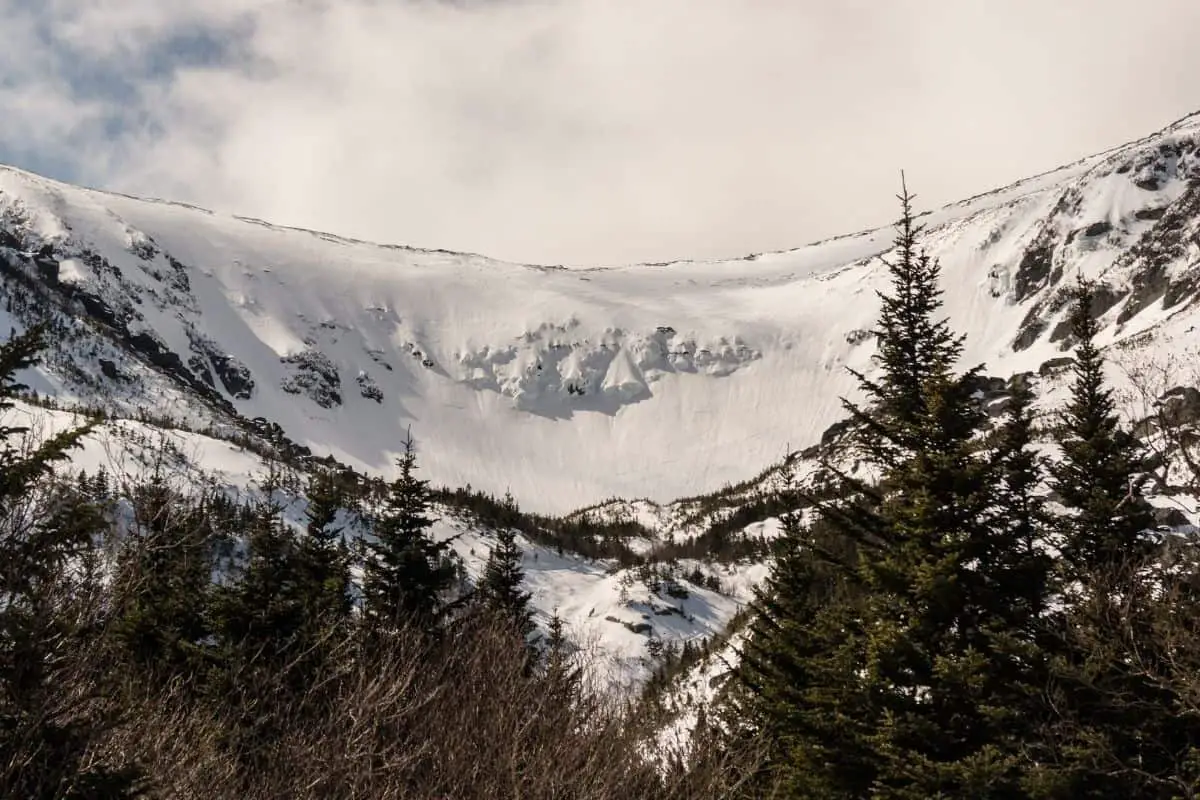 Aside from lush greenery and dense forest, in the spring, hikers can expect to see skiers flying down the hillside.
When the weather is on your side, why not take the challenge further and make your way to the top of Mt Washington.
The tallest peak in the North, this part of the trail is reserved for serious hikers. Offering widespread views and a sense of accomplishment, this rugged trail is a hiker's dream.
6. Welch Dickey Loop – Moderate
Welch Dickey offers a unique scenic loop that connects the summit of, no surprises here, Welch and Dickey Mountains.
This is a very family-friendly walk that typically gets quite busy. Only 4 miles long, there is an elevation gain of just 1,751 feet.
Welch Mountain is a rather rocky peak that forms the gateway to Waterville Valley. A short distance from here is where the summit of Dicky Mountain is found.
Along the trail, hikers are greeted with outstanding views of the beautiful New Hampshire countryside. The best views are seen from the rocky ledges and open rock outcrops on both peaks.
You can start this authentic White Mountain Hike from the Welch Dickey Trail Parking facility.
7. Mount Kearsarge North – Moderate
The Mount Kearsarge North trail is a favorite amongst tourists vacationing in North Conway as it isn't too far away and is a great day's hike for the whole family.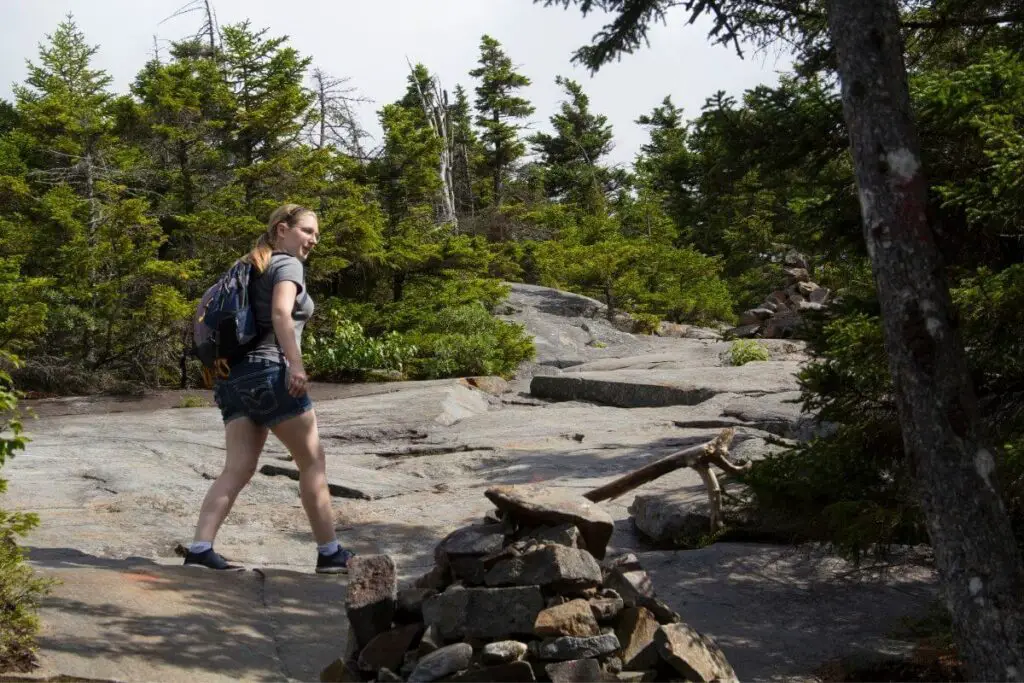 The moderate hike here is 5.7 miles long and offers one-of-a-kind 360° views of the Presidential, Mount Washington Valley, and even parts of Maine.
At the summit of Mount Kearsarge North, there is also a unique wooden fire tower well worth taking a look at. Hikers enjoy visiting the tower as it offers an even more impressive view of the mountain.
Inside the firehouse, there is a visitor book to sign so that you can add your names to the list of people who have hiked up Mount Kearsarge North.
To find the trailhead for this hike, head for Hurricane Road. It is here you will find the trail's access point.
8. Mount Adam's – Difficult
If you're an experienced hiker, Mount Adams trail is definitely the one for you. The second highest peak in New Hampshire, this 7.5 mile out and back route takes hikers to the rocky summit of the mountain, sitting over 1,500 feet above the treeline.
From the top of this trail, hikers can expect to find surreal views of interesting alpine terrain in every direction.
Due to the strenuous nature of the trail which includes rugged, uneven, and steep climbs, you should only visit if you are used to tough, challenging climbs.
There are a dozen loops to choose from, some of which turn the day hike into a two-day camping trip. It is important to check the weather and carry a map with you when following this tricky trail.
9. Mount Pemigewasset – Easy To Moderate
Referred to commonly by hikers as the Indian Head Cliff, this 3.2 miles out and back trip is a big hit with families looking for a moderately easy day of hiking.
Ideal for families with younger children, the summit of the Mount Pemigewasset trail provides hikers with excellent views of the Southern parts of the White Mountains.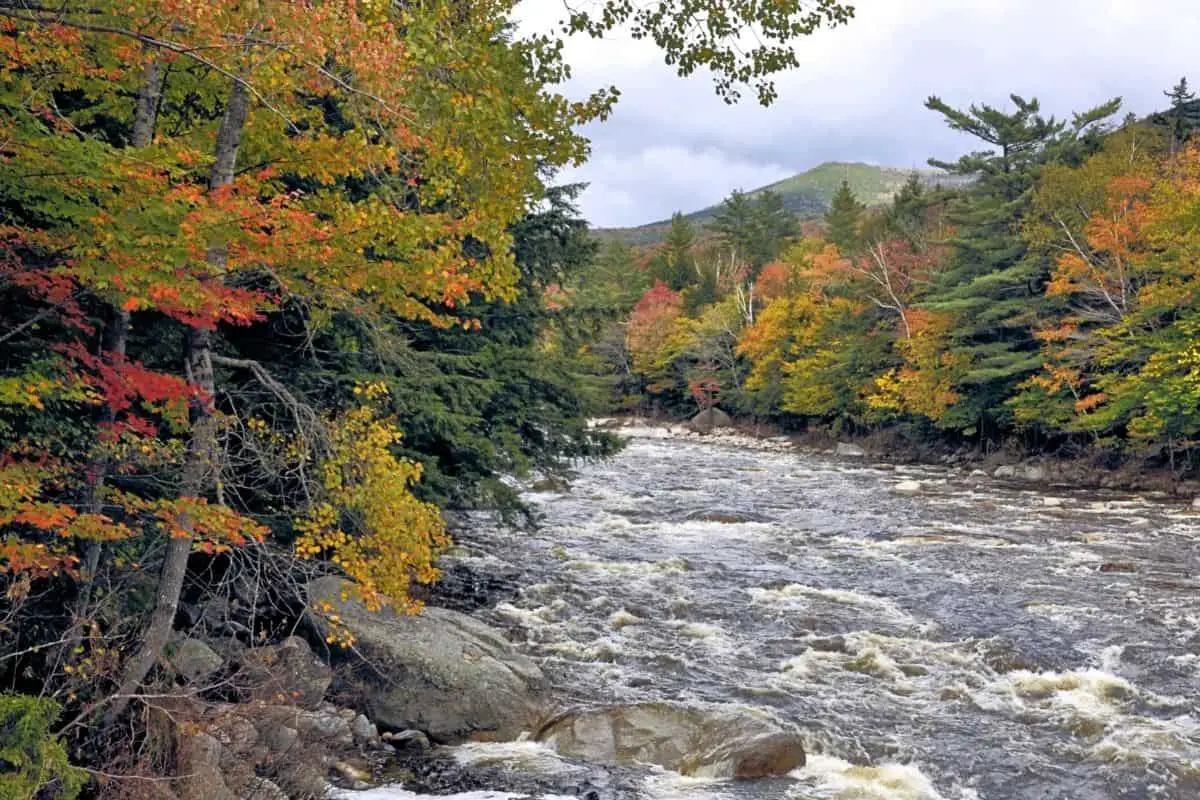 The trail is lined with dense forest and thick trees that offer a wide variety of colors in the autumn months, adding to the overall beauty and relaxing nature of the hike.
The Mount Pemigewasset Hike is the perfect place to introduce your children to New Hampshire's stunning mountain region.
10. Mount Lafayette and Franconia Loop – Moderate To Difficult
Probably the most exciting hike in the White Mountains and one that gives you the best bang for your buck is the strenuous 8.6-mile loop trail from Mount Lafayette to Franconia.
Sumitting at Mount Lincoln, and Mount Lafayette, much of this hike takes you along a bare ridge above the tree line, offering absolutely insane views of New Hampshire and the White Mountains.
The most experienced hikers will be able to complete this hike in approximately 6 hours.
The best place to access this trail is from the Lafayette Campground. If you plan on staying here too, make sure you book in advance as it gets very busy, very quickly.
With an elevation gain of 3,822 over rough terrain and rugged landscape, we don't recommend this trail to families with younger children.
Final Thoughts
That concludes our list of the best day hikes in the White Mountains, NH. In all honesty, this list could have gone on and on.
There are so many wonderful hikes to choose from but hopefully, from our list, you have gained a better understanding of what hikes are available.
We hope you have enjoyed the list, and can now start planning your day trip to the White Mountains.
We are certain that no matter which hike you choose, you will have an incredible time, packed with stunning views and lush scenery.