Australia. The land of golden beaches, long, hot summers, and, of course, "putting a shrimp on the barbie."
By this, we mean BBQs! With BBQs being such an important part of Australian culture, it is no surprise that the Australians have invented a device to improve barbecuing even more. What device? The BBQARM!
In today's blog, we will be reviewing the BBQARM and looking at its pros and cons. Therefore, you can make an informed decision on whether it is right for your needs or not.
Let's get started so you can get barbecuing as soon as possible!
What to Expect from BBQARM
Already a classic Aussie invention, the BBQARM is up there with other fantastic inventions from down under, such as Vegemite, boxed wine, and the Hills Hoist.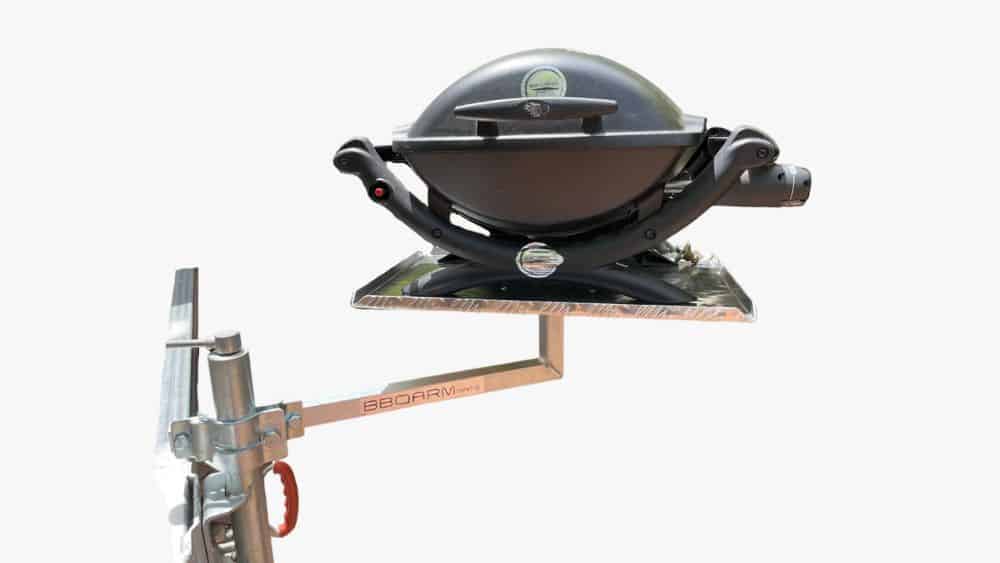 But, the BBQARM may be one of the most ingenuitive gadgets in the world of barbecuing. It simply mounts on to your trailer's rear bar or draw bar, and becomes a sturdy, reliable table, perfect for outdoor adventures. 
The BBQARM can be attached to a number of different vehicle types, like:
caravans
motor homes
camper trailers
toy haulers
traditional, everyday trailers
It has a simple yet robust design, ideal for supporting a smaller, portable type of BBQ.
Maybe you're thinking about acquiring a BBQARM for yourself, friends, and family but you're unsure if it's worth the investment. Well, we are here to help you decide.
Initial Impressions 
Before we go into the details of the BBQARM and its uses, we need to discuss our first impressions of this gadget.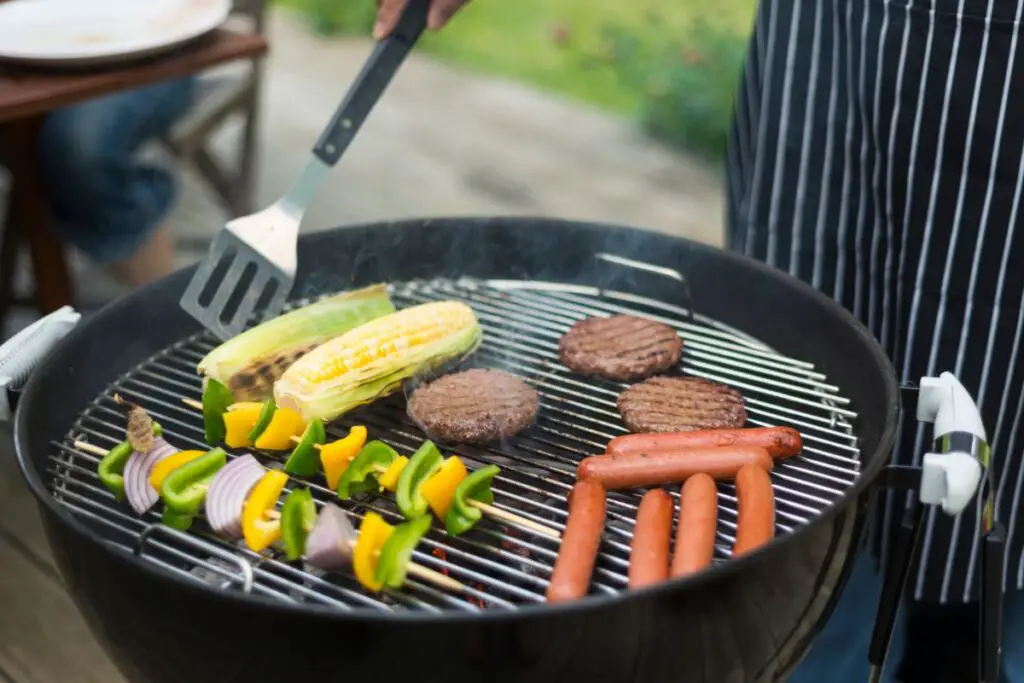 When it first arrived, it was packaged neatly and securely. Upon opening, we found that it came in three pieces – the table-top, the arm, and the mount (multi-fit).
Within the neat packaging, these components were also well packaged to keep them safe from any potential damage.
We rummaged around but found that there were no instructions with the BBQARM. But, you don't really need them, as it's pretty obvious to set up.
A little piece of paper did come with the package, though, which read, "Thank you for your order." A small but very nice personal gesture from the company's owners, Tony and Kylie.
The first part we opened was the multi-fit mount. As soon as this was out of it packaging, we tested it on our trailer. Thankfully, it fitted seamlessly. However, we had to tighten two bolts with a spanner to securely attach it to the drawbar.
We then opened the arm from the packaging. On one side, it has a square end, whereas the other is more circular in shape.
Even Without Instructions – It's fairly obvious to figure out that the round end is the side that fits onto the multi-fit mount of a drawbar. The square, therefore, is where you place the table. 
We fitted the arm into the mount which, again, was pretty simple. To do so, you need to close the clamp over the arm before tightening the screw handle to secure it sufficiently.
Once this is done, you need to place the square pole beneath the table via the square hold in the arm. 
As for the table, this can be mounted to face both vertically and horizontally along the arm. The arm actually swivels a full 360 degrees, but this depends on if there is anything obstructing it.
We were stunned to see how shiny the BBQARM's table was. Made with an aluminum propeller plate, like steel checker plating, it is durable and quite stylish. This also helps to improve the grip of the tabletop. 
So, first impressions were, overall, very positive.
The clamp seems fairly basic but does the job well
The arm fits easily into the clamp
Once set up, the BBQARM has a good bit of reach to it
The setup is pretty stylish (and shiny!)
Once setup, the BBQARM is ideal for small barbecues 
Now, it's time to review the BBQARM's applications.
BBQARM's Applications And Uses
Many people think that you are limited to only using portable barbecues on the BBQARM, but this is not the case. It can also be used as a standalone table, if needs be.
And, if you're a regular road tripper, you'll know that the more table-tops you have, the better.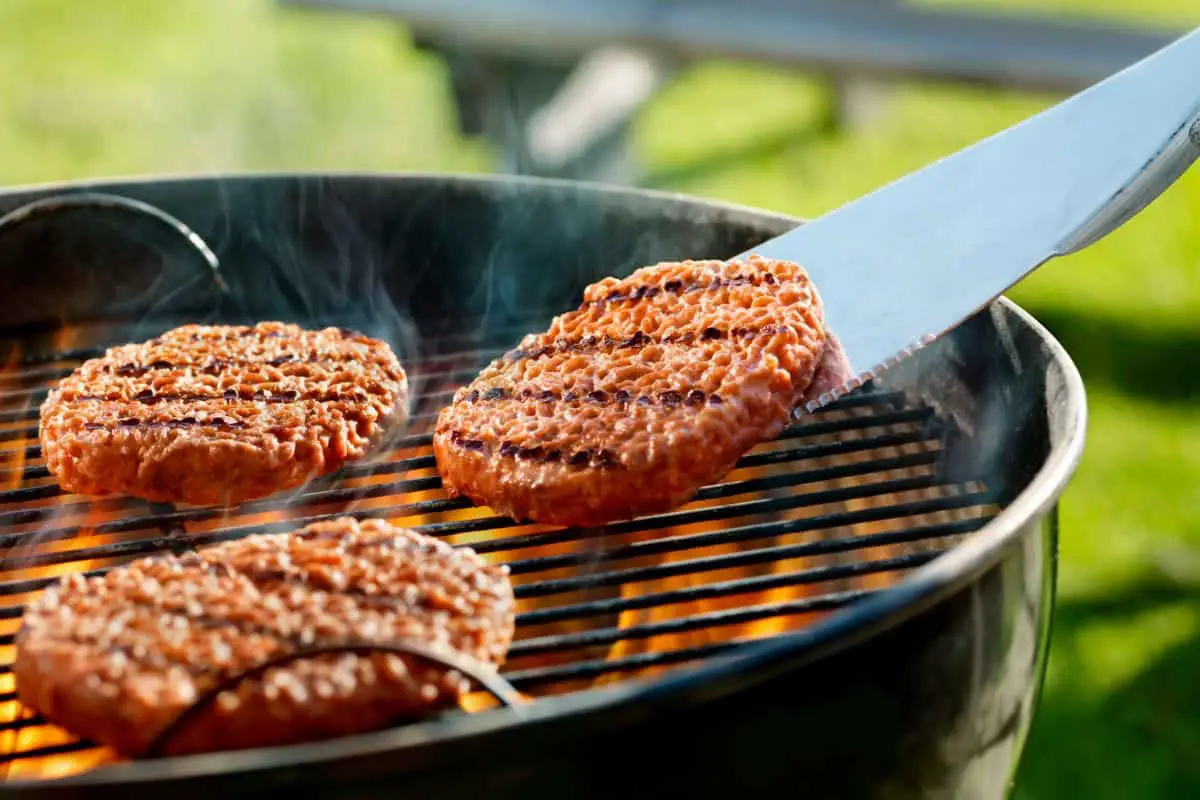 Because it can be used as a simple standalone table, it means you can get your money's worth from it and not only use it for barbecuing.
You can simply sit outside your motorhome on a sunny summer's evening, and watch the waves roll by or nature in full swing.
Place some drinks on the table and even eat your evening meal. If you decide it's time for a BBQ, simply place it on the BBQARM's table and start cooking.
It really couldn't be easier to use the BBQARM, and it certainly makes life on the road easier, too. 
BBQARM Design
The BBQARM was initially designed for primarily caravan use. The manufacturer's aim was for it to be compatible with Ziggy's, Weber Q's, and any type of camp cooker that fits on a tray.
Because of its compatibility with so many small barbecues, the BBQARM is a great all-rounder and a firm favorite of many barbecue stand users.
You can choose from several arm lengths, as well as two tray sizes (standard and large). Constructed from galvanized steel, the arm is powder-coated with a black texture for elegance and sturdiness. The lengths available are:
The 1-meter arm is the most heavy duty of the three options and should easily stand up to most elements. However, you can request custom lengths, which is a great bonus.
Therefore, you can be sure to find an arm that suits your needs and trailer, motorhome, or caravan. The weights of the arms are:
650 mm – 1.65 kg
850 mm – 1.95 kg
1 meter – 2.2 kg
The best thing about the BBQ arm is that it securely fits in a jockey wheel holder. This allows you to move it around in any direction that you wish.
It is also possible to use the universal drawer holder that comes with the BBQARM. This basically slips over the drawbar and is easily tightened with a few bolts.
When locked into the holder, the BBQARM is very secure. Therefore, you can be sure that your BBQ is stable and at a perfect height for cooking.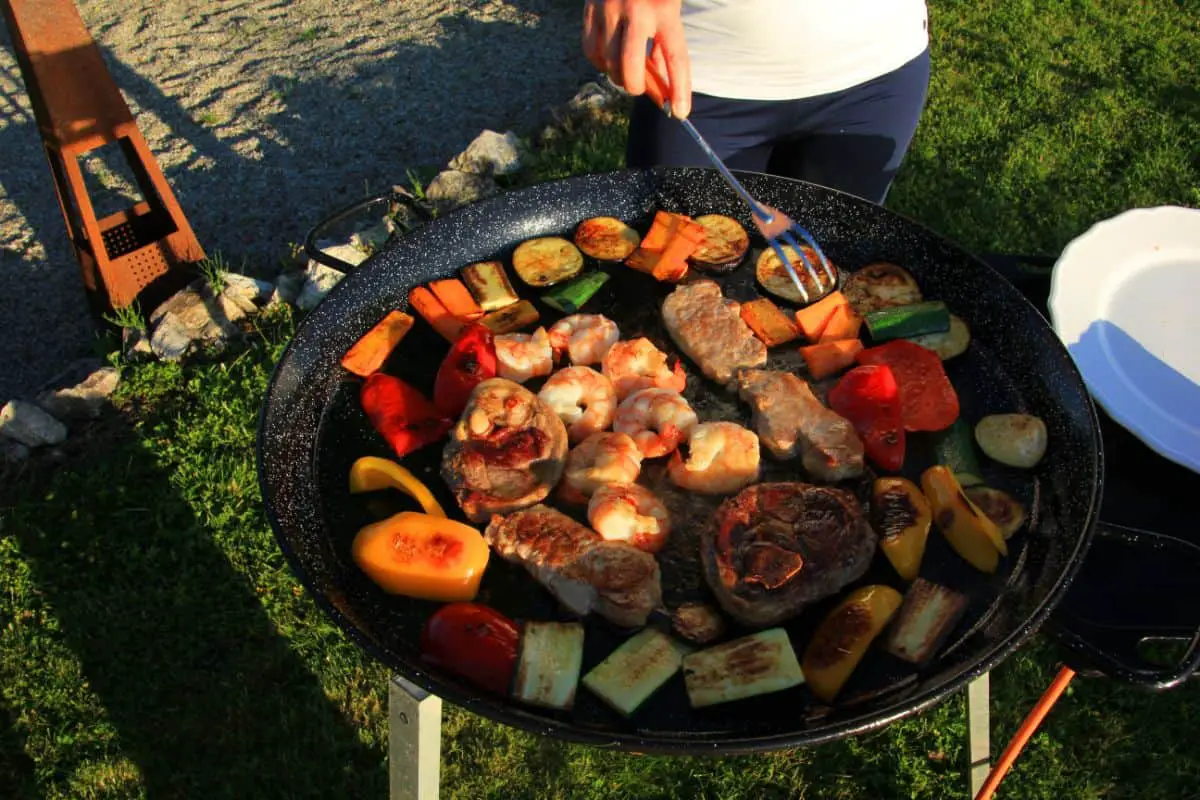 As we discussed above, the tray that comes with the BBQARM can be used as a table for versatile use. Also, the arm can be stored in the holder for transportation, resulting in easier storage. 
BBQARM are testing some new innovative ideas, too. But, the idea of a tow-bar mounting hitch for the BBQARM is by far the most innovative yet. This allows you to simply throw it in your vehicle and then use the BBQARM when you're away from it.
Well-made with a nice finish, the BBQARM is very impressive and a great addition to any camper or traveler's arsenal.
Pros And Cons
As with any gadget, there are good, bad, and ugly factors to consider (thankfully, nothing is ugly about the BBQARM's design).
The Pros 
Here are the main pros we found when using the BBQARM:
The table is very secure and stable, even when some weight has been added to it.
The table is spacious enough to safely hold most small BBQs.
It is versatile and can be used for other purposes, not just holding a BBQ.
Once you have fitted the mount, you do not need to take it off every time.
It is compatible with just about every drawbar and rear bar of trailers and motorhomes.
Its construction is very sturdy for long-lasting use.
The sealed plywood is lightweight yet very durable.
Made from Australian materials in Australia (Queensland).
Positive reviews from most customers.
Can choose between different arm lengths.
The Cons
Thankfully, there are fewer drawbacks to the BBQARM than positives.
But, here are a few we picked up on:
The arm length is fixed and is not adjustable once you have purchased it. Therefore, you need to pick what length you want beforehand. Do this by measuring the arm sizes against your trailer to motorhome.
No instructions included, but it's very easy to install in just a few minutes.
In Summary
As soon as we unpackaged the BBQARM, we were impressed by its quality and simplistic yet durable design.
The customer service from BBQARM was also at a high level, along with the shipping time frame. The packaging was very, very good, and the same can be said for the product information, too. 
Assembling the BBQARM is very simple and only takes a few minutes. And, the optional tow hitch mount will be very useful for certain trips to the beach or the mountains.
You can never have enough prep space for cooking when traveling, and the BBQARM gives you the extra space so many of us often need.
Fit for purpose, stylish, and well-designed, we fully recommend the BBQARM to any traveler. Enjoy your travels!