When you leave the comfort of your home and go out into nature, you want to be able to leave all your cares and responsibilities behind as well.
There is nothing better than switching off your mobile, tablet, and computer screens for a few days and concentrating on the world around you instead.
Gulping lungfuls of fresh sea air, climbing rugged mountains, or swimming in peaceful lakes are all perfect ways to counterbalance the fast-paced, stress-filled lives we now lead.
But if you really want to get the most out of your time in nature, you need to make sure that the tent you bring with you is the right one for the job.
It is not terribly relaxing to spend all day hiking, only to spend all night trying to assemble your over-complicated tent.
Or to spend all day swimming in the sea, only to spend all night swimming in the puddle of rainwater that your inadequate tent has let in.
No, you need the right tent for the right expedition, and in most camping trips a 3-seasons tent will be just that.
But what exactly are 3 season tents, and how do you know if a 3-season is going to be right for you?
Read on for a full guide, covering all you need to know to get the most out of your adventure.
What Is a 3 Seasons Tent?
When shopping online or in-store for the perfect tent, you will find that most are categorized according to the number of people that they sleep.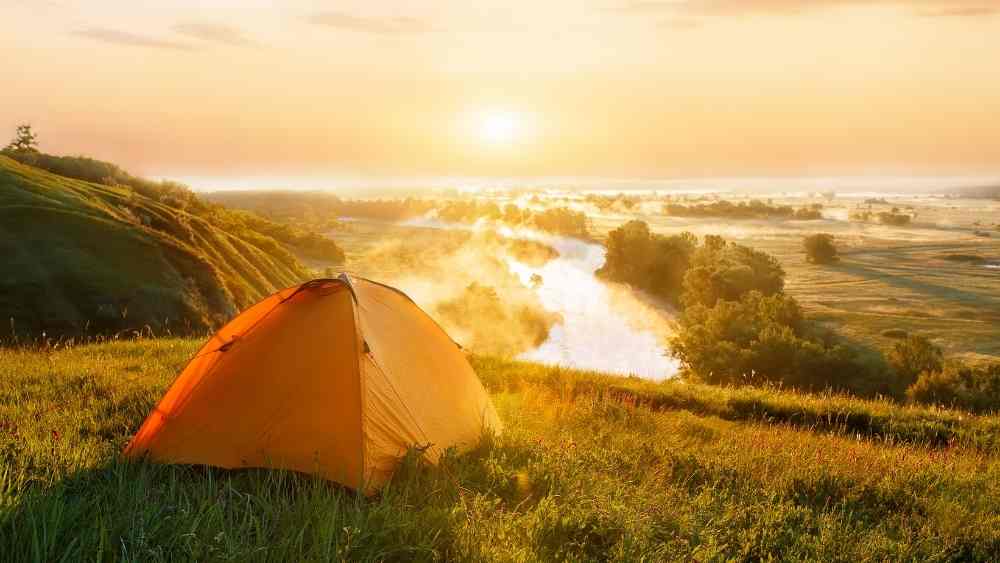 This is because the sleeping capacity of the tent is generally considered the most important factor you will need to consider before embarking on any trip.
But once you have decided whether it is a 1 person or an 8 person tent that you are after, you then need to decide what weather conditions you want your tent to be suitable for.
This is dictated by the tent's seasonal rating.
Tents can be categorized as 1 season, 2 season, 3 season or 4 season, and this categorization takes into account their durability, stability, portability and weight.
Here is a simple guide to how the seasons translate into everyday use:
1 season – summer weather, hot and dry
2 season – spring and summer, hot, dry, with light wind and some showers
3 season – spring, summer and fall, hot, dry, strong wind, rain, sleet
4 season – fall, winter, strong winds, storms, snow, ice and rain
As you can see from this simple breakdown, a 3 season tent is the style of tent that can cope with the most amount of variables and seasonal conditions and is, therefore, the most versatile style of tent.
What Material Is a 3 Seasons Tent Made From?
The material used in a 3 seasons tent is incredibly important because it is what will form the outer layer of the tent and what will protect you from the elements.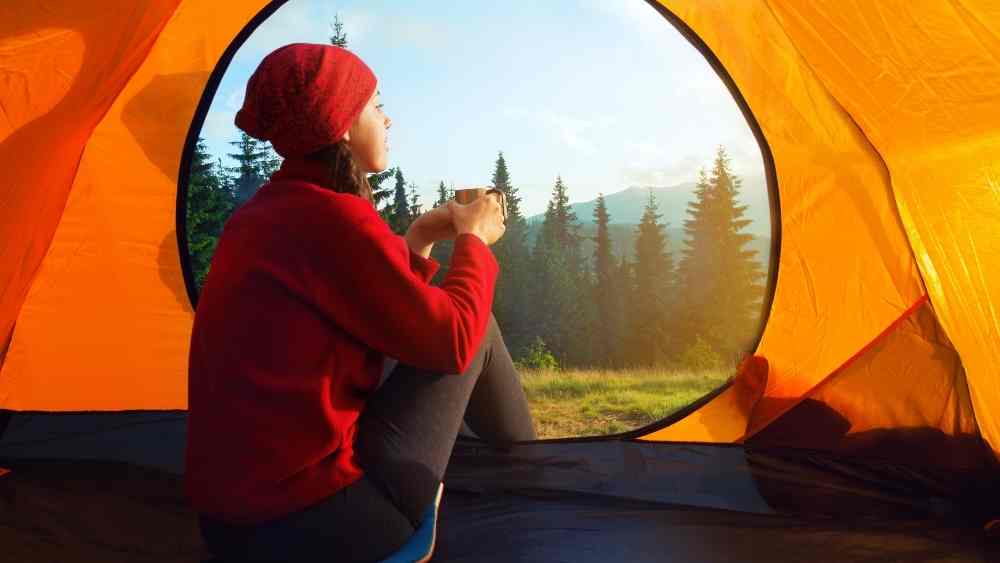 The material needs to not only be strong, and durable so that it doesn't tear or rip easily (costing you money and time on repairs), but it also needs to be lightweight enough for you to transport in a backpack or carryall on hikes and rambles.
What is more, the material needs to work well in spring, summer, and fall conditions.
Waterproof
A lightweight but strongly woven polyester fabric is often used for the outer layer.
Polyester does not weigh much but is durable. It can withstand being put up and taken down, rolled on the ground, and tightly folded, without creasing or weakening. The polyester outer layer will need to be not only water-resistant but waterproof.
The difference is that a water-resistant fabric can withstand light showers, whereas a waterproof fabric will keep you dry even in heavy rain as it does not let any water seep through.
The seams of the fabric on a 3 seasons tent will have to be double-woven and sealed to ensure it has no weak spots where water might drip.
These reinforced seams also improve the tent's strength and durability.
Wind Resistant
The strength of this outer fabric is important in relation to the wind as well.
When camping in high-up or exposed areas the wind can cause more of an issue than rain, and the fabric needs to be able to withstand a battering without having door flaps or awnings rip off and blow away.
The reinforced seams on a 3 seasons tent contribute to its wind resistance.
Breathable
Of course, a 3 seasons tent is not just intended to cope with wind and rain but also heat and sunshine.
These conditions can be just as disruptive to a camping trip if they are not adequately managed, and being too hot and sticky inside a tent can cause just as much discomfort as being too cold and wet.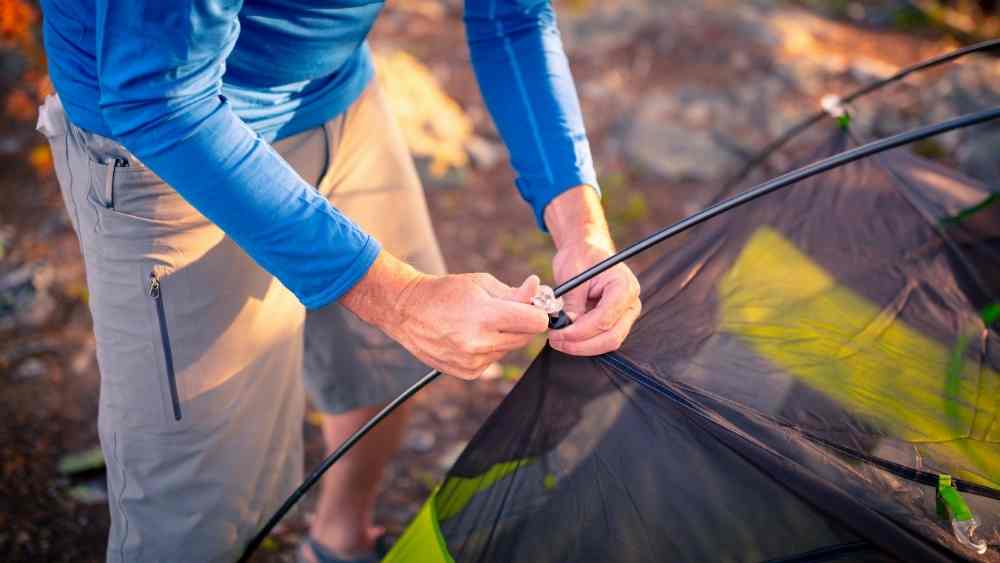 That's why 3 seasons tents are made from breathable material.
The polyester outer is lightweight enough to allow some air to circulate in spring and fall, but most 3 seasons tents will have a mesh inner that is truly breathable and allows plenty of breeze to blow through the sleeping compartments.
The mesh material used is strong and slightly elasticated for greater flexibility. It is ideal for letting light into the tent on beautiful days, and for enabling you to stargaze by night.
However, these mesh sections can quickly and easily be covered with zip on polyester covers if the weather should change.
UV Resistant
The outer layer of a 3 seasons tent should also be coated in a special UV treatment.
This extra layer of protection means that the polyester can be exposed to intense sunlight for long periods of time without becoming faded or weakened.
This is essential in summer months because (as we know from protecting our own skin) the sun can be as powerful and damaging as the most harsh storm.
What Is the Construction of a 3 Seasons Tent?
In general, 3 seasons tents are easy to assemble and disassemble because they are intended for use on hikes and camping trips.
Being able to swiftly erect your tent when and where you need to is essential when you are out in the wild, and that is why these tents are simple and fuss-free in their designs.
Of course, when a design is easy to assemble it always lacks something in resilience because it is impermanent.
4 season tents tend to take longer to set up and construct, but are more able to cope with extreme weather as a result.
Flexible Poles
Most 3 seasons tents will use flexi poles to create a sturdy structure.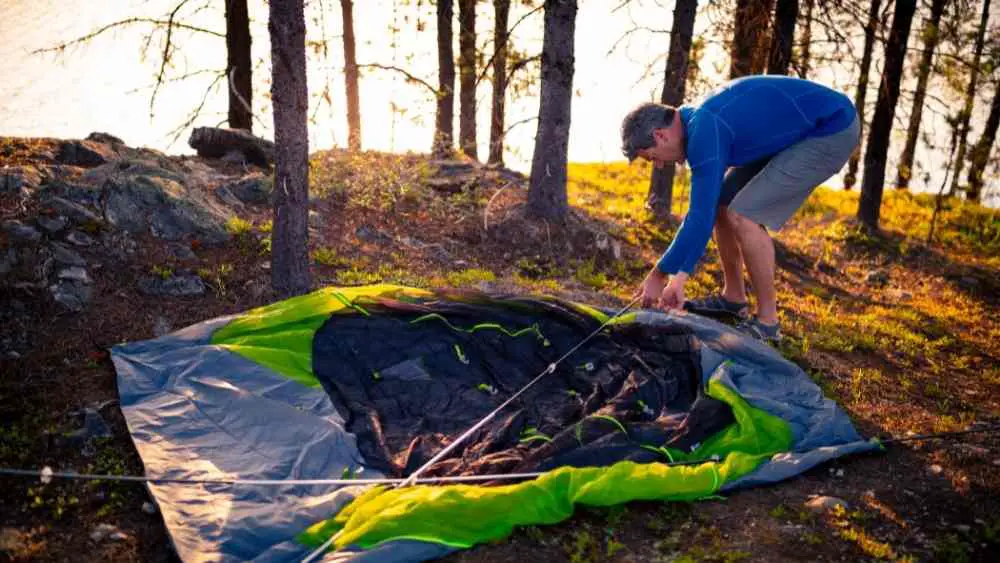 These poles will be made of a lightweight but strong metal such as aluminium, which have enough 'give' to create an arched skeleton for the fabric to sit on.
The skeleton should be sturdy enough to withstand high winds without lifting off the ground, and the curved shape also aids this.  
Dome Shape
A domed shape means that wind can sweep over the structure rather than beat against it, and this also reduces noise.
4 season tents tend to be made of more rigid metal poles that can be hammered into the ground for extra defence against extreme weather, however, 3 season tents are more flexible and portable and therefore take less time to construct. 
Of course, a domed design will be more squat and low to the ground than a tall tent, and as a result you might lose some storage space and the ability to stand and move about as easily.
However, dome-shaped tents are great for trips where you need to carry your tent on your back because they fold up compactly and are more lightweight as a result.
Pegs and Guylines
The tent pegs and guy lines on a 3 seasons tent are strong and durable.
This is so that they can be knocked into the ground no matter what the terrain may be like. Rocky and uneven surfaces will require the guylines to be adjustable to different lengths to accommodate the irregularity of the ground.
Dry and arid conditions require particularly bold and effective tent pegs in order to secure them in hardened earth. And all these construction features add to this style of tent's versatility.
What Features Does a 3 Seasons Tent Include?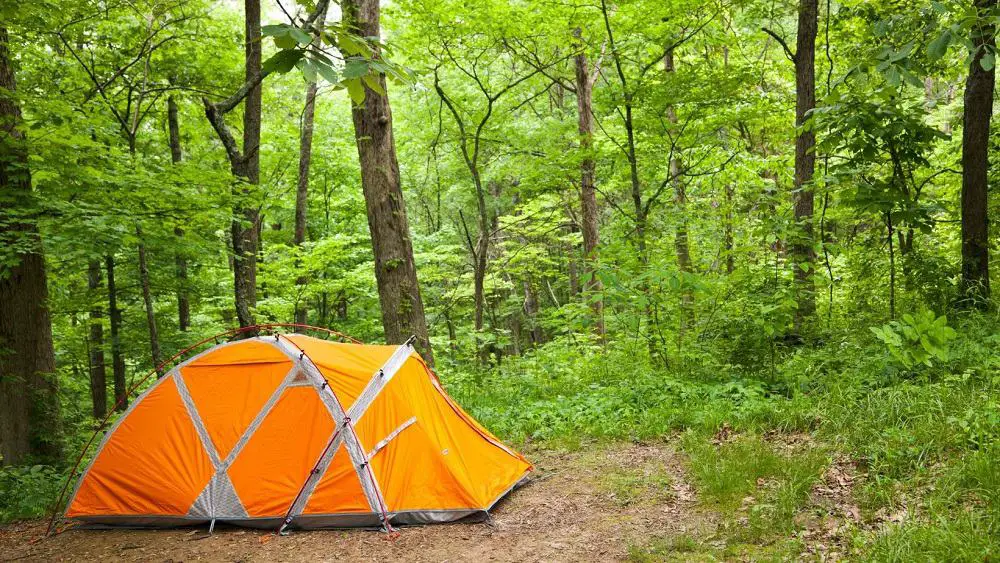 To make a tent truly suitable for 3 seasons there are some design features that must be added.
These features are often found on 1 and 2 season tents but are not as adaptable and removable, and are not combined in the one design. It is the adaptability of the 3 season tent that makes it such a great investment.
Rain Fly
One of the most important features of any 3 seasons tent is the rainfly.
This strip of fabric protects the interior of the tent from heavy rainfall and is almost like a raincoat or poncho that your inner tent wears.
On 1 and 2 season tents the rainfly might not extend all the way to the ground or might not sit high above the inner lining, however, on a 3 seasons tent the rainfly should provide full coverage.
The rainfly is easy to draw-back when conditions are hot and sunny and you need more air to circulate, and can even be removed entirely from most of these tents.
Awning
Another brilliant feature to look out for in 3 season tents are their awnings. An awning is a large flap of fabric that can be held up by strings or poles to create a canopy.
These are often integrated into the door of the tent as a multi-functional feature, however you can get tents which have a seperate awning and allow you to have the canopy erected and the door closed simultaneously. The benefits of an awning are plentiful.
They can provide a shady spot in summer that you can sit under or store food under to prevent it overheating.
They also provide shelter from light rain without you having to huddle inside the tent and zip the door. This is great for tropical climates when it can be rainy and hot at the same time.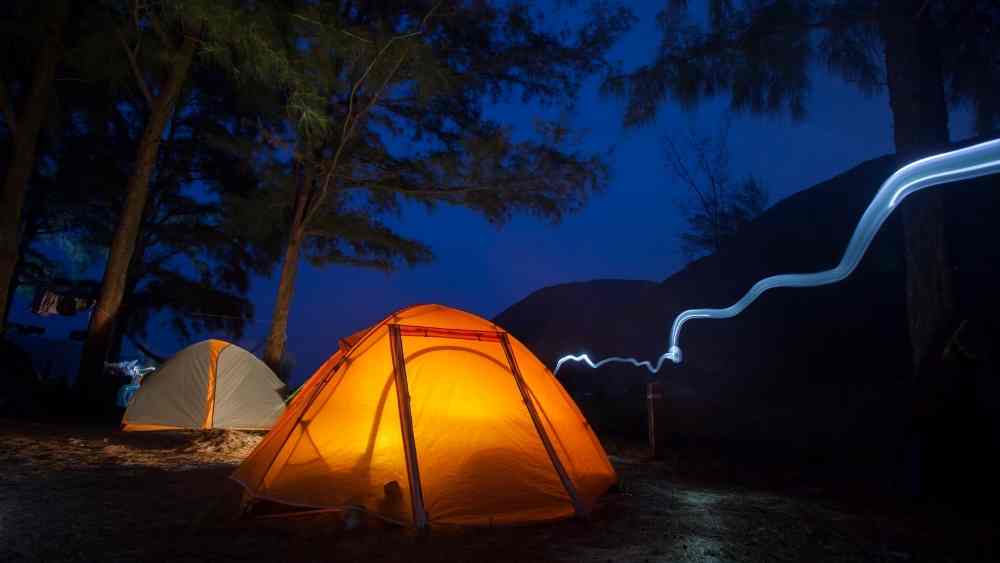 Awnings also provide additional storage room for wellys, boots, walking sticks or other items that you don't wish to bring inside your tent.
If equipment is dirty, wet or muddy, an awning will act as a porch under which you can leave things without them being completely exposed.
Mesh Canopy
As we mentioned earlier, most 3 seasons tents have a mesh inner layer that is breathable and lightweight.
A great additional feature is to have one of these mesh sections in the overhead area of the tent.
A mesh ceiling or canopy will let light in and also allow you to see out. You will be able to wake up and gaze at nature in all its beauty.
They also help to keep mosquitoes and other insects at bay, although they are not as thinly woven as traditional mosquito screens.
Ventilation Zips
3 seasons tents will also have ventilation features which can help to keep your tent cool in summer and warm in fall.
Having purposefully positioned slits in the top and bottom corners of a tent's construction can enable you to control the amount of air flowing through.
As hot air rises, you can cool your tent down by unzipping the upper slits, and you can warm it up by keeping them closed. 
Flooring
The flooring on a good 3 seasons tent should not only be waterproof and highly durable (so that it can be walked on without any tears or scuffing), but it should also be dual layered to help with insulation.
The floor is where much of the cold enters a tent, so making sure that your tent guards against damp and frost is key.
However, a good 3 seasons tent will also give you the option to remove the floor and make it thinner, which will help keep your tent cool in the summer nights. 
4 Seasons Tent
4 seasons tents are not actually suitable for use in all 4 seasons.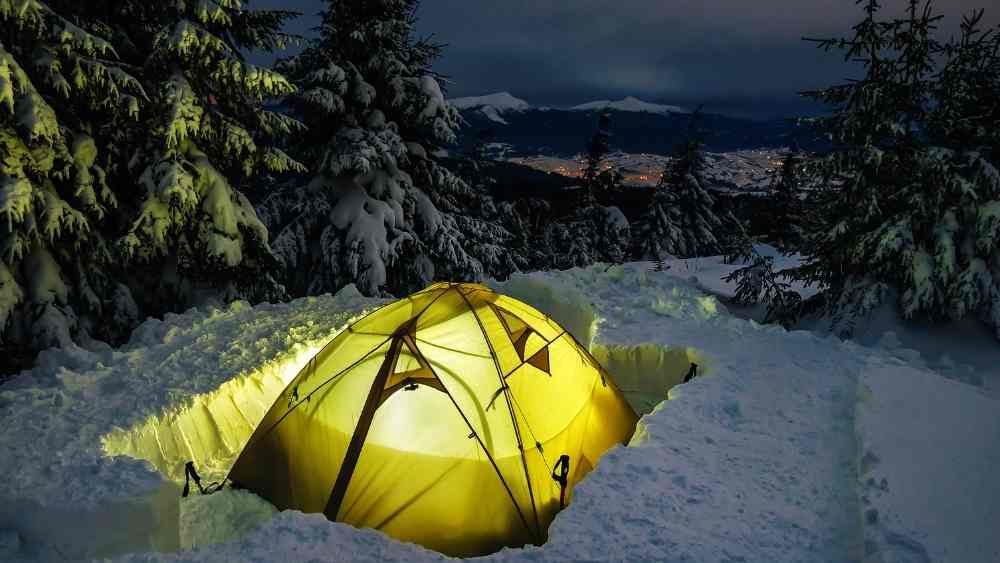 They are incredibly well designed to cope with:
snow
sleet
storms
and high winds
They have strong, powerful constructions, thick, wind and waterproof material, and great winter weather features that you cannot find on a 3 seasons tent.
However, they do not have the adaptability to be able to cope with hot weather.
They are not well ventilated or breathable and they do not have the same mesh windows and viewing possibilities. They are also more heavyweight and less easy to transport.
If you are embarking on a snowy mountain expedition then a 4 seasons tent is definitely for you, just don't expect to be able to take it to the summer campsite as well.
Conclusion
3 Seasons tents are a great investment due to their incredible versatility.
Every brand and model will be slightly different so remember to consider all the key features and elements mentioned above when picking which is best for your next camping adventure!