One item we often get asked about are gaiters. Many people ask us whether they're really necessary for a hike, whilst plenty of newbies find themselves wondering what their purpose is. 
That's what we're going to cover in this article. First, we'll give you a brief explanation of what gaiters are, before we move on to discuss whether they're a necessity on your hiking trips. Lastly, we'll take a look at some gaiter recommendations. 
Let's get started!
What Are Hiking Gaiters, And What Is Their Purpose?
Product
RAB Muztag GTX Waterproof Gore-tex Gaiter
Outdoor Research Men's Crocodile Gaiters
Outdoor Research Rocky Mountain Low Gaiters
Image
We'll keep this short and sweet. Hiking gaiters are an item of clothing worn around the bottom half of your legs, on top of your hiking pants.
They attach to your hiking boots, and their main purpose is to protect your feet from the elements, whether that be water, snow, or trail debris like rocks, dirt, and thorns.
They do this by completely covering the top of the boot at your ankle- which is where, without wearing gaiters, most of this debris finds its way into your boots.
They function as an added layer of warmth in cold, wet, or inclement weather, too, and can help you keep your legs and feet dry and a downpour. 
Do I Need Gaiters For Hiking?
Whilst gaiters aren't an essential item for hiking- many hikers do without them- most experienced hikers will tell you that they wouldn't go on a hike of any length without them.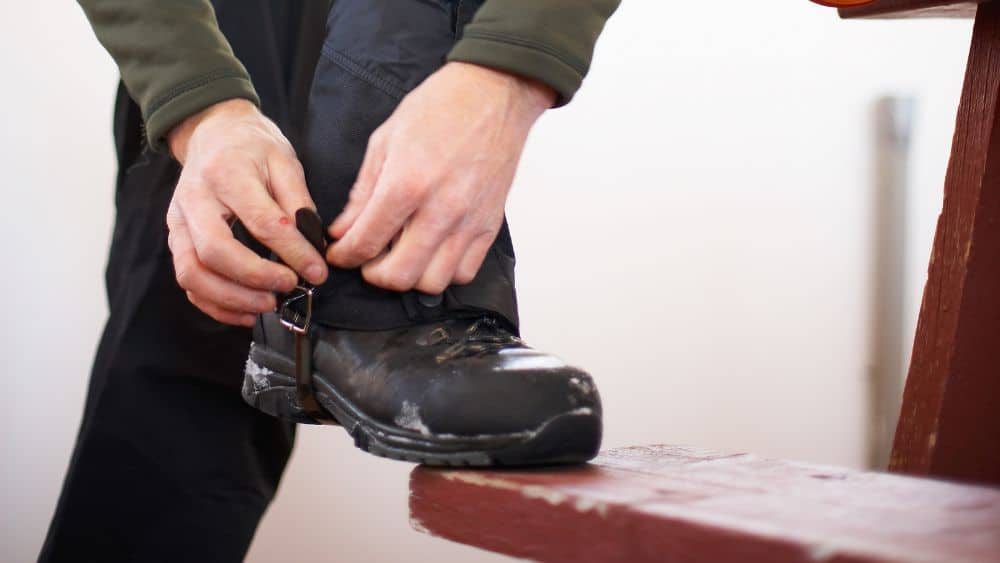 When you're out on the trail all day, the little things, like keeping your feet dry and comfortable, make a massive difference. Gaiters are a huge help in this regard, especially given the fact that it's usually pretty difficult to dry your socks and boots off if they get wet whilst on the move.
They also have the added benefit of protecting your ankles, and can help to hold your shoes on tightly, as they often begin to loosen after hours of walking. 
Of course, it depends on the kind of hike you're intending to do. Whilst most run-of-the-mill hikes, especially in the summer months, don't require gaiters, hiking through deep snow or through thick mud practically makes them a necessity.
Well, not a total necessity, but your life will certainly be a lot more miserable without them. 
Best Gaiters For Hiking
Best Gaiters For Hiking Overall: RAB Muztag GTX
As gaiters go, you'll do well to find better than the RAB Muztag GTX. They're impressively lightweight, weighing in at just 8 ounces for the pair, and yet they still do a great job at doing what gaiters ought to do- keeping your feet and lower legs warm and comfortable on the trail.
Because they're so light, they're also super comfortable to wear for long periods of time, too. They're fully waterproof, too, which means you'll have absolutely no trouble wearing these gaiters rain or shine.
Furthermore, they're an excellent choice for picking your way through deep snow because of their just-below-the-knee style. 
Sale
RAB Muztag GTX Waterproof Gore-tex Gaiter for Hiking and Mountaineering - Black - Medium
For Summit Bids or Snowy Switchbacks | Rab's most technical gaiter, made to keep you dry and protected on technical ascents.
GORE-TEX PRO Most Breathable | GORE-TEX's waterproofing for extreme conditions, with high breathability and lighter weight.
Reinforced Ankle | Extra tough 300D nylon around the lower half of the gaiter guards against sharp crampons.
Easy Closure | Rab opted for hook-and-loop closure instead of zippers for easy on and off—even with gloves.
Compatible With Mountaineering Boots | Designed to fit over technical mountaineering boots.
Adjustable and complete with a thick and durable instep strap, which you could even replace in a pinch due to its velcro mechanism, you can't go too far wrong with these gaiters.
The only concern is related to long-term durability. The fabric isn't as thick on these gaiters as some of their competitors, and the boot hook, made from plastic, is likely to eventually break. All that said, though, this is a fantastic pair of gaiters, and our top pick overall. 
Best Gaiters For Winter Hiking: Outdoor Research Crocodile
There was some pretty stiff competition for this category, but we eventually settled on the 'Crocodile' gaiters from outdoor research.
Honestly, these gaiters could've taken the top spot overall, as many experienced hikers absolutely swear by them.  But the truth is, these gaiters are at their best hiking in cold conditions. 
Made from gore-tex and strengthened with 2-layer Cordura fabric, these gaiters are impressively durable, so you won't have to worry about any abrasion wear and tear.
On top of this, they're also insanely warm, and perfect for keeping your feet and lower legs warm in even the coldest hiking conditions.
Sale
Outdoor Research Men's Crocodile Gore-TEX Gaiters – Breathable Leg Protection
MEN'S OUTDOOR GAITERS: These Outdoor Research gaiters are the perfect way to keep your shoe protected when on an adventure or an outdoor activity. The fitted design of theirs keeps snow, rocks, and debris out of your socks and shoes.
WATERPROOF & WINDPROOF: The windproof and waterproof construction of these hiking gaiters make them weatherproof. Their abrasion resistant Cordura at the inner leg and boot adds durability to them and makes them great for rough adventures.
BREATHABLE CONSTRUCTION: Made of 100% nylon, these leg gaiters for men protect your shoes and at the same time keep your legs breathable and comfortable. They have a 70D plain weave leg panel and a 1000D woven foot panel.
ADDITIONAL FEATURES: These outdoor gaiters come packed with features such as double stitched front closure, reinforced boot lace hooks, hook and loop front closure, and a buckle top hem closure for complete functionality.
OUTDOOR RESEARCH: We built a company from a feeling: the urge to get out. It's what drives us. Our tribe is devoted to exploring our outdoor passions and challenging ourselves in the mountains, water, and deserts of the planet we love so much.
Because they are waterproof and come up to just below the knee, dealing with deep snow is a breeze in them, too. 
They're also adjustable and simple to put on, which is always appreciated when it comes to gaiters. After all, after a long day's hiking the first thing you'll want to do is get them off!
The only problem with these gaiters is that some people find them a bit too warm for hiking in warmer weather, which is why, ultimately, we chose them as our best winter gaiters. 
Also read – Most common winter hiking mistakes
Best Gaiters For Summer Hiking: Outdoor Research Rocky Mountain Low Gaiters
Many people, particularly in the warmer parts of the US, rarely hike in pants, and they definitely don't do so in the summer.
Although many people think of gaiters as unnecessary for summer hikes, these gaiters still serve a purpose, keeping debris out of your boots and allowing you to splash through shallow streams without wetting your feet. 
That's where these low-profile, water-resistant gaiters from Outdoor Research. Their mid-calf length makes these gaiters perfect for wearing with shorts, so that you can let your legs breathe a little in the summer heat.
Sale
OUTDOOR RESEARCH Rocky Mountain Low Gaiters, Black, S/M
BOOT GAITERS FOR MEN & WOMEN: These Outdoor Research boot gaiters help keep rocks, dirt, and light snow from finding their way into your shoes. The stretchable bottom edge of the boots is made to fit a variety of boot profiles.
DURABLE CONSTRUCTION: They are made of 100% nylon with 420D packcloth, making them comfortable to wear all day long. These durable and protective shoe gaiters are perfect to pair with your boots when going for outdoor adventures.
WATER RESISTANT MATERIAL: The water-resistant construction of these gaiters keeps your shoes and pants protected in the rain. They are breathable and light in weight which makes them perfect for long hours of use and always keeps you comfortable.
ADDITIONAL FEATURES: These outdoor gaiters come packed with features such as a durable Hypalon instep strap, reinforced boot lace hooks, hook and loop front closure, buckle top closure, and elastic bottom and top edge for complete functionality.
OUTDOOR RESEARCH: We built a company from a feeling: the urge to get out. It's what drives us. Our tribe is devoted to exploring our outdoor passions and challenging ourselves in the mountains, water, and deserts of the planet we love so much.
What's more, these gaiters are made from 420-denier nylon packcloth, which makes them super lightweight and breathable. Again, perfect for hot weather. 
They're also pretty easy to put on/take off, but beware. These gaiters aren't fully waterproof, and only come up to the mid-calf, so don't expect to be wading through any deeper water without getting a little wet. 
Final Thoughts
Although gaiters aren't necessary for all hikes, they can be a godsend in the right conditions. That's why, if you're serious about hiking, you really ought to have a pair in your wardrobe.
If you're looking for a starter pair, you could do much worse than try out the gaiters we've recommended here. Happy Hiking!