Are you camping and want to keep your snack, drinks, and meals from spoiling or getting stale? The last thing you want is to pack your containers to find soupy or spoiled food after all that packing and preparing you've done.
This guide will show you the best ways to keep your food fresh, so read on to find out more.
How To Keep Food Cold While Camping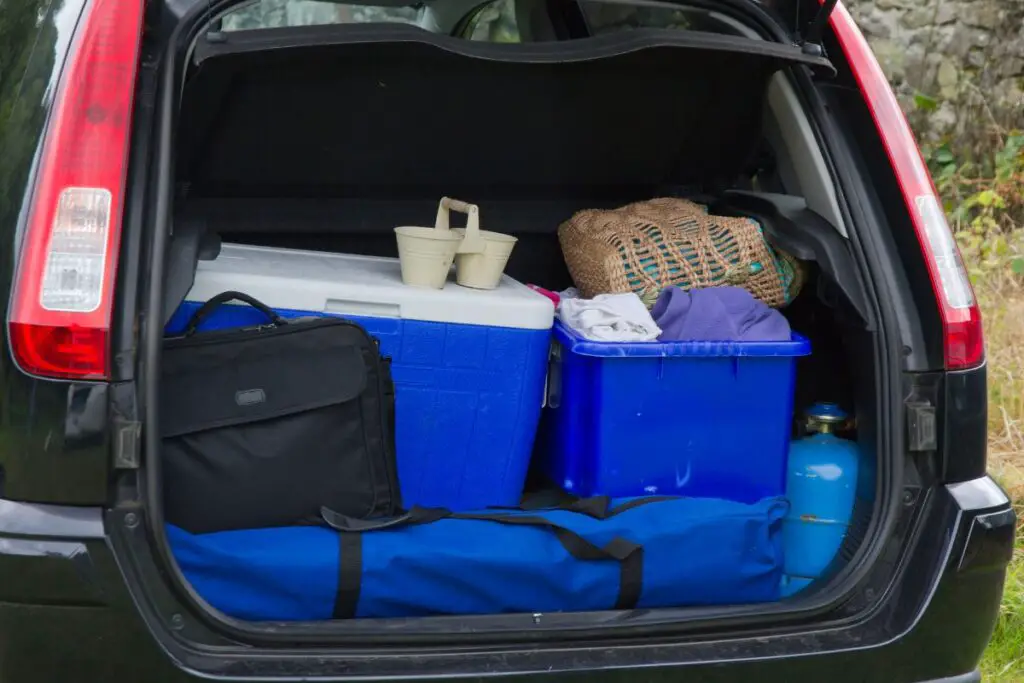 You want to keep some of this guidance in mind, especially if you're hoping to take raw meat which could be contaminated with harmful bacteria, and that's the last thing you want while camping.
Below is some guidance on optimizing your food storage and keeping it fresher for longer.
Make Your Coolers Cool Before You Use Them
Before you pack your food into a cooler, it would be a good idea to get it out of storage if you have one, and leave it in a cooler room or fill it with ice or cold water before you intend to use them.
This is a good alternative to getting your cooler and finding that the heat has gotten to it and will get your food packing off to a bad start.
Pack Food Into Your Cooler More Efficiently
If you're wondering if your packing can affect the freshness of your food, then you'd be happy to know that there are optimal ways you can do so.
Generally, the food that needs to stay colder for the longest should be packed closer to the bottom of the cooler.
This means any frozen or cold meats can be packed this way, and the least perishable foods such as dried nuts and vegetables can stay near the top and are more accessible should you need them.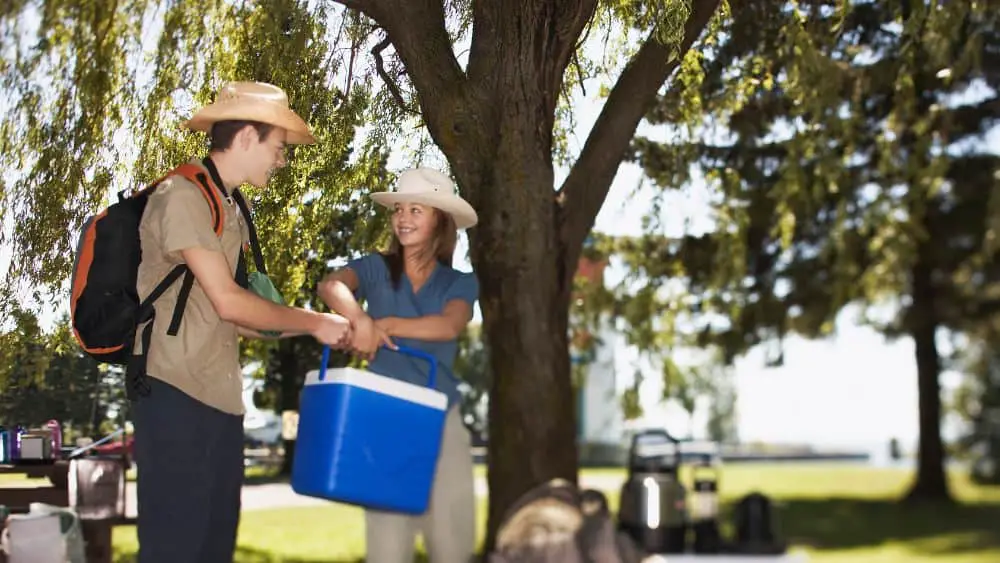 Then, if you need to defrost anything, you can move it towards the top and make layers with ice packs for good measure, so don't pack too tightly if you want to layer your food this way.
If you're wondering where your drinks could go, you might want to invest in a second cooler or thermal container so the temperature of your drinks can stay relatively consistent.
This container or cooler doesn't have to be the same size as your food container, so you won't be opening the food cooler that often if you want to grab a drink. 
Choose The Right Cooler
This can seem like a simple bit of advice, but it's surprising how many people stick with the same cooler or container they've used before and bundle it into the back of the case without any thought whatsoever.
In general, you are looking for a cooler or container that has good insulation, so thicker walls are something you'll want to look out for. You want something rated highly for ice retention, and you'll want to avoid styrofoam coolers.
You could consider an electric cooler if you have access to an outlet, which you'll likely be charged by how much you use it, so you want to be careful as some of these coolers can use more electricity than a table fan.
This will also mean your car's battery will drain quickly if you use a car fridge or something similar.
What If I Don't Want To Use A Cooler?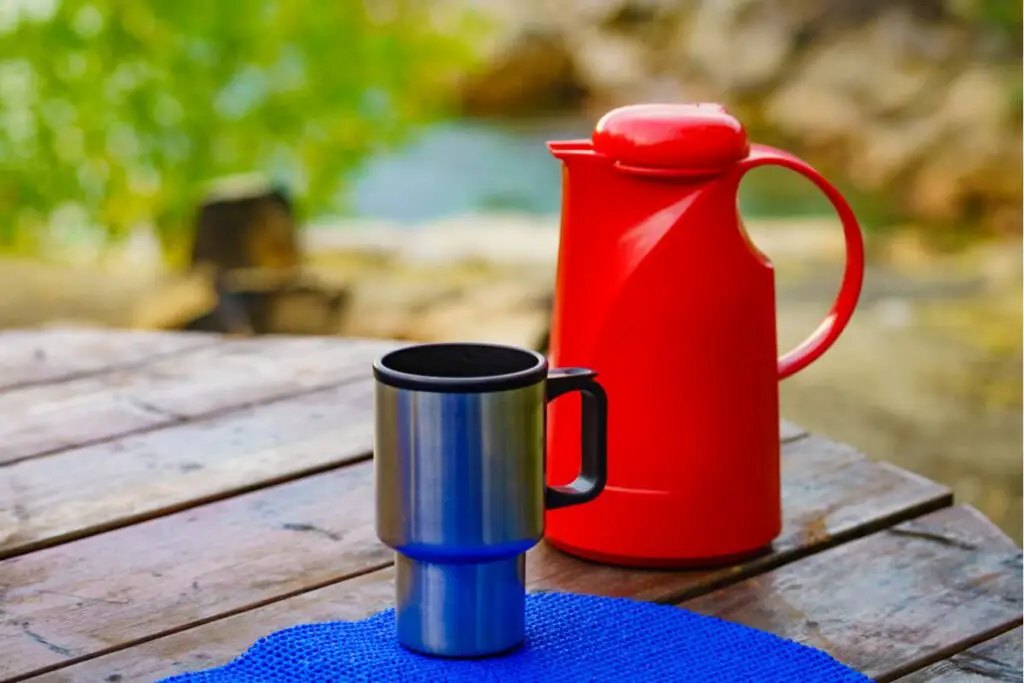 We hear you. You don't want to be lugging around a heavy box to the car or on your person if you're planning to move to different sites on your camping trip, plus you might not have all that space when you're loading up the car.
You want an alternative, so we've listed a few below.
Use Alternatives
The simple solution is to downgrade to a smaller cooler that can hold anywhere between 10-30 liters, but an ice mule cooler is a good option here.
This is essentially a backpack you can fill with ice, and you can store drinks, some perishables, and even snacks if you have more pockets on your pack.
ICEMULE Classic Medium Collapsible Backpack Cooler – Hands Free, 100% Waterproof, 24+ Hours Cooling, Perfect Soft Sided Cooler for Hiking, Camping, Fishing & Picnics, 15 Liter, Fits 12 Cans + Ice, Blue
RUGGED AND VERSATILE – From our proprietary MuleSkin fabrics and the game-changing IM AirValve, to the welded seams and backpack sling strap — these soft sided cooler bags are built to outlast your next beach day, hike, picnic and more.
24+ HOURS OF COOLING – Ultra-tough Muleskin Exterior and Interior plus PolarLayer Insulation ensures strength and superior ice retention to maintain ice-like temperatures for 24+ hours. Holds 15 Liters or 12 cans + ice; 10.25"L x 10.25"W x 18"H
HANDS FREE COOLER – This lightweight, backpack-style cooler has a padded and ventilated sling strap that leaves both your arms free to grab your surfboard, fishing pole, or any other adventure gear. Perfect portable cooler for men and women.
COLLAPSIBLE DESIGN – When your cooler is empty and you're on the move, just roll it up and pack it with you to your next destination. Also makes the perfect carry on for traveling parents or those that want a cooler to use when landing in paradise.
WATERPROOF & BUOYANT – Welded seams and zipper-less closure makes this a waterproof, floating cooler. The IM AirValve allows air to be added to insulation layer – so the ICEMULE can float right next to your kayak (even when full!).
The great thing about these packs is that they can keep ice for 24-plus hours if you pack it in the recommended 2:1 ice ratio, and you're not leaving them in direct sunlight for too long. 
The only drawback here is that sometimes these packs can leak if any loose ice melts and if it's turned upside down, so you might want to avoid leaving it near electricals such as cameras and phones.
You could also ditch any cooler altogether if you only intend to bring non-perishable foods like canned or cupped fruits, fresh vegetables, canned tuna or salmon, muffins, bagels, cornbread, or tortillas.
All you would need is a sizeable container to fit all of these items, but ensure that softer items aren't squashed or pierced, as the last thing you want is a ruined bagel or torn-up tortillas.
Thermal Items
These items are a blessing if you're tight on space and want to access your hot or cold items quickly.
The great thing about thermos jars, flasks, bags, and containers is that they can keep hot and cold foods at a reasonable temperature before they spoil and can generally keep their temperature for up to 2 days, and in some cases, up to 10 days if the liquid inside is frozen.
Another feature of these is that the more premium designs of thermos products are usually lightweight and come with cutlery and cups that serve as a cap.
Conclusion
Now you have an idea of some ways you can optimize your packing so that it's never going to bog you down again, you can begin to look forward to that trip, knowing you'll be able to tuck into your snacks with ease.
As long as you follow precautions such as keeping raw meat bagged and sealed, you shouldn't have any problems in general. Thank you for reading.