So, you're camping in the wilderness and enjoying the beautiful serenity that surrounds you. All of a sudden, nature calls.
You're obviously too far away from any restrooms and you don't want to go out in the open! Thankfully, you brought a camping porta potty on this trip with you. 
If you're on the lookout for a new camping porta potty, keep on reading as we discuss how these useful toilets work and how to use them properly.
Camping Porta Potties Benefits
Camping toilets allow campers to do their business without leaving any human waste in the environment.
Remember, if you're camping in the middle of nowhere, you do not want to attract wild animals, such as bears or rodents, to your campsite.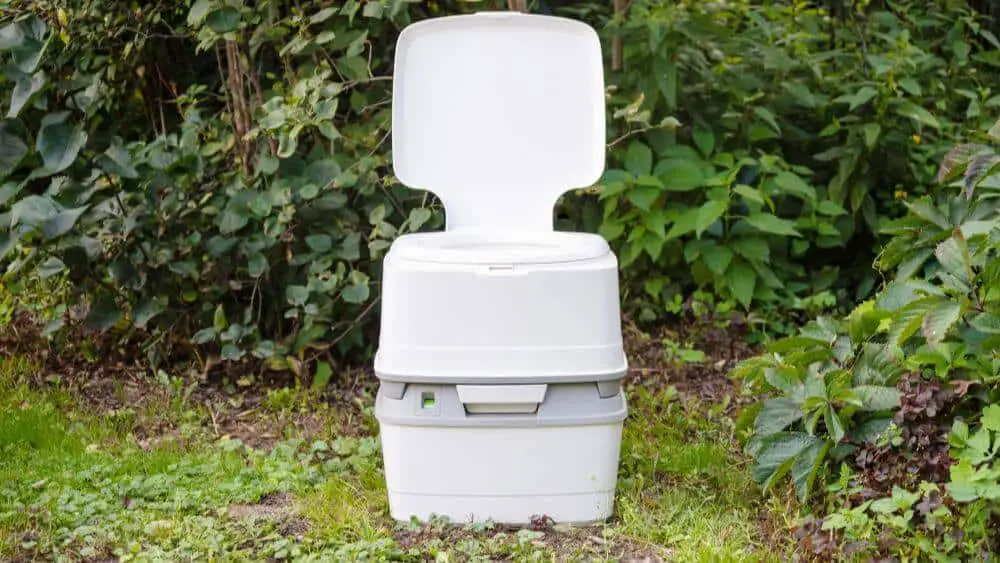 The scent of human waste will soon be picked up by such animals, so it is important that you have a place to go without leaving anything behind.  
By using camping porta potties, you can pack your waste away and dispose of it in a sufficient place, once you're off the trail and back in civilization.
The fact that most U.S. parks require campers and hikers to take all of their waste with them is another strong reason why you should use a porta potty. 
When it comes to camping toilets and their designs, you can choose from quite a few. Some are as basic as a bucket, whereas others are designed with intricate flushing systems.
Some are also collapsible for easy storage and transportation. These usually come with a seat and a waste bag, too.
Flushable porta potties are the most elaborate of the lot and tend to include a small but effective plumbing system, as well as a waste holding tank to minimize odors around the campsite. 
Types Of Camping Toilets
Altogether, there are four main types of camping toilets. These are:
Portable composting toilets
Flushable camping toilets
Bucket camping toilets
Collapsible camping toilets
Let's take a look at how each porta potty works below.
Portable Composting Toilet 
A portable composting toilet is essentially a dry/non-flush type of porta pottie. It biologically breaks down waste into dry compost matter. This can then be used as garden fertilizer if required. 
A few of these types of toilets are installed as permanent fixtures, but the best ones for camping trips are portable and lightweight. 
Portable composting toilets include three main components:
A bowl
A liquids/urine bowl
A solids bin
This toilet is designed so that liquid waste is separated from solid waste. And, for decomposition to occur, the solid waste master needs to have very little moisture.
As for the cheapest models, these do not have the means to separate liquid waste from solid waste. Therefore, they tend to smell more.
A carbon-based substance should be added inside the solid bin before use, such as sawdust or coconut coir. This helps prevent bad odors and speeds up decomposition.
Composting toilets tend to come with a built-in agitator on their side to mix the waste and peat moss after use. Then, a valve at the bowl's base maintains an airtight bin when in use. 
To prevent streaks on the bowl, we recommend using a water spray bottle to spray on the bowl's sides before use. Also, use a brush to clean the bowl of any leftover waste.
Most decent composting toilets also come with a fan to prevent further bad odors. This fan also keeps the dry bin's content dry, so decomposition proceeds quicker. 
Flushable Camping Toilet 
These are the most sophisticated kind of camping porta potty. They are designed to act and feel like a residential flush toilet. 
Flushable camping toilets have the main parts:
The bowl
The fresh water tank
The waste water tank (holding tank)
This type of porta pottie has a sliding valve that separates the holding tank and the bowl. Its functions are to prevent waste from spilling and to contain certain gasses inside the holding tank. 
Before use, a chemical is placed into the holding tank to help break down the waste into a slurry and prevent bad odors from escaping. 
Portable Toilet Camping Porta Potty - 5 Gallon Waste Tank - Durable, Leak Proof, Flushable Easy to use RV Toilet With Detachable Tanks for Effortless Cleaning & Carrying, for Travel, Boating and Trips
FULL-SIZED CONVENIENCE - This travel toilet is the answer for full bladders everywhere. With a full-sized lid, our porta potty is perfect for the comfort of adults and kids alike. No more holding it in for hours!
8-GALLON HOLD - You'll get a 3-gallon freshwater holding tank plus a 5-gallon waste water holding tank with this camp toilet (that's up to 50-70 flushes)!
EASY TO USE - When your portable bathroom is ready to be refilled, just use the 2 labeled side latches. Each tank comes with a strong cap to ensure no leakage whatsoever.
WATERTIGHT SEAL - With our top-tier toilet tech, odor is a thing of the past. This portable camping toilet has a watertight seal that contains all odor and foul smells until it's ready for disposal.
ULTRA DURABLE - Made of high-density polyurethane, this camping and RV toilet can withstand extensive travel out on the open road. Use it time and time again on your next adventure!
To use this type of toilet, you simply pull the sliding valve handle on the toilet's front to expose the holding tank.
Then, you can do your business. Most of these types of porta potties have a manual pump on the fresh water tank to flush, which needs to be pushed a few times to flush.
The top models have a level indicator to show the level of waste in their holding tank so you know when to dump the waste.
Bucket Camping Toilets  
As the name implies, a bucket camping porta pottie is a simple 5-gallon bucket with a snap lid that is used as a seat.
These can be made by yourself, or you can buy a ready-made model. And, as with regular buckets, these come with a handle to carry easily. 
For use, you will require compostable garbage bags and poo powder. Ordinary garbage bags also work well, as well as kitty litter. 
To use, place the bag under the toilet seat by removing the seat. Just make sure the edges of the bag hang outside the bucket's rim. Then, palace the seat and lid back on. 
These simple bucket toilets need to be emptied regularly, as they do not have a way of separating liquid waste from solid waste. 
Collapsible Camping Toilets
Collapsible portable camping porta potties are either collapsible or come with folding legs. Great for transportation, these are dry toilets that look more stylish than their bucket counterparts. 
The way this type of toilet works is practically the same as the bucket camping porta potty.
Sale
TRIPTIPS Portable Toilet for Car Travel Toilet Camping Toilet Portable Potty for Adults, Bucket Toilet, Waterproof Portable Folding Toilet for Camping/Boat/Hiking/Long Trips
【WE ARE BETTER】New Update TRIPTIPS portable toilet : ① Created by widened Toilet seat and Unique fastener design, makes it more comfortable and compact. ② Washable,Made of high- quality ABS plastic.③ Very sturdy, Strong resistance to fall and pressure, could hold up to 400 lbs. ④ Lightweight, Only 2.2 lbs, Easy to carry.
【EASY TO CARRY】: It canbe simply packed down very small and flat for convenient storage, very space-saving.This is a perfect portable folding toilet for traffic jam, camping, traveling, riding, hiking, fishing, boating, long road trips, beach, outdoor living, construction sites,etc, anywhere anytime for emergencies.
【MULTI-FUNCTIONAL】: It canbe used not only as a toilet for outdoors, but also a trash can, small stool, storage box, indoor toilet for the elderly, vomiting bucket for pregnant women, etc. Ergonomic Design, oval form, Ideal size, Comfortable for whole family use.
【SIMPLE TO USE】: Assemble in seconds, super easy and quick! Compatible with any 6-8 gallon bag for easier clean up to make doing your business on the road a breeze.
【INCLUDE】 : 1x Portable Toilet +1x Waterproof handy bag + 1x Manual + 1x toilet replacement bag
But, you also have to unfold its legs (usually three), and then insert a garbage bag into the bowl before adding poo powder.
Then, you can do your business. Simple!
In Summary
Out of the four main types of camping porta potties, the flushable version is the most sophisticated but, also, the most expensive.
What you choose depends on your needs and the type of camping trips you regularly go on.