Do you like to soak up the sun and be surrounded by nature? Do outdoor activities get you all hyped up and take your adrenaline levels to the extremes?
If the answer to all this is yes, then hiking in Indiana is the next thing to add to your bucket list.
With jaw-dropping climbs and stunning scenery, you are going to love wandering around the place.
Indiana is well-known for its vast croplands and farm fields.
Hiking trails in Indiana are the best in the nation due to the picturesque locations, crystal clear waterfalls, and natural attractions.
Are There Any Good Hiking Trails In Indiana?
As we mentioned in the beginning, Indiana has some beautiful trails surrounded by scenic beauty. Indiana's scenery is diverse, ranging from majestic cliffs to canyon creeks.
There are numerous hikes available, ranging from one-day to multi-day excursions.
1. The Knobstone Trail
Also called "The Appalachian Trail," this hiking path is the longest natural path in the whole of Indiana!
The woods include many unique types of trees like dogwood, maple, and even beech trees.
The path is 48 miles in length and was given its name after the "Knobstone" shale formations.
From the trek, you can enjoy the view of the Ohio River and that of Louisville.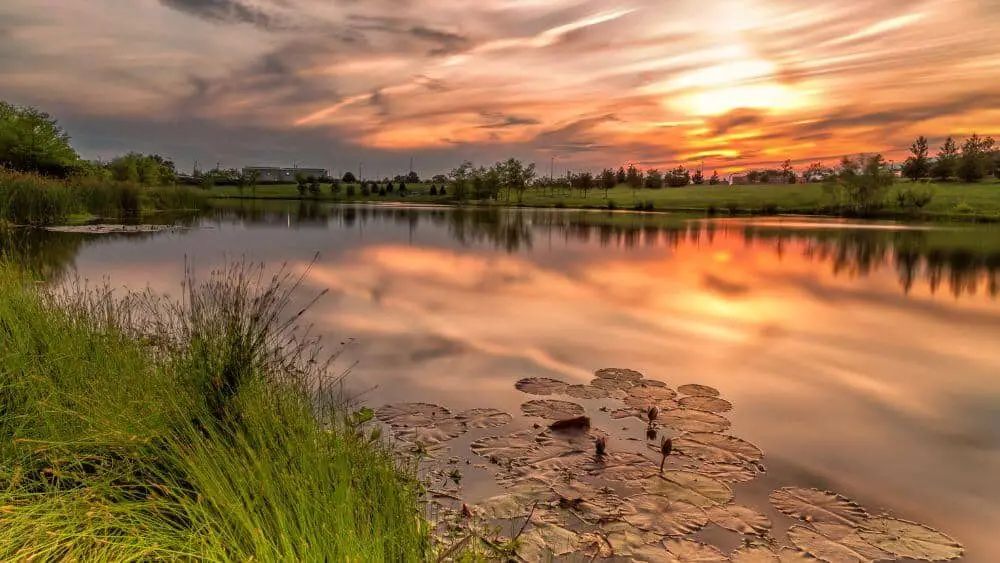 Moreover, this is one of the highest trails too, with an incline of 20,000 feet, and therefore takes three to four days to finish.
It is regarded as being among the most difficult trekking trails in Indiana, yet it is well-known for its rewarding views.
2. The Adventure Hiking Trail
This 25-mile circle, sited in O'Bannon Woods State Park, can be completed in 2 to 3 days.
Numerous special shelters can be used along the trail, but you might find that most of them are already occupied.
As you move up ridges and come down into hillsides, you'll get some beautiful sights of the Ohio River.
You will also see sinkholes and caves as you keep hiking and feel those alternations of terrain heights, reaching up to 400 feet at some point.
To assist backpackers, the path is marked with green and white paint on tree trunks and posts.
Mobile phone reception may be poor as you get more and more inside the park.
3. Hemlock Cliffs
The sketchy valley is famous for its cliff edges, sandstone caves, and waterfalls. The 1.25-mile circular trail descends into a massive canyon surrounded by oak trees and hemlock woodland.
It's been years now, however, that the caves are not accessible to visitors.
The Hemlock cliffs are well-known for seasonal hiking trips through snow and frozen waterfalls.
The rock formations, cold winter, and seasonal waterfalls of these cliffs are its most distinct features.
Hemlock Cliffs are inside the Hoosier National Forest and the path is considered somewhat difficult, so it should not be attempted by inexperienced hikers.
4. Clifty Falls State Park
Clifty Falls State Park, located in southern Indiana, boasts waterfalls, hiking paths, and the renowned Clifty Inn. It is regarded as one of southern Indiana's famous treasures.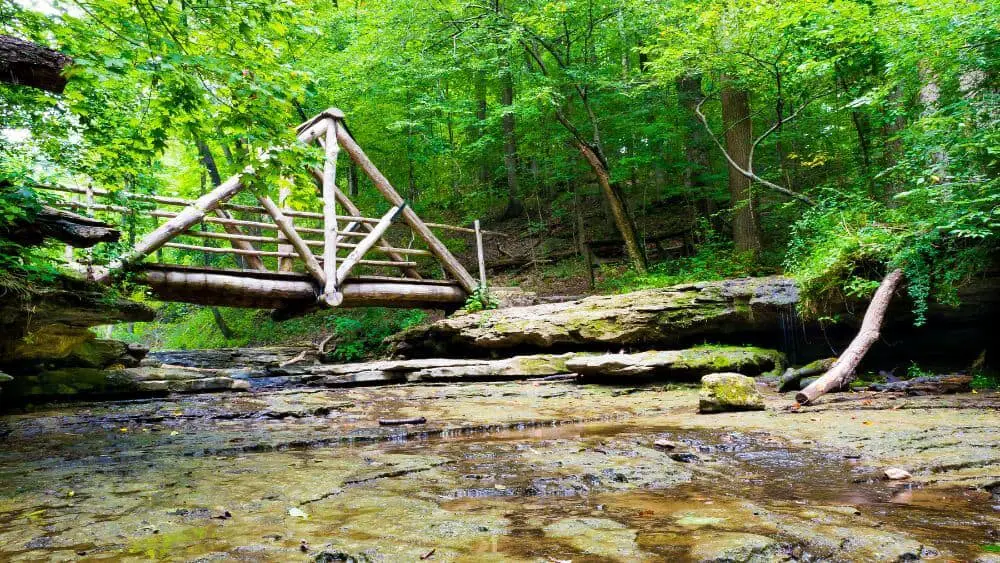 The State Park is widely recognized for the 300-foot-deep canyon carved out millions of years ago by the Clifty Creeks. The park's star highlight is the Oak Grove tunnel.
Clifty Falls State Park is in Madison and has entryways on State Routes 56 and 62.
The park is located directly across the Indiana-Kentucky state line, and it has about 12 paths of varying lengths that encompass a total of 573 ha of land.
5. Spring Mill State Park
Spring Mill State Park has the best combination of culture and nature, and it has a lot to offer in terms of activities and exploration.
On the park's grounds, visitors can participate in activities such as cave visits, bicycling, trekking, wildlife activities, and swimming.
The outdoor recreational activities at Spring Mill State Park are well-known.
This park is three miles east of Mitchell and three miles south of Bloomington.
It is accessible to the public from 7 a.m. to 11 p.m. year-round, with certain of its features, like swimming, and operating in different seasons.
6. McCormick's Creek State Park
In the middle of natural scenery, McCormick's Creek State Park offers a variety of services and recreational opportunities.
Wolf Cave, Twin Bridges, and McCormick Falls are all well-known tourist destinations.
The trekking route is approximately 10 miles long. Saddle Barn provides horse-riding as well as pony tours.
The Olympic-sized pool and Recreation Centre situated inside the park are also very popular among visitors, while the park is also well-known for its gorgeous scenery, waterfalls, and hiking trails.
7. Charles Deam Wilderness-Peninsula Trail
This 36-mile trek is suitable for a variety of people such as backpackers, hikers, campers, and horseback riders.
The path, which spans 12,953 acres in Hoosier National Forest, provides breathtaking views of Monroe Lake.
Charles Deam is well-known for its wildlife and horse shelters. Equestrian traffic is inextricably linked to this park.
Beyond everything else, it is mostly famous amongst campers for its unique sunset setting.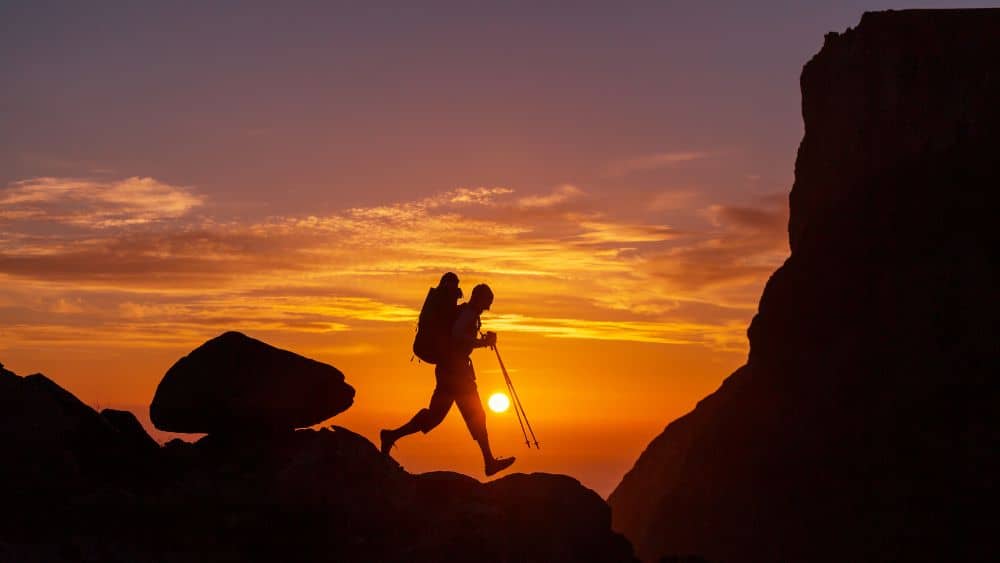 This trail is located close to Bloomington, Indiana.
The best spots in the Charles Deam wilderness area are Brooks Cabin as well as the History Ridge Lookout Tower.
8. Turkey Run State Park
This park is also called the "Grand Canyon of the Midwest," and for good reason.
As for the trails, there are 11 to choose from, depending on how easy or difficult you want them to be.
The Turkey Run State Park is a great place for a lunchtime hiking trip, with some scenic paths that can be explored from the early morning hours till the late evening. Nevertheless, no trekking is permitted after dusk.
While the park's hiking trails are extremely safe, it does have a dangerous and challenging-to-cross suspension bridge over Sugar Creek.
A must-see attraction in the state of Indiana, it is well-known for its camping opportunities but also the Turkey Inn, a lovely and picturesque site with views of the State Park.
The Bottom Line
Hiking in Indiana is an amazing experience. There are hundreds of trails to explore, and this article has the best ones you can visit. So, make that bucket list and start ticking things off!