Hiking is a popular pastime for many fitness enthusiasts. It's a great way to stay healthy whilst seeing all the lovely sights this world has to offer.
If you're lucky enough to be living or visiting North County San Diego, you'll be spoiled for choice for hiking trails and places to see.  
The San Diego area has a variety of inland and coastal regions. There are a plethora of hikes to enjoy and adventures to be had. Let's look at some of the best ones to tempt you. 
Elfin Forest 
Escondido is a picturesque city in San Diego County and sits in a valley surrounded by rocky hills. It's here you'll find the beautiful Elfin Forest. It has 11 miles (ca. 18 km) of hiking trails to choose from.
Whilst hiking through the mountains, you'll find a wonderful array of plants native to the area. 
Throughout the reserve you'll find information about the plant life and trees. In addition, you'll come across a very cute bubbling creek where you can stop and breath in the fresh mountain air before continuing the trail.
The area is protected, so the reserve can be enjoyed by many in the future. 
Hellhole Canyon 
This trail covers 13.5 miles (ca. 22 km) and offers trails for beginner hikers through to more advanced. In addition, if you're planning on camping throughout your hiking experiences the preserve has 10 campsites primarily for organized groups, great if you're going with friends. 
If you follow the main trail, it will take you from a staging area downhill to the riparian zone and past Hell Creek. You'll walk through amazing centuries old oak and sycamore trees, providing some shelter from the San Diego sun. 
If you dare to venture past Hell Creek you'll start ascending up the Rodriguez mountain which is quite a trek but worth it for the superb views from the top.
From the top you can see amazing views of the Pacific Ocean and depending on the time of year you'll be able to see the wonderful floral display across the mountains, a photo opportunity in the making. 
Lake Calavera 
This beautiful lake is a sight to behold. It offers a loop trail that takes you around the lake and up Mount Calavera that used to exist as a volcano. There are a selection of trails to choose from, each with their own unique views. 
The lake trail is a popular choice for those with dogs who can cool down in the lake and have fun exploring. Furthermore,  there are lots of beautiful wild flowers to identify en route, what's not to love!
San Elijo Lagoon 
This reserve provides a relaxing break from the real world. There are easy or hard trails and 7 miles (ca. 11 km) of exploring to enjoy.
You will come across a marshland, riparian scrub, mixed chaparral as well as a good selection of TRACK trails where you can spend some time identifying the natural elements passed en route. 
Incoming tides cover the area with salt water twice a day, providing the area with lots of wildlife, which is breathtaking to see. If you want to enjoy the sights over a few days, there are campsites nearby, so you can extend your stay. 
Potato Chip Rock 
A very popular hike, many people do this hike for the fantastic photo opportunity. The natural rock is so named because its thin structure is shaped just like a potato chip. 
The area is huge, with 78 miles (ca. 126 km) of trails available. Be sure to be fully prepared, especially if the weather is hot. It's advisable to stay on the marked trails and not venture off, as it's very easy to get lost.
There are maps available to help you get around. 
If you make it to the rock you won't be disappointed but bear in mind that standing, jumping or hanging from the rock is not for the faint-hearted; be warned! 
Annie's Canyon Trail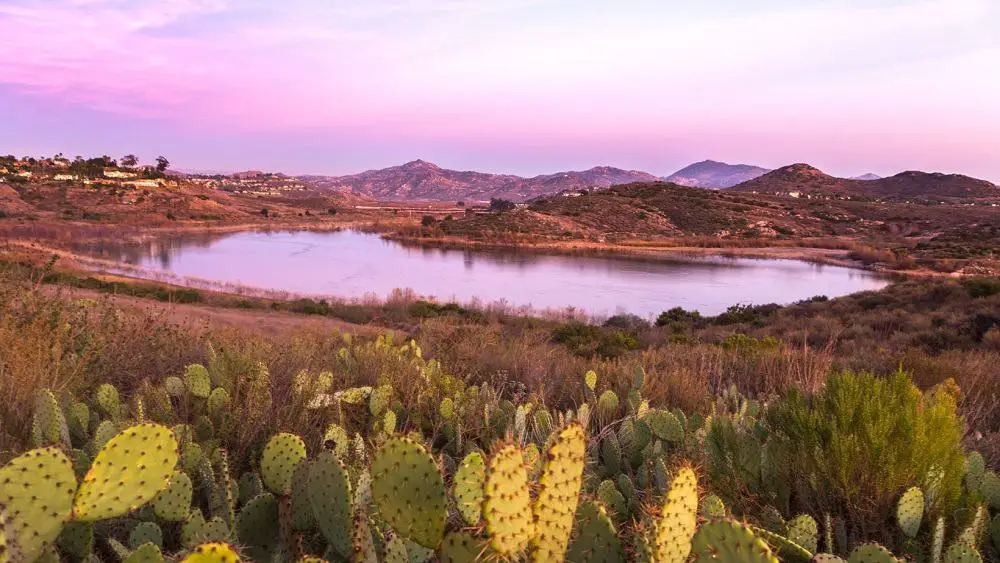 This trail is unique and perfect for the adventurous. It's not super long, but the terrain is different to most trails. En route to the canyon you will need to negotiate narrow walls, ladders and uneven ground.
You will encounter steep and narrow pathways, so be sure to be well-equipped with good walking shoes and plenty of water. 
For many years the trail was not open to the public until 'Annie' donated some money to make it safe and passable for hikers. You can start the trail from North Rios, which will guide you through the slot canyon. 
The views during the hike are spectacular. Furthermore, you'll encounter waterfowl migrating to the area. Don't forget your camera. 
Cardiff- by-the- Sea
Nestled between Encinitas and Carlsbad, Cardiff is the ideal location for hiking. Cardiff has long reaching beautiful beaches, and you can choose different level hikes depending on your fitness or preferences. 
If you are staying locally, the hike from Cardiff beach to Swami beach is superb. It covers 1.7 miles (2.74 km) and is a relaxing walk with great places to eat en route. It's perfect if you don't want anything too strenuous or if you're walking with children. 
For the more enthusiastic hiker you can walk the 7 miles (ca. 11 km) from Carlsbad to San Elijo beach, well worth the extra effort, the beach views are mind-blowing with lots of nautical wildlife to see on the way. 
Double Peak Trail 
This trail offers a wonderful wander all the way to Double Peak Park, which boasts fantastic views over the city. The trail begins at Discovery Lake and offers the chance to see wonderful native wildlife.
The trail is suitable for dogs and children, although small kids may struggle to complete the whole trail. 
Read next 🐶 – Best Hiking Dogs
If you time your hike, so you reach the top as the sun is going down, you won't be disappointed. The ambience is perfect for a romantic moment with loved ones in a relaxing space. In addition, you can walk the trail all year round. 
Whether you opt for the easy route or a more challenging option, hiking is a wonderful way to see many of the beautiful sights our world has to offer.