The Alta Via 1 runs through the center of the Dolomites, but not everyone has heard of this magnificent mountain range.
In this article, we will look at what it is like to hike the Alta Via 1 of the Dolomites and answer all your questions regarding the Alta Via 1 and your itinerary.
The Rifugios you can stay in or take a break at, the difficulty of the trip, and what you need to take with you!
So, if you want to know more about all that, don't stop reading now!
Brief History Overview Of The Dolomites
The name of this mountain range comes from Deodat de Dolomieu, a French geologist of the 18th century who found the dolomite mineral in the area.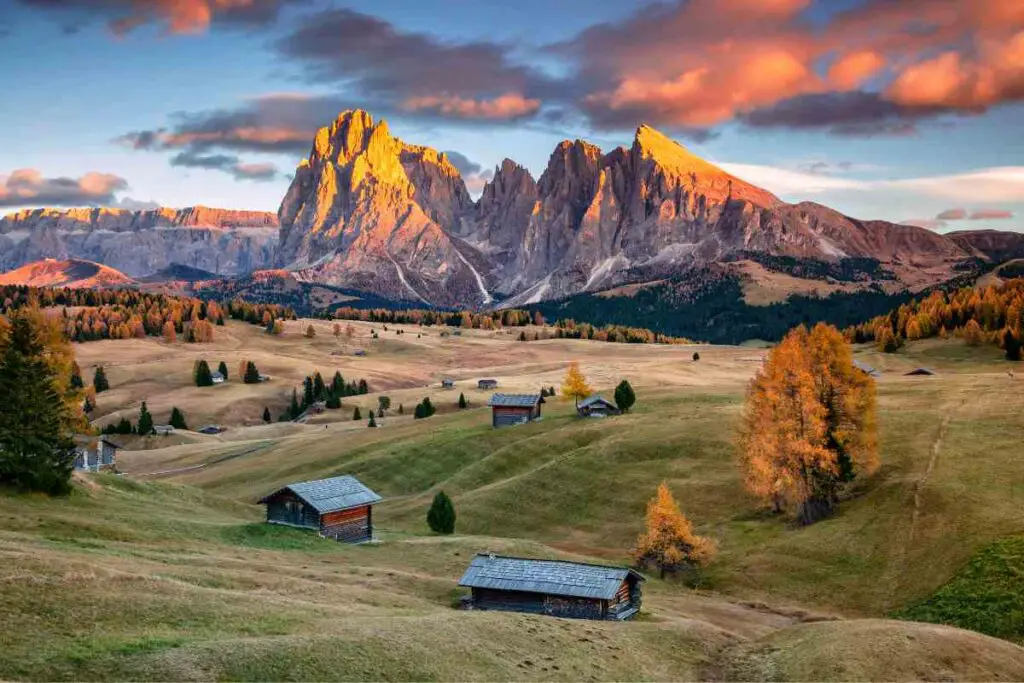 The mountain range's history, which goes all the way back to several fatal conflicts during World War I, is both incredibly interesting and deeply disturbing.
During this time, the Via Ferrata was constructed to facilitate military movements, and a number of its distinctive features, like the Lagazuoi underpasses and the trenches around the Cinque Torri, were also created.
Where Is The Alta Via 1 And The Dolomites And Why Is It Special?
The Alta Via 1 is a long-distance mountain hike that takes you through the stunning Italian Dolomites, which can be found in the South Tyrol region on the north side of Italy.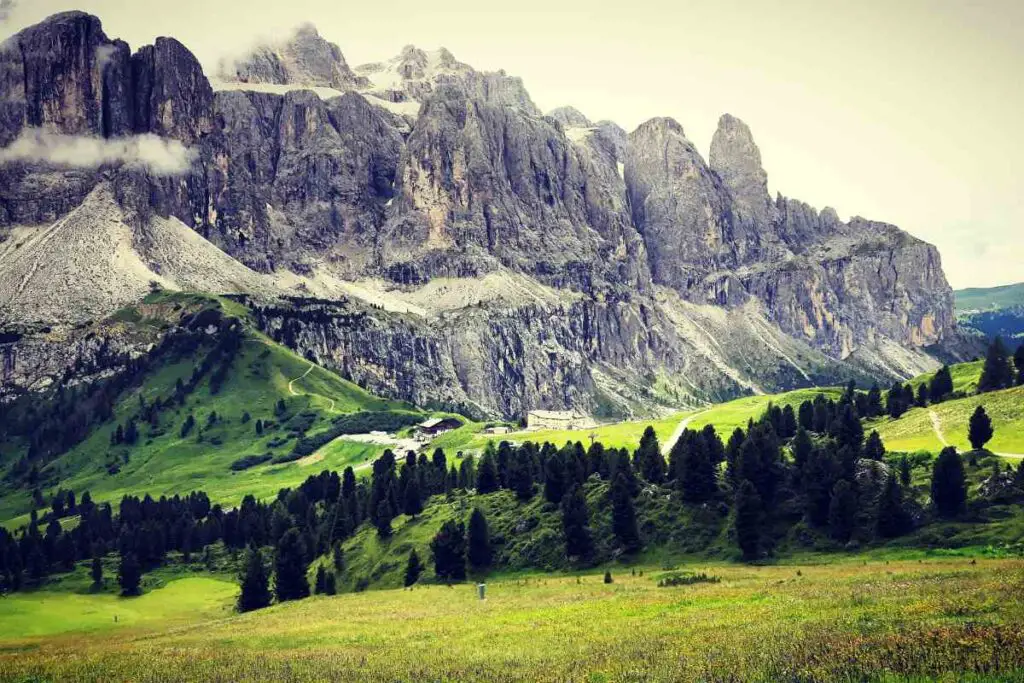 To be more precise, this mountain range spans the regions of Belluno, South Tyrol, as well as Trentino.
The "enrosadira" (alpenglow), a breathtaking phenomenon that happens when the already gorgeous highs of the Alta Via Dolomites shine in pink colors at dawn and sunset, is among the most distinguishing aspects of the Alta Via 1.
Even if you are not an avid hiker, it is really worth making the journey only to see the "enrosadira" once in the morning and once in the afternoon or evening, depending on when you visit the Dolomites.
Where Does The Alta Via 1 Start And Finish?
When taking the Alta Via 1, the Dolomites hiking trip starts from the beautiful Lago di Braies (Pragser Wildsee) and ends at La Pissa, where you can take the bus back home.
Traversing phenomenal sharp mountain ranges, spectacular canyons, and dazzling valleys, the Alta Via 1 Dolomites promises a one-of-a-kind experience and is the route most people choose to explore the mountains.
Alta Via 1 Hike: The Dolomites
How Many Days Does It Take To Hike Alta Via 1 In Dolomites?
Typically, hikers spend anything from 8-11 days hiking the Alta Via 1 in the Dolomites, which obviously depends on your pace.
Alta Via 1 Difficulty
The majority of the highs in this mountainous region are higher than 3000 meters, with the tallest point, Marmolada Peak, standing at 3343 meters.
As for the routes you can take, there are 6 major Alta Vias, each with its own identity, views, and level of difficulty.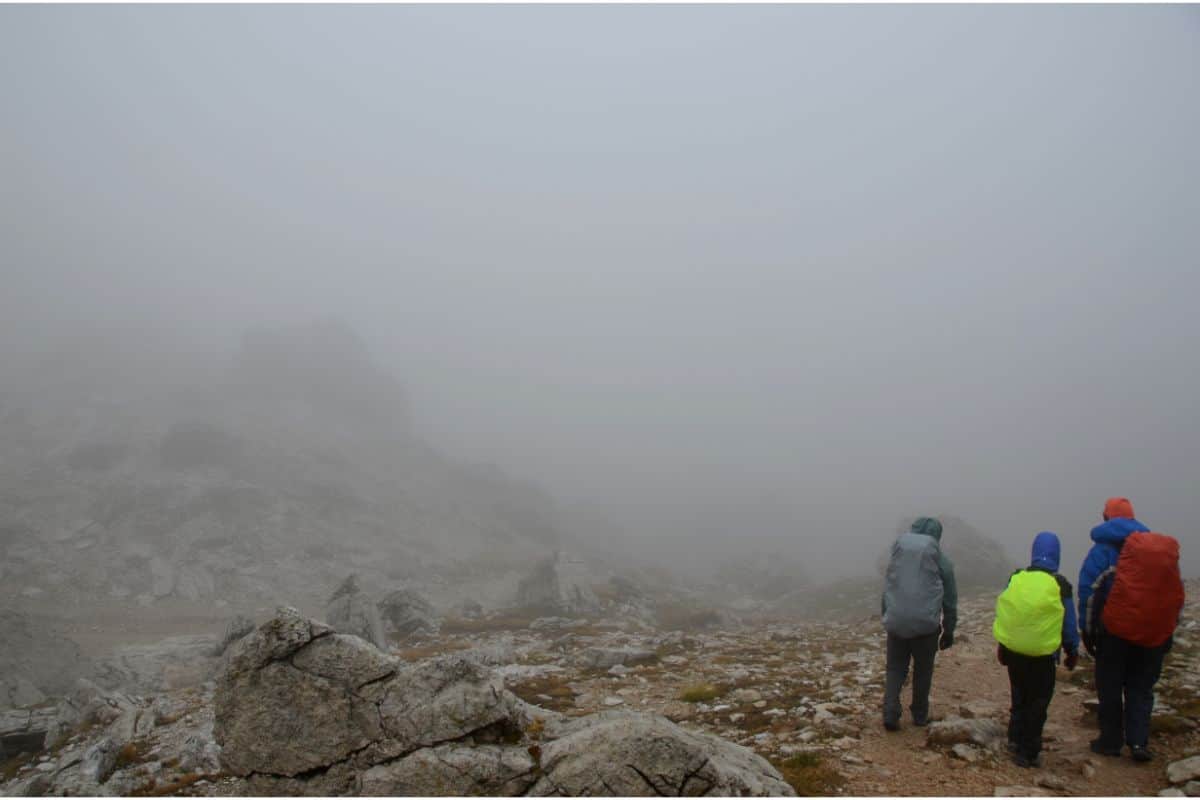 Alta Via 1 is undoubtedly the most attractive and the one most people prefer to hike, partly thanks to its superior infrastructural development and partly because most of the other ways entail passing through "Via Ferrata" pathways.
These "iron roads" need some special equipment like ladders, chains, cables, and rungs to climb them, which is not something all hikers are capable of doing or even want to do.
There are several Via Ferrata parts on the Alta Via 1, however, they are much easier when compared to those of the other ones, and you won't need any equipment to traverse them.
Not only that but there are also variants you can choose to avoid via variant routes, if necessary, with the exception of a handful of short distances between Rifugio Tissi and Carestiato.
It is, however, important to note that even though Alta Via 1 is by far the easiest and most accessible route for hiking in the Dolomites, it is by no means an easy hiking trail in general.
There are a few sections of uphill, rugged terrain and there also are some narrow and potentially dangerous pathways, such as the one between Passo Duran and Pian de Fontana.
That should not be walked by hikers who are afraid of heights, as there is no protection on the sides of these paths that are on the edge of the hills.
However, metal cables that serve as guardrails in the more difficult sections have been installed, so if you want to overcome your fears, you might want to try these routes.
Alta Via 1 Itinerary
Stage 1: Lago di Braies To Rifugio Fanes
A beautiful place to start your hiking trip, the Alta Via 1 introduces itself to you with a simple, smooth (and generally crowded) hike along Lago di Braies.
So, your hiking trip begins at Lago di Braies, a lovely mountainous lake encircled by lofty mountains and pine woodlands with a gradual ascent to the first crossing known as Forcella Sora Forno.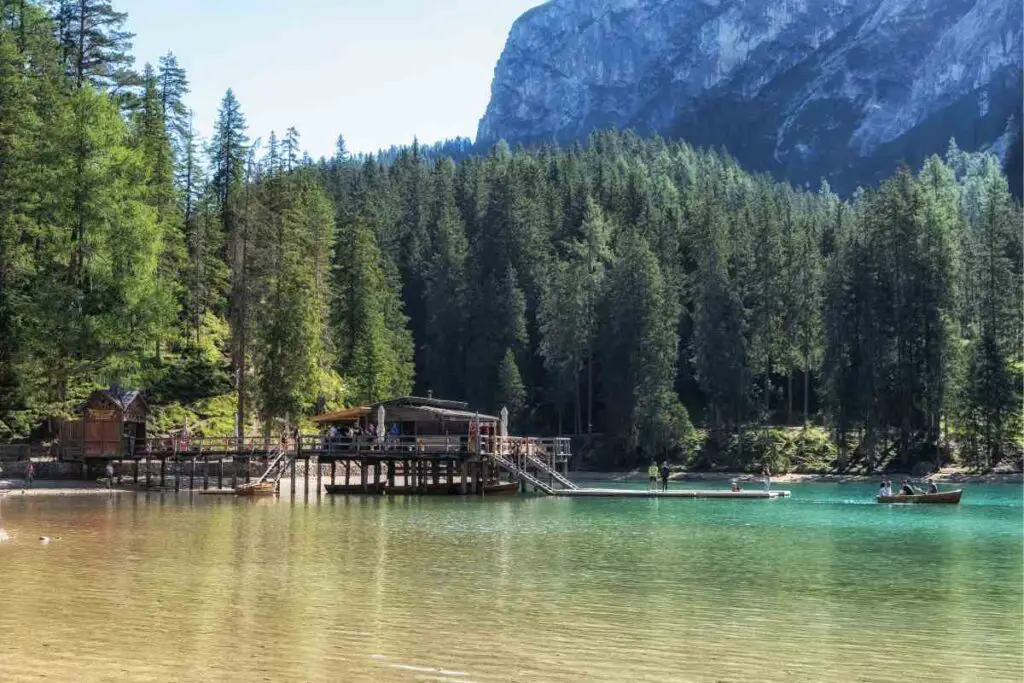 This section of the path includes multiple cliffs that are crossed by short yet thrilling curving pathways using cables.
Forcella Sora Forno also marks the entrance to the Dolomiti National Park.
While the scenery from the expansive, open crossing is extensive and simply stunning, with views of the north side of the Dolomites along with the Marmolada and Tofane highs.
What follows is a sharp downhill into a bumpy valley with captivating orange stone walls, followed by a last long upward section.
Distance: 20 kilometers
Elevation Profile: 1500 meters gain
Stage 2: Rifugio Fanes To Rifugio Lagazuoi
The second day of your hike will take you through one of your trip's most difficult and longest routes.
Although this day begins easily as you will be passing through grassy fields and smooth terrains.
You will at some point realize how much more difficult and steep the terrain becomes as you start climbing up Forcella Del Lago.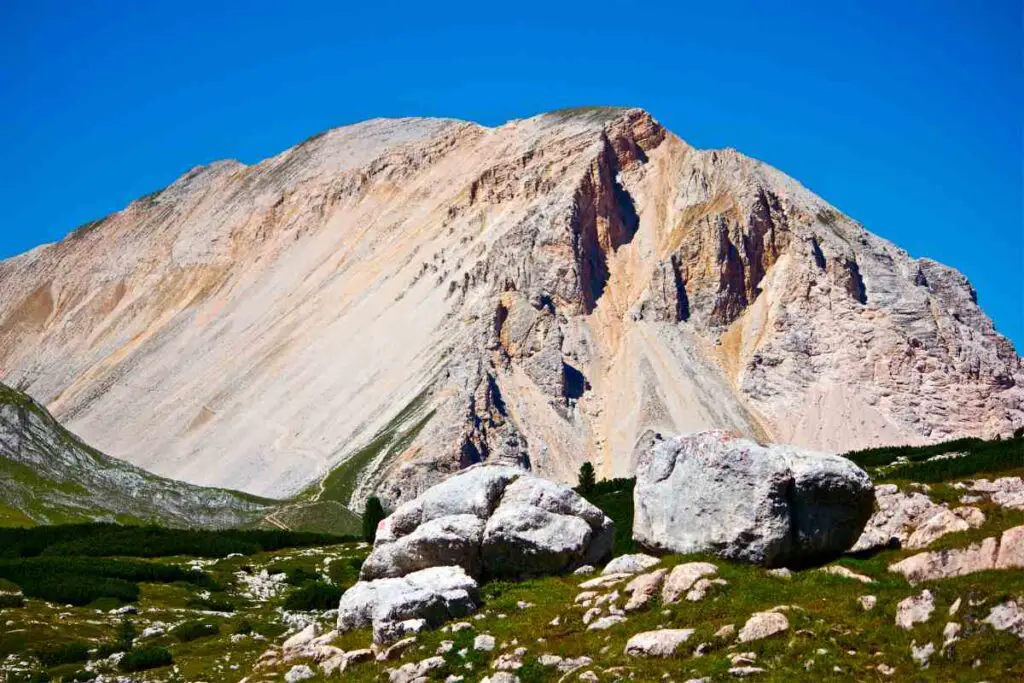 Forcella Del Lago, a high rough pass in Italy, sitting at 2,486 meters high, is quite narrow at some points so you will have to try a bit harder to cross it.
However, what follows is a downhill that will ultimately reward you with a scenic backdrop of the idyllic Lago di Lagazuoi.
This day will end with a sharp ascent to the summit of Mt. Lagazuoi where you'll find the busy Rifugio Lagazuoi, which has one of the best views in the Dolomites.
Distance: 15 kilometers
Elevation Profile: 1150 meters gain
Stage 3: Rifugio Lagazuoi To Rifugio Nuvolau
In comparison to the previous day, the third day of your hiking trip in Alta Via 1 will seem and feel much easier to complete.
On this day, you will pass through Cinque Torri, the center of the Cortina Valley and what is probably the most picturesque and remarkable place on the entire journey.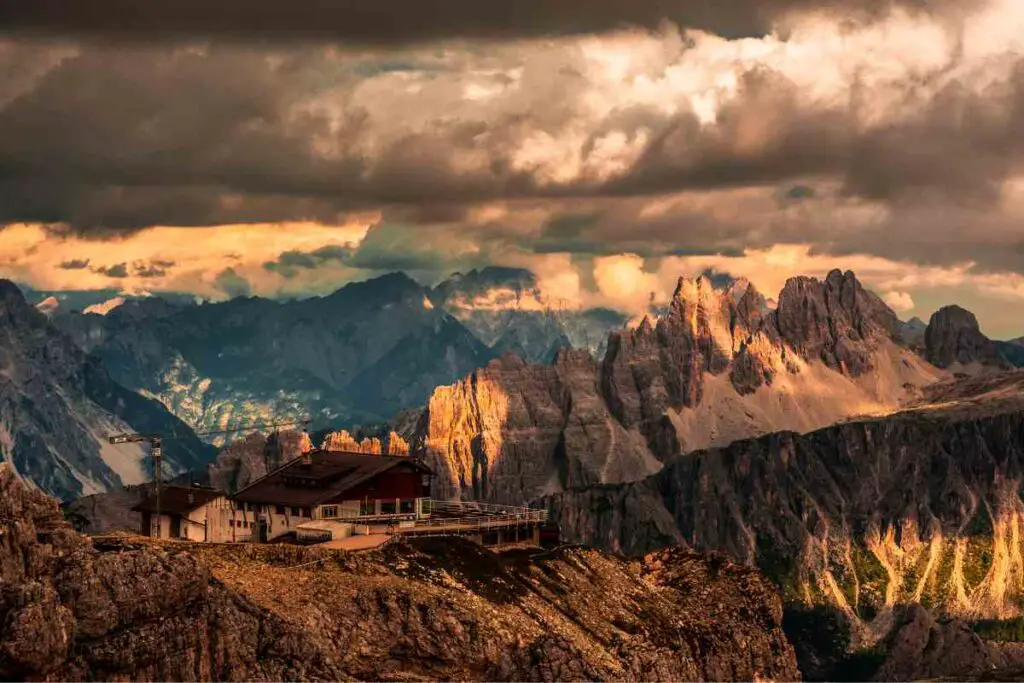 You can stop for a break at Rifugio Averau which has a great reputation for its delicious food or even spend the night there to continue the next day if you want and head to Rifugio Nuvolau.
There are numerous routes to Mt Averau from that point and the cable car road can be used to come down from Rifugio Lagazuoi as well as from other parts of the mountain.
You can also go through the tunnels or take the dreaded and difficult 402 route in order to enjoy the panoramic views of the valley and mountain ranges, which would include Cinque Torri.
Distance: 13.4 kilometers
Elevation Profile: 944 meters gain
Stage 4: Rifugio Nuvolau To Rifugio Passo Staulanza
A downhill from Rifugio Nuvolau will take you to a mountain pass close to the valley, where you start climbing again to Forcella Ambrizzola pass.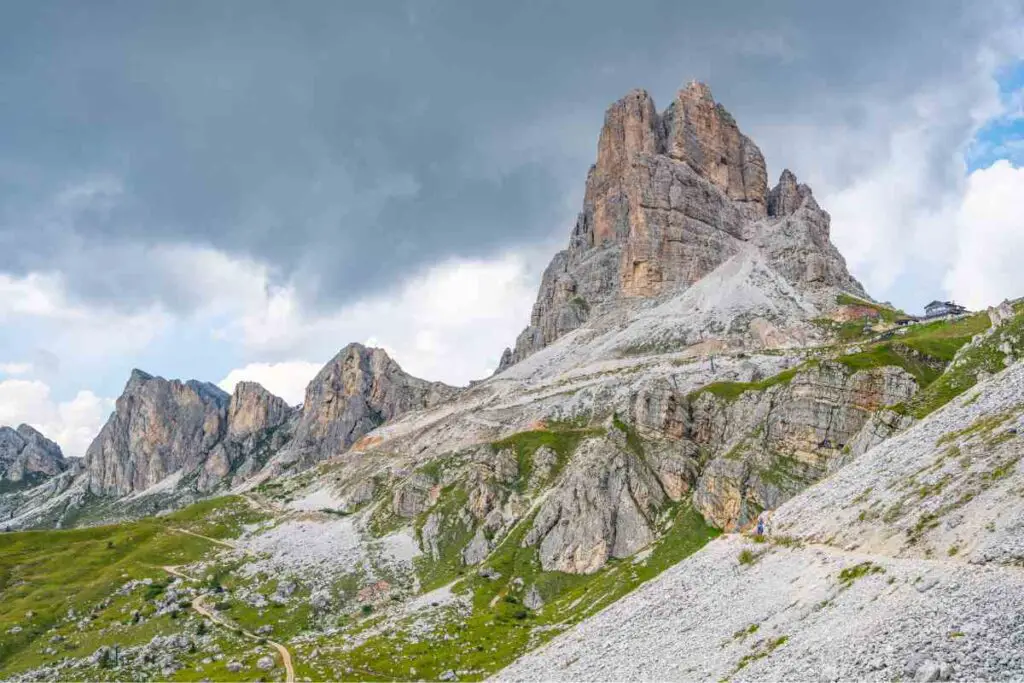 The spectacular Monte Pelmo will prevail in the background and provide you with a magnificent view that will keep you company as you pass through the forest until the mountain appears right in front of you.
Then you will hike along Rifugio Città di Fume until you reach the Staulanza pass and the lovely Rifugio Passo Staulanza.
Distance: 16.2 kilometers
Elevation Profile: 502 meters gain
Stage 5: Rifugio Passo Staulanza To Rifugio Vazzoler
This stage starts with a steep uphill hike past Rifugio Coldai and into the Monte Civetta area.
From Rifugio Coldai, you'll see some of the most amazing sights of the splendid Mountain Pelmo before you keep walking all the way to the lovely Lago Coldai.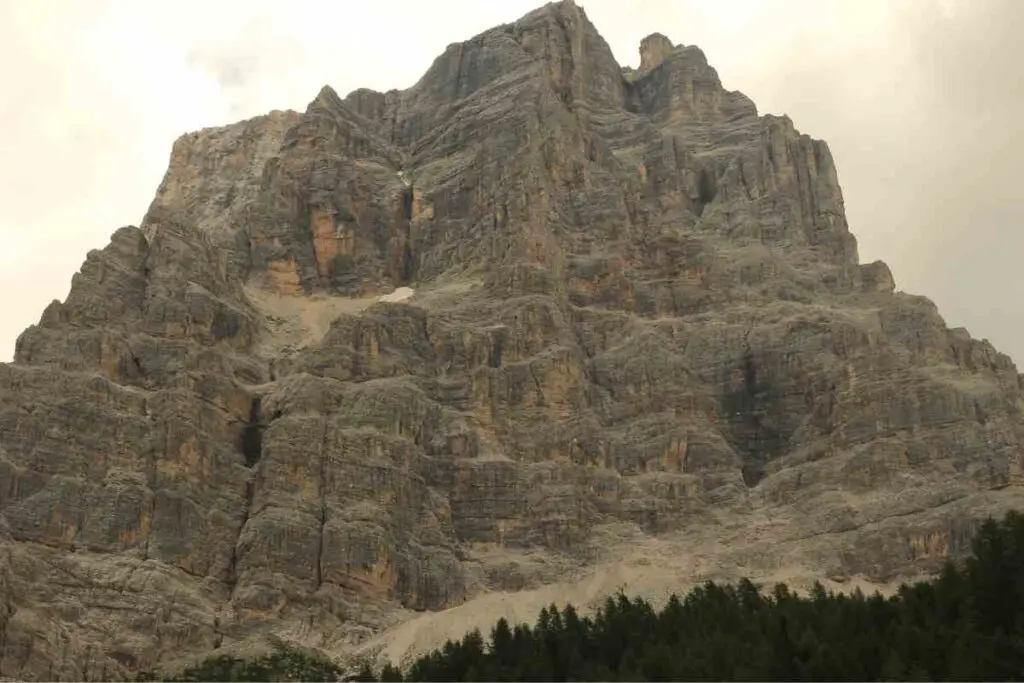 You can stop for a bite and coffee at Rifugio Tissi, a famous rifugio on the Alta Via 1, however, your final destination of the day will be Rifugio Vazzoler, located on the southern side of Punta de Gasperi.
Distance: 15 kilometers
Elevation Profile: 780 meters gain
Stage 6: Rifugio Vazzoler To Rifugio Bruto Carestiato
From Rifugio Vazzoler, you embark on a hike of a gradual ascent toward the thrilling Forcella Col de l'Ors crossing. Following that is a brief ascent to Forcella Del' Camp.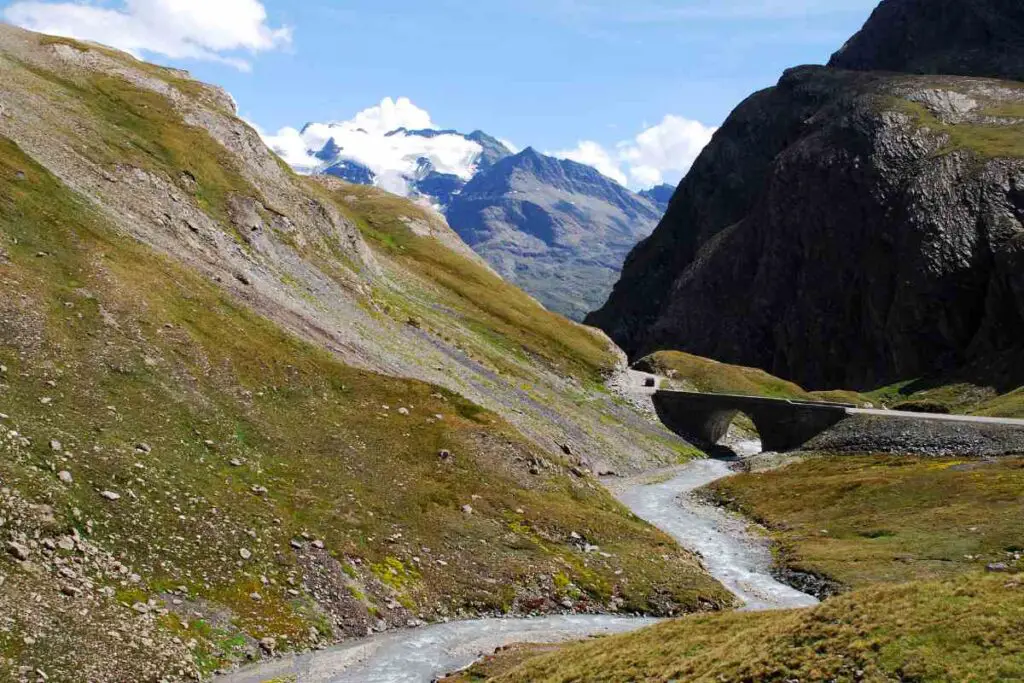 From there, you will take a downhill route that will be surrounded by massive rock structures, and you will then gradually but steadily approach your destination for the day: Rifugio Carestiatio.
Distance: 9 kilometers
Elevation Profile: 610 meters gain
Stage 7: Rifugio Bruto Carestiato To Rigufio Pramperet
This stage is relatively short, involving a lot of hiking through the woods but also an abundance of scenic views to appreciate will take you from Carestiato to Pramperet.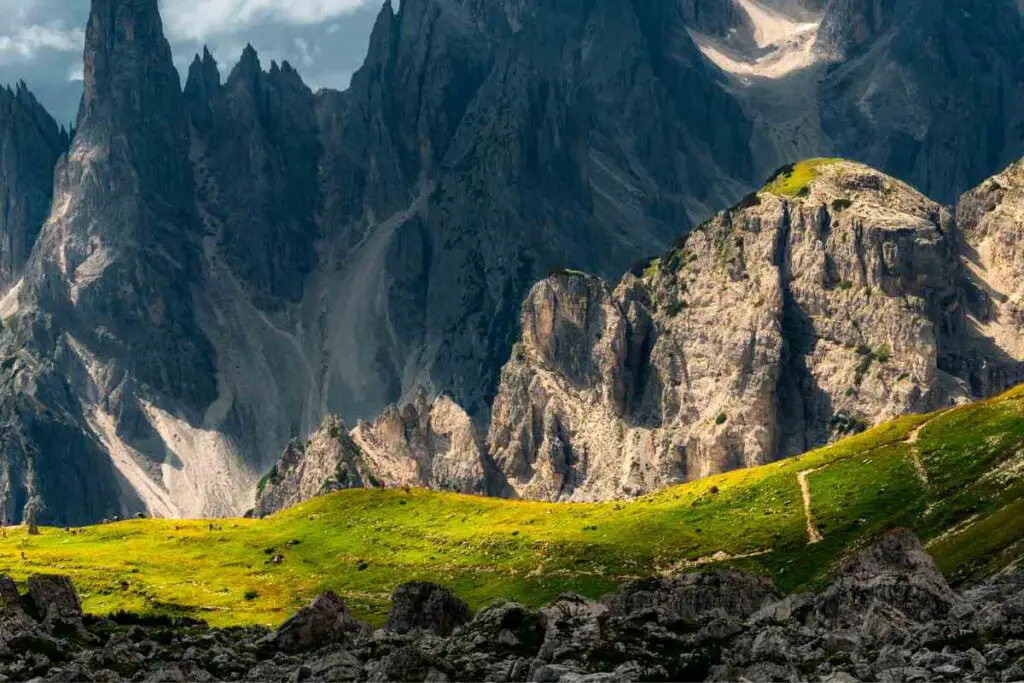 The stage starts with a downhill route and is then followed by some road walking which is succeeded by long bits of effortless forests you'll go through before slowly hiking uphill towards the highest point close to Forcella del Moschesin.
You will eventually reach your final destination of the day, Rifugio Pramperet, where you can spend the night before your final stage of the Alta Via 1.
Distance: 13.8 kilometers
Elevation Profile: 680 meters gain
Stage 8: Rifugio Pramperet To La Pissa
The final stage of the Alta Via 1 in the Dolomites is not a short one, but once you get to La Pissa you will realize that this was one of the best stages.
Start your day as early as possible to enjoy walking down the hills with views of the sunrise. Forcella de Zita Sud will also provide some amazing views, but the ascent will be a difficult one.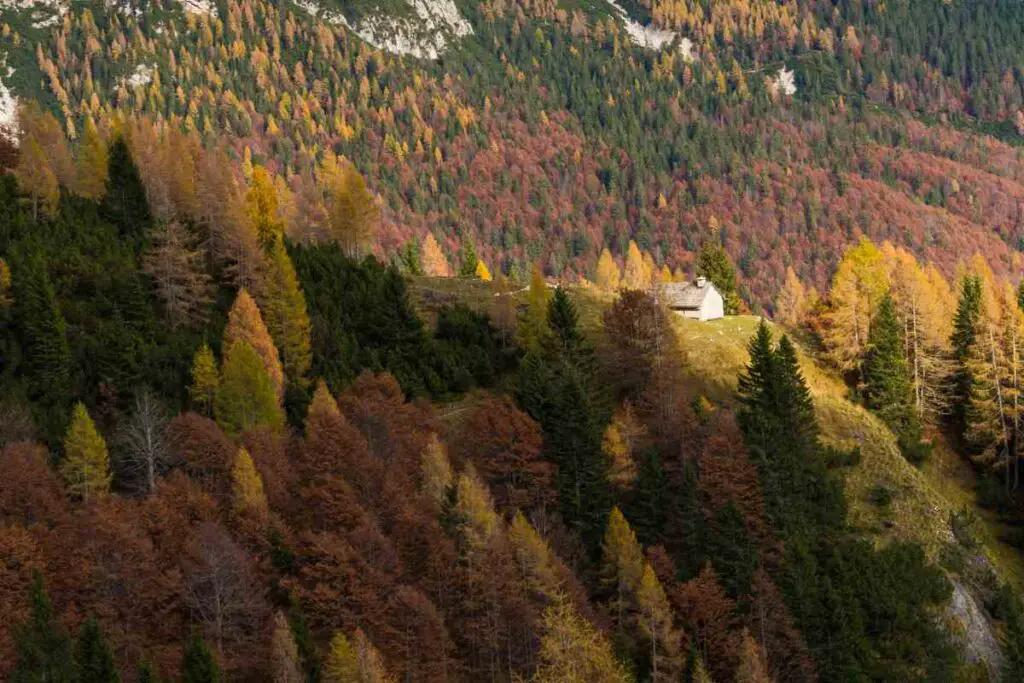 You will then reach Rocky Ridge where you need to be careful as there are several exposed bits here that are brief but not ideal for the faint at heart.
This pass serves as the entry point to one of the most picturesque hillsides on the Alta Via 1.
The route back down begins gently but quickly steepens down a lush green hill before arriving at the Rifugio Pian di Fontana.
From there, you can head to Rifugio Bianchet and then reach La Pissa from where you can take the bus and head back home.
Distance: 18.3 kilometers
Elevation Profile: 805 meters gain
Alta Via 1 Map With Rifugios
This map has all the Rifugios you can find on the Alta Via 1, so you can use it to plan your trip.
Alta Via 1 Packing List
There are several packing options but what you will pack with you depends on your travel arrangements, timetable, the season you plan on going for your hiking trip, and whether you will be staying in hostels or guest rooms.
And, of course, backpackers need to bring extra equipment with them that those staying in Rifugios will not have to carry along.
However, here are some things you will need to have with you regardless of where you'll be staying:
The Bottom Line
The Alta Via 1 is the easiest and best route to follow if you want to explore the Dolomites.
And, in this article, we shared a suggested itinerary that you can always adjust to your preferences and conditions.
However, no matter how many days you end up spending there, rest assured that you will enjoy it a lot!