This article will take an in-depth look at the Gossamer Gear, The Two tent to help you decide whether this is the tent you need.
We will look closely at the features of the tent, its positives and negatives, and how it compares to others on the market. With all of this information, you will be able to see if this is the right tent for your next camping trip.
Let's begin our Gossamer Gear, The Two tent review!
What to Expect?
When camping, one of the most important choices you can make is which tent is best for you.
Whether you are going for a long trip in the middle of nowhere or are camping overnight in your backyard, you will need a tent that can stand up to the elements.
It's your shelter, storage space, and bedroom all rolled into one piece of canvas. This is why it's important that you choose a tent you can trust to keep yourself and your belongings dry and safe.
There are many types of tents available to purchase, so it can be difficult to decide which one is best for you.
There are also an abundance of factors that decide whether a tent is worth purchasing and many features you need to consider before you make your choice.
What Is Gossamer Gear?
History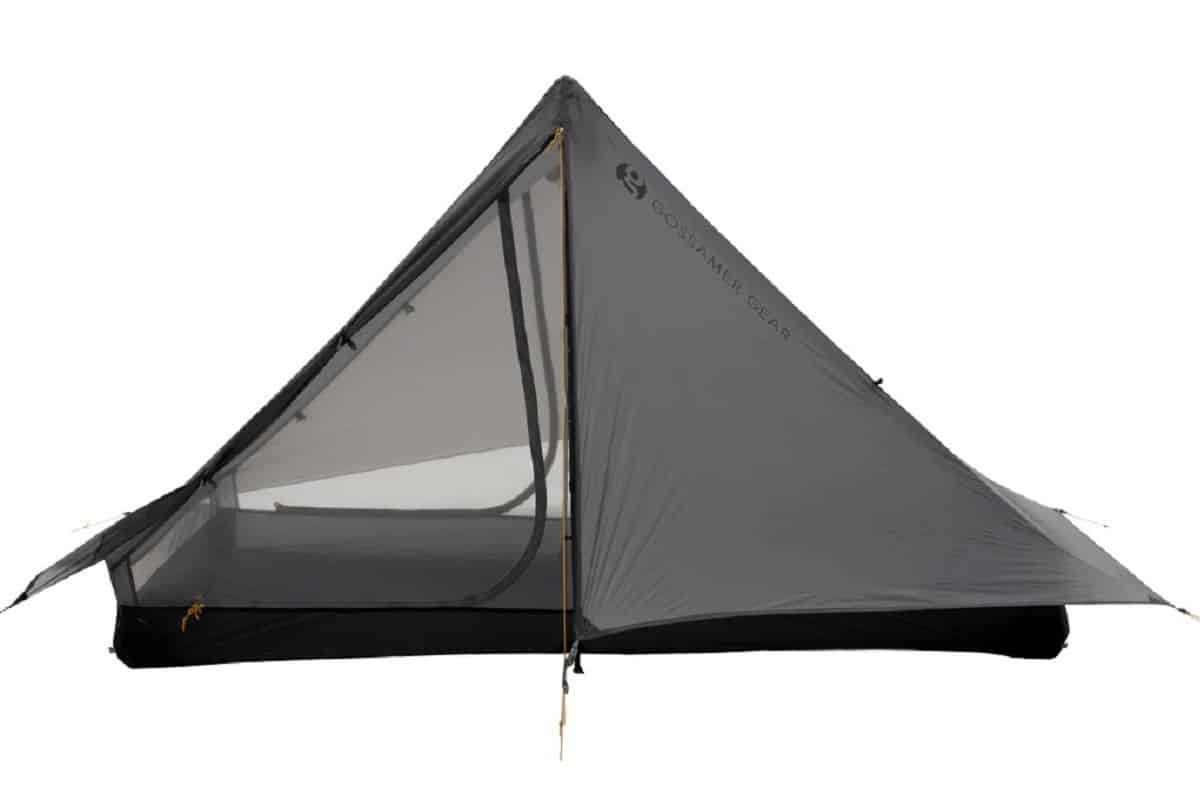 Gossamer Gear was founded over 20 years ago by Glen Van Peski, when he joined his son on a camping trip with the boy scouts and was surprised by how heavy their backpacks were.
Van Peski decided to design his own, lighter backpacks and founded the company GVP Gear. To begin with, his products were made by his wife and other women in the neighborhood.
In 2004, the company was renamed Gossamer Gear and added other products to its line of products, such as shelters and rain gear.
As the orders started to roll in, Grant Sible joined the company as its President, and it relocated to Austin, Texas.
Gossamer Gear Today
Today, Gossamer Gear has grown from a small family business to a well-known brand name in the outdoor industry. They have expanded their product lines to include everything from sleeping bags to hiking boots.
Their headquarters remain in Austin, TX, but they also have offices in Denver, Colorado, and Seattle, Washington.
The company produces a wide range of lightweight but durable camping goods. All of their products are designed to withstand harsh weather conditions and rough terrain while still being comfortable to sleep in.
Read later – Best Hiking Washington State
About the Gossamer Gear: The Two Tent
When you buy a Gossamer Gear tent, you get more than just a tent; you get a whole new way to spend time outdoors.
Whether you are planning a weekend camping trip or spending the night at a friend's house, the Gossamer Gear tent is perfect for any situation.
Measurements
The shelter weighs 23.5 ounces (667 grams) with factory-taped seams and lines attached. When packed, it measures 11 inches by 5 inches.
The bathtub floor is 84 inches long, with a head end width of 48 inches and a foot end width of 42 inches.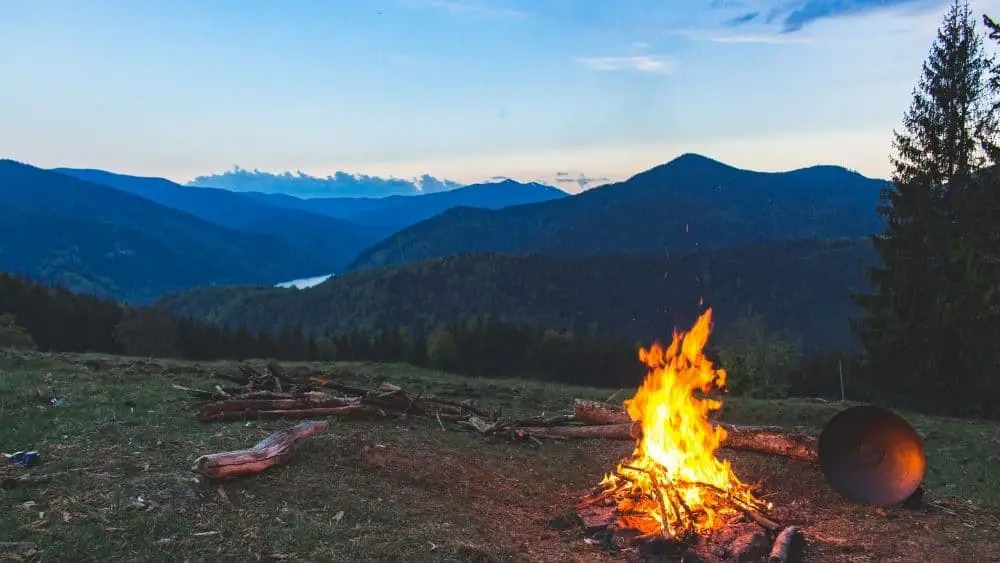 The length of the ridgeline is 64 inches and the interior height is 43 inches. The bathtub floor is large enough for two tapered inflatable pads of 25 inches in width to fit.
The vestibule has a functional space of 10 square feet. The length of the vestibule zipper is 45 inches.
Material
The Two tent is constructed using 100% nylon ripstop fabric. This material is very durable and tear-resistant, as well as being water-repellent to at least 1800 mm and highly breathable.
It is also extremely lightweight and easy to pack. The guylines are made from a reflective nylon sheath that has a one-millimeter Dyneema core. The vestibule zippers are also waterproof.
Features
One of the most important things about the Gossamer Gear tents is that they come with plenty of useful features. Here are some of the highlights:
3-season tent
2 doors
Mesh windows
Heavy-duty poles
Durable aluminum frame
Easy setup
Lightweight
Weatherproof
Water-resistant
Tear resistant
Setup Details
The Two tent is non-freestanding, so you will need to ensure that the guylines have enough tension to give the tent its shape and support. This is achieved by using two poles that are supported by the guylines.
You will need at least six stakes to securely set up the tent, and these should be placed in the four corners and one at each vestibule.
If the conditions are windy, you may want to use additional guylines and stakes due to the high profile of the tent. However, six stakes and two poles should be fine in light to mild winds.
If you do decide to use more guylines, the tent is equipped with six additional pullout tabs for these.
Interior Space
The Gossamer Gear, The Two tent comes with two doors that can be opened separately or together. Each door has a mesh window on either side.
These windows are not only great for ventilation, but also allow you to see out without having to open the entire door.
The tent also has an internal vestibule that can hold your belongings. There is a small table inside this area, which makes it ideal for storing items such as food and drinks.
The sidewalls of the tent are also lined with fine mesh, which helps keep out the bugs, especially at night.
As the tent tapers from 48 inches wide at one end to 42 inches at the other, make sure that your head is at the wider end, where the screen doors are. If the ground is uneven, this end should also be pitched on the higher ground.
How To Set Up The Gossamer Gear: The Two Tent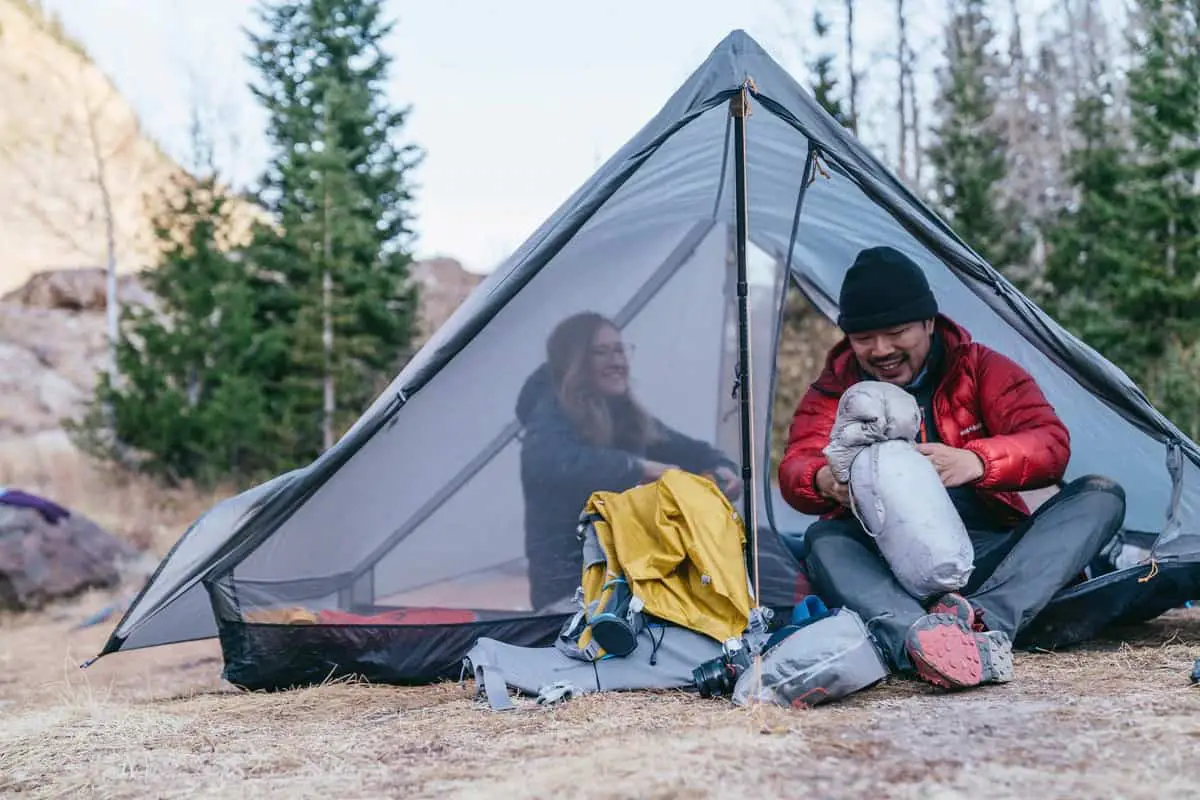 To set up The Two tent, simply follow the instructions below:
Open both doors and unfold the tent.
Place the tent on level ground.
Connect all the guylines. You can use any of the included guylines or buy extra ones if needed.
Attach the tent to the stakes using the tie-down loops.
Fold the tent into place and secure it using the stake holes.
Tie off the ends of the guylines and adjust them until the tent is fully taut.
Use the included guylines to attach the tent to the stakes.
Adjust the guylines once again to ensure that the tent is completely flat.
Close the doors and pitch the tent.
Gossamer Gear: The Two Vs Zpacks Duplex Flex
One of Gossamer Gear's main competitors is ZPacks. This company has been around for many years, and its products are well known.
Their line of tents includes everything from ultralight backpacking tents to expedition-grade shelters.
The Duplex Flex is a two-person tent that is made with a single piece of fabric, which makes it lighter than most other tents. In fact, at 21 ounces, it's slightly lighter than The Two is.
It's also very easy to set up and takes only minutes to get ready. However, the Duplex Flex does not come with guylines as The Two does, so you'll need to buy those separately if you don't have any already.
Like The Two, the Duplex is designed as a three-season tent. It features a mesh floor that allows rainwater to drain through. The sides of the tent are fully seam-sealed, which helps keep moisture out.
The Duplex also comes with two vestibules. Each vestibule has its own door, so you won't have to worry about tripping over someone when you enter or exit the tent.
The vestibules are a few inches larger than the vestibules of The Two, and this is reflected in the packed size of the Duplex Flex also being a little larger.
The Duplex has a footprint system that allows you to easily remove the tent without disturbing the stakes. This feature is great for campers who don't like pitching their tent in the dark.
Gossamer Gear: The Two Vs Hyperlite Mountain Gear UltraMid 2
The UltaMid 2 is a two-person dome tent that weighs just 18 ounces. At this weight, it's much easier to carry than some heavier models and doesn't weigh nearly as much as The Two.
It's made with Dyneema fabric that keeps the tent lightweight while providing excellent strength and durability.
Unfortunately, Dyneema doesn't compress as easily as some other fabrics, so the tent can be quite bulky when packed.
It also has a full-length zipper that lets you ventilate the tent during warm weather. It also has two vents to prevent condensation.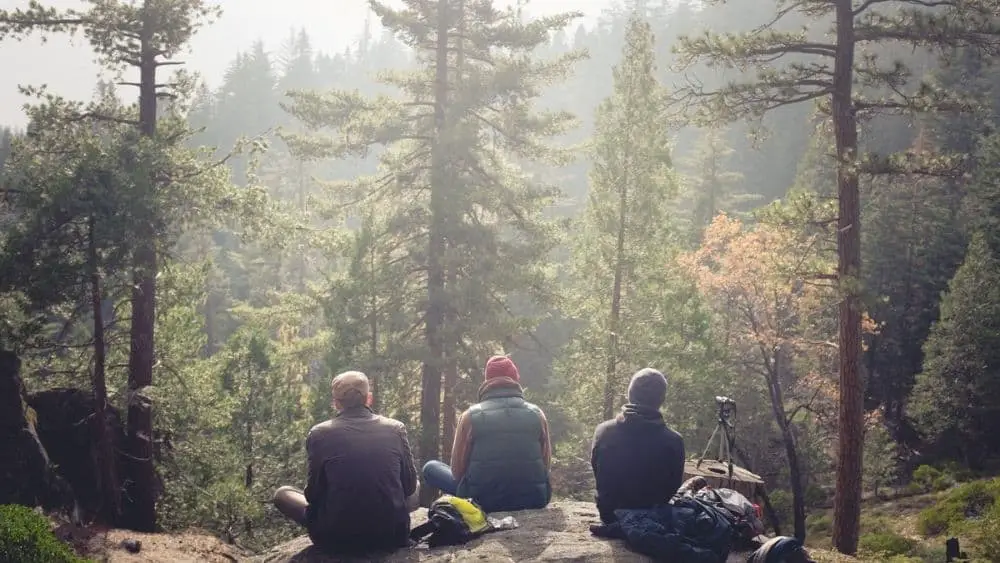 As the UltraMid 2 is pyramid-shaped, it only has one, large vestibule instead of two like the Gossamer Gear tend does.
It's big enough to fit all of your gear, including a sleeping pad, and due to its pyramid design, it is tall enough to comfortably sit or move around.
However, it doesn't come with any floor inserts, so these will have to be bought separately, making the UltraMid 2 a far more expensive option than The Two.
Condensation
The formation of condensation can be a problem in any tent, and The Two tent is no different.
How Condensation Occurs
There are two main factors that produce condensation in tents. The first is the dew point.
This occurs when temperatures cool overnight and water vapor in the air begins to condense on any available surface, including your tent. Unfortunately, this factor cannot be controlled.
The second factor is having a temperature or humidity inside the tent that is warmer than the temperature outside the tent. Thankfully, there are steps you can take to reduce this difference.
How To Prevent Condensation In Your Tent
If you want to prevent condensation from forming inside your tent, you need to control the temperature and humidity inside the tent. There are several ways you can do this:
Don't cook or boil water inside your tent or vestibule. Always do this outside.
Make sure that The Two tent is correctly and optimally set up.
Ventilate your tent by leaving one (or both) vestibule doors open.
This will allow the warmth produced by the people inside to escape, instead of building up and making the difference in temperature between inside and outside more extreme.
Try to avoid camping near bodies of water or wet areas. Lakes, ponds, and rivers may be scenic, but they will cause the humidity to be higher.
You should also avoid camping in lower terrain, if possible. As hot air rises, low areas become colder overnight.
Leave wet clothes and shoes outside your tent, or pack them away into a wet bag or stuff sack. If they're left to dry in the open, the water will hang in the air inside your tent.
Try to increase air movement inside the tent by using 125-centimeter poles to pitch the tent high and tight.
Always have a towel on hand to wipe down your tent walls if needed. You can also use this to dry out your sleeping bag or any other surfaces each morning.
Conclusion
Although there are many other great two-person tents available, The Two tent offers the best balance of functionality, strength, and price.
It's easy to set up and is strong enough to protect both you and your belongings from the wind and rain.
It's also lightweight and easy to carry, while also coming with all the guylines and stakes you'll need to make sure it is secure. The two vestibule design means it is roomy enough for two people and their belongings, also.
The additional size of the ZPacks Duplex Flex might appeal to some campers, as might the strength and lighter weight of the UltraMid 2.
However, when taking into account all of the features and the price points of each tent, we would recommend The Two.