In this article, we're hoping to answer all your frequently asked questions about freeze dried meals.
We'll point you in the direction of what we think are some of the best freeze-dried meals on the market, tell you where to buy them, and even cover DIY freeze-dried meals. 
Where To Buy Freeze Dried Meals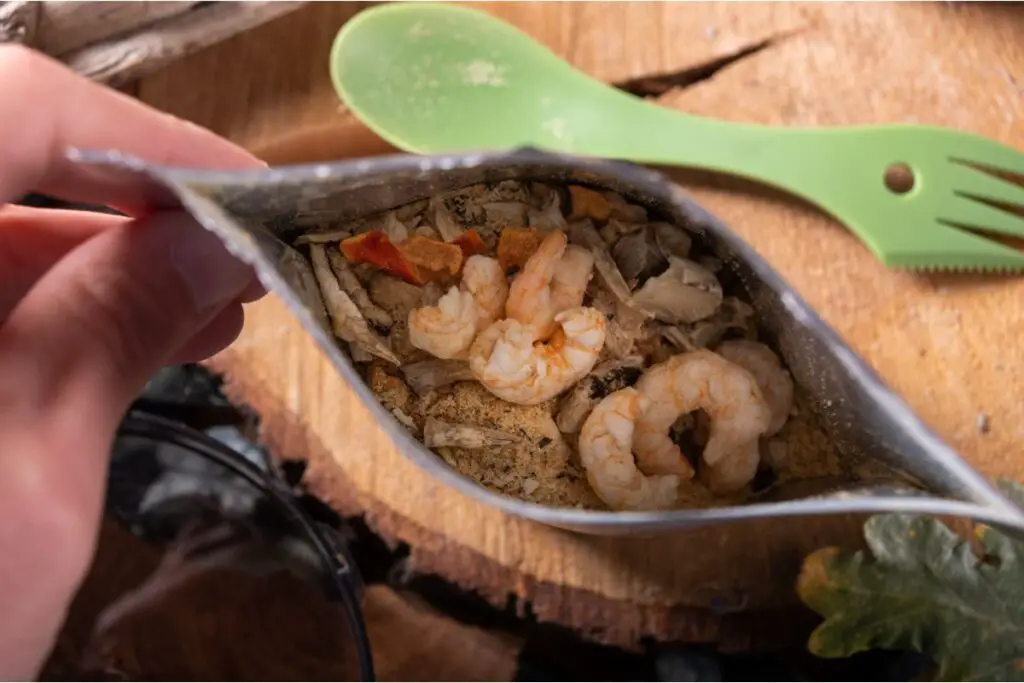 The best place to buy freeze dried foods is online, where they are stocked by a wide range of different retailers.
These include the Sportsman's guide, Augason Farms, 4Patriots, BulkFoods.com, and of course, Amazon.
There's also Freeze Dried Food Store USA, which serves both the United States and Canada and is the self-described 'number one place to buy freeze dried food online'.
If you'd prefer to buy your freeze dried meals in person, one surprising place you can pick them up is Walmart.
They're usually found in the Sporting Goods section. Otherwise, check your local sporting goods store, as they will almost certainly carry freeze dried meals, too. 
Best Freeze Dried Hiking Meals
There's a pretty big selection of brands out there that make freeze dried meals, but it's important to remember that not all freeze dried meals were created equal.
Some brands just objectively make better tasting meals, and our favorite? It simply has to be Mountain House!
They're always delicious, high in carbs, and usually contain meat, so there's plenty in the way of protein for the meat eaters.
Backpacker's Pantry Cuban Coconut Rice & Black Beans - Freeze Dried Backpacking & Camping Food - Emergency Food - 24 Grams of Protein, Vegan, Gluten-Free - 6 Count
A TASTE OF ADVENTURE. Enjoy straight-from-the-kitchen taste wherever you are with our Cuban Coconut Rice & Black Beans. Whether you're camping, backpacking, or spending the day on the lake, a taste of home is just minutes away.
A CAMPING ESSENTIAL. Our selection of premium freeze-dried and dehydrated meals are lightweight, portable, and easily fit in your pack. No prep necessary means they're perfect for hiking, fishing, or to store away as a shelf-stable emergency meal.
PACKED WITH PROTEIN. Our blend of coconut milk and black beans seasoned with banana, and cilantro, make this Cuban Coconut Rice & Black Beans Dish a nutritious and delicious way to stay nourished.
EAT WELL, EXPLORE MORE. Pack just what you need to refuel and stay nourished with our Cuban Coconut Rice & Black Beans. With a great taste and 24 grams of protein to keep you going, you'll want to pack it on every trip.
ALWAYS PREPARED. Our ready to eat meals are shelf-stable, making them the ideal emergency food supply to stock up on. Whether you're stocking up for natural disasters, the next pandemic, the occasional power outage, or just in case, we've got you covered.
Better yet, they're readily available, and compared to some brands, relatively affordable. Some of our favorites include the beef stroganoff, the chili mac with beef, and the chicken fajita bowl. 
We also love Backpacker Pantry meals. They're a little bit harder to find, but when you do, they are so worth it!
Their recipes tend to be a little more adventurous than Mountain House, and if you don't eat meat, they are perfect, as they offer an impressive range of calorific meat-free freeze dried meals.
Our favorites include their pad thai and their Cuban coconut rice and black beans, both suitable for vegans. 
Outside of these two, honorable mentions go to MaryJanesFarm, which specializes in organic food, as well as GOOD TO-GO, Peak Refuel, and Packit Gourmet. 
Do Freeze Dried Meals Expire?
Because nearly all of the moisture in freeze dried meals has been removed, they have very little opportunity to go bad when they are packaged and stored properly.
Sometimes, they can last as long as 25 years, although we're not sure we'd recommend digging into a 25 year old pouch if you can avoid it. 
How long a freeze-dried meal lasts depends on the producer, as it depends on exactly how the food was first freeze dried and then packaged.
Nevertheless, it is not uncommon for freeze dried meals to last 7 years or more, but it's worth checking the packaging to make sure.
The best thing about this longevity is that you can buy freeze dried meals in bulk, which should make them cheaper, and simply dig them out whenever you want to go on an expedition into the backcountry. 
Freeze Dried Backpacking Food Recipes
Freeze dried meals may be super convenient, but they're not without their own issues. For example, whilst you may save on washing up with a freeze dried meal, you will end up accumulating a lot of trash.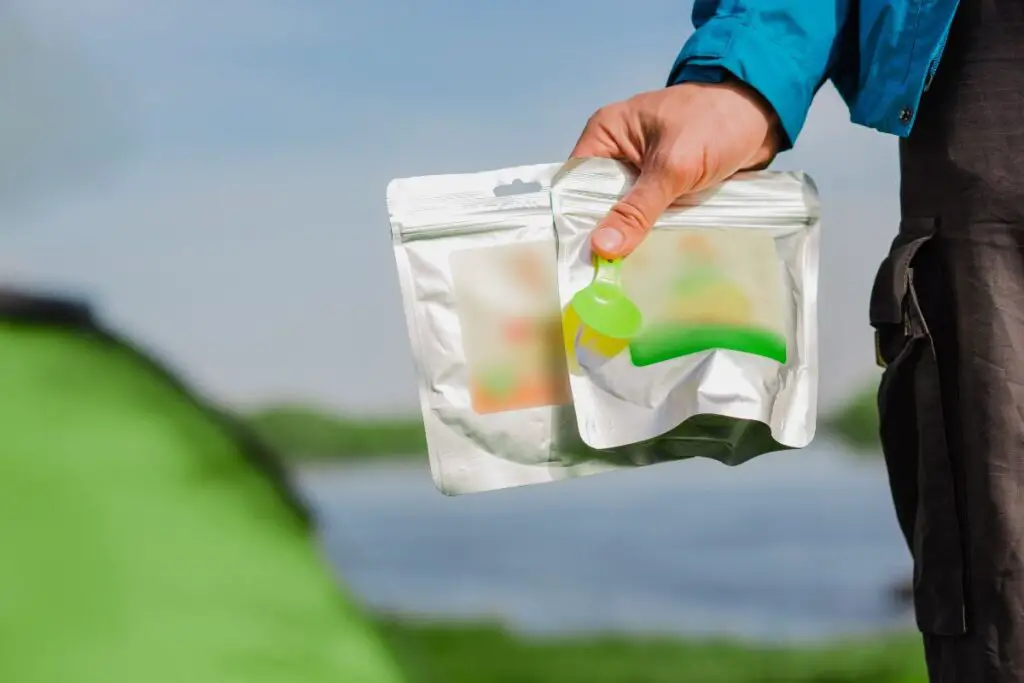 Since you'll have to floor Leave No Trace guidelines and take the trash with you, the more of these meals you eat, the more you'll find yourself carrying a bag of trash along with you on your hike.
The packaging of these pouches can, surprisingly,  damage your backpack, as they are usually pretty heavy-duty materials and have deceptively sharp edges.
Then, of course, there's the fact that with freeze dried meals you have to eat the meals that companies are mass producing, which is a nightmare for a fussy eater. 
Thankfully, you can make your own backpacking meals, using a mixture of freeze dried and regular ingredients.
This way, you avoid most of the problems associated with freeze dried meals- it might be a little more time consuming, but it's totally worth it! We can't go into the details here, but here are the basics. 
To make a well-rounded backpacking meal you'll need a base, vegetables, protein, spices, and plenty of fat and calories: 
Base– Here we're talking about starchy food that cooks quickly, like quick-cook rice, couscous, noodles, or quick-cook pasta. 
Vegetables– This is where your freeze dried vegetables come in! Check out this 'backpacking kit' from Harmony House, which contains a wide variety of freeze dried, packaged, vegetables. 
Protein– There are a whole bunch of companies, including Mountain House, who make and package great freeze dried and dehydrated meats. If you don't eat meat, there are plenty of protein-heavy veggies in your freeze dried vegetable set!
Fats– This should be pretty self-explanatory- we're talking about oils, butter, and even butter and cheese in their powdered form. 
Spices– These can really make or break your DIY backpacking meal. You could throw in the spices of your choosing, or buy a premade seasoning mix if you'd like to save a little time. 
If all the ingredients are either dehydrated or freeze dried, or store fine in a bag, all you need to do is pop them in a zip-loc bag together and seal them ready for your adventures!
When you come to eat your meals, preparing them should be as simple as boiling some water, adding the boiling water to the back and waiting a little while.
If you've got any fresh ingredients, you can prepare them as you food 'cooks'. 
How To Freeze Dry Food For Backpacking (DIY Freeze Dried Food For Hiking)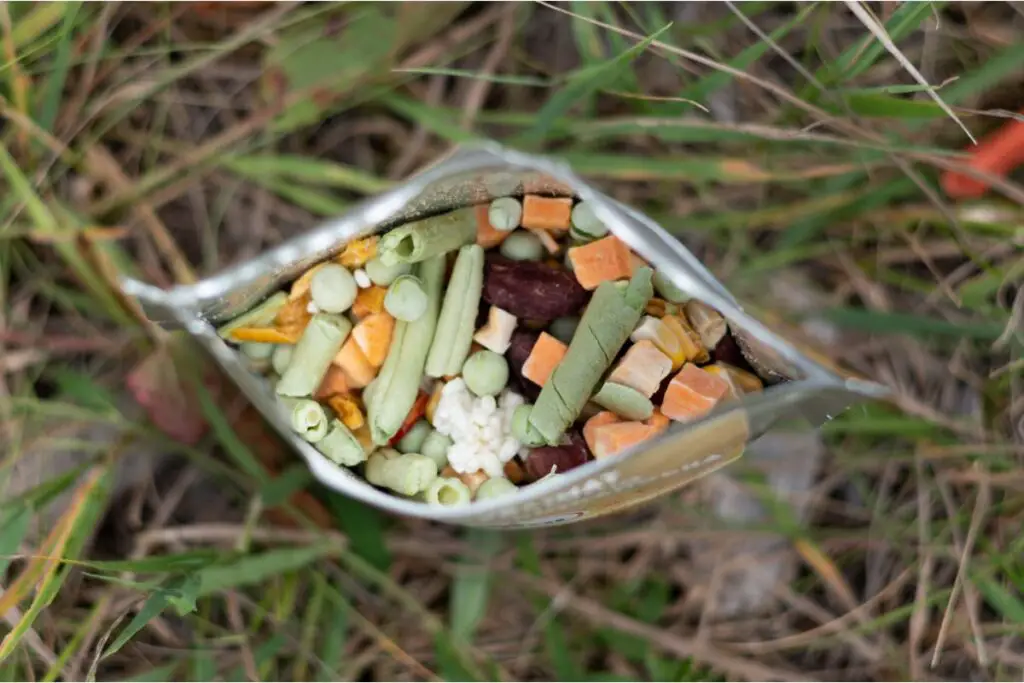 There's a reason that most backpackers don't freeze dry their own food, and instead buy branded, readymade freeze dried meals.
To put it simply, it's because it's a costly and time-consuming process. If you're a particularly committed hiker, one option is to simply buy your own freeze drying machine.
All you have to do is pop the freshly cooked food in the machine, and the machine will do all the work for you. All that's left to do is seal the food in zip-loc bags ready to take on your adventures.
Unfortunately, though, these machines don't come cheap, usually costing several thousand dollars a pop. 
GOOD TO-GO Thai Curry | Camping Food, Backpacking Food (Double Serving) | Just Add Water Meals, Backpacking Meals | Dehydrated Meals Taste Better Than Freeze Dried Meals
ADD WATER and in minutes enjoy our delicious Adventure Meals, on or off the trail. Simply boil water with a camp stove, backpacking stove (or preferred method) and add directly to the pouch.
DEHYDRATED FOOD backpacking food, camping food, hiking food, emergency food supply, survival food. Our Dehydrated Backpacking Meals are handcrafted by real cooks, not food scientists.
5-YEAR SHELF LIFE, camping food for backpacking, like freeze dried camping food but tastes DELICIOUS! Dehydration retains original texture and nutrients often lost with freeze dried backpacking food.
GLUTEN-FREE meals, PESCATARIAN camp food, low in sodium, no preservatives, made from REAL FOOD! We offer dehydrated backpacking food to suit most diets, be sure to see our full line of camp meals.
MADE IN USA Good To-Go's Dehydrated Meals for Backpacking are handmade, cooked, dehydrated, and packaged in Kittery, Maine USA. Our dehydrated camping meals are made with no preservatives.
There are DIY alternatives, but you really need a vacuum chamber in order to freeze dry food properly.
Nevertheless, here's a technique you can try using dry ice:
The first thing you'll need to do is put your fresh food in freezer bags. This is easier said than done, but you must try to remove all the air from the bags. Once you have removed as much air as possible, seal the bags airtight. 
Pop your freezer bags into a cooler, and cover them liberally with dry ice. Try to totally encase the bags, and keep them from touching one another. 
After you've done this, simply wait for 24 hours. If when you return all the dry ice has disappeared, your food should be freeze dried, and ready to store in the freezer or pantry.
What Is The Best Freeze Dried Emergency Food
The best freeze dried food for emergencies, in our opinion, is the Emergency Food Supply from ReadyWise.
These freeze dried meals are sold in bulk, coming in a bucket that contains 60, individually packaged meals.
Having said that, the product also comes in buckets as large as 298 servings- a whole month's food supply!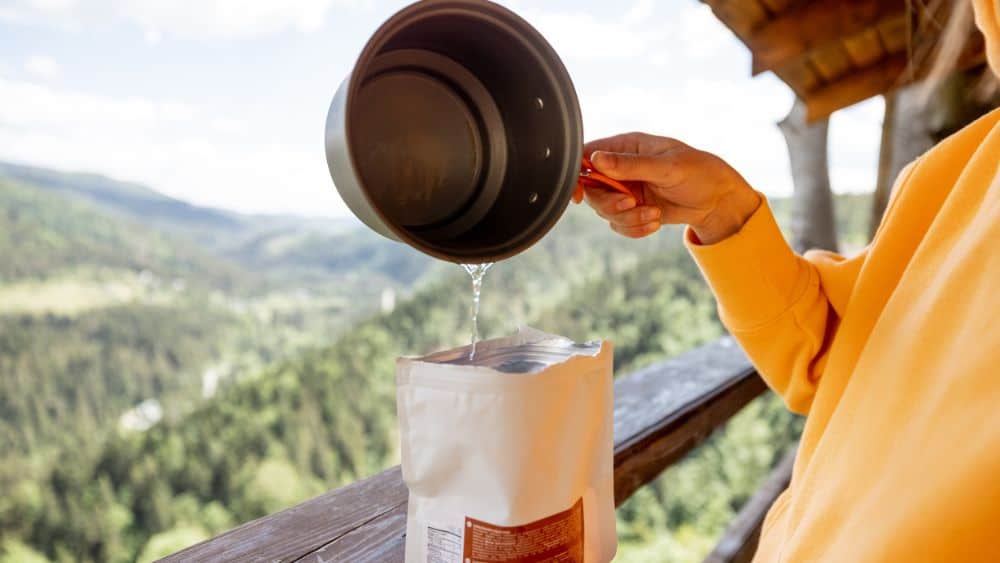 Arguably the best thing about the ReadyWise Emergency Food Supply is the fact that those sixty meals aren't all the same meal- instead, the supply contains 13 different meals, so there's plenty of variety to choose from!
There are different options to choose from too, including, 'breakfast, lunch, dinner, and drinks', 'lunch and dinner', 'breakfast and lunch', and more.
Sale
READYWISE - Emergency Food Supply Bucket, 120 Servings, MRE Meal Food Supply, Premade, Freeze Dried Survival Food for Hiking, Adventure & Camping Essentials, Individually Packaged, 25 Year Shelf Life
UNPARALLELED EMERGENCY PREPAREDNESS Elevate your readiness with the ReadyWise Emergency MRE Meal Supply. This life-saving kit, packed in a convenient bucket, boasts 120 servings designed to sustain you for 13 days. When disaster strikes, you'll be equipped with the ultimate nutrient-packed solution.
SAVOR THE FLAVOR: Don't compromise on taste during emergencies. Our survival kit includes a delectable assortment of lunch and dinner options. Every dish is crafted from real ingredients, ensuring a gourmet experience even in dire circumstances. With a potential 1,800 calories per day, your energy levels will remain robust.
25-YEAR SHELF LIFE: Trust in longevity with each food item sealed in durable pouches. These provisions remain fresh for up to 25 years, offering enduring peace of mind. When hunger strikes, all it takes is a pouch, some water, a quick stir, and 15 minutes to savor a nourishing meal.
DIVERSE CULINARY ADVENTURES: Experience a delightful array of 13 different delicious meal options including hearty soup, pasta, tasty rice, and more. These culinary delights aren't just for emergencies – they also make for fantastic companions on backpacking and camping expeditions.
READY FOR ANYTHING: Beyond emergencies, ReadyWise shelf-stable food is your go-to solution for hiking, camping, and any adventure that beckons. With our easy-to-prepare meals, drinks, and snacks, you'll be well-equipped to tackle any situation that comes your way.
To give you a flavor of what you'll be getting,  each 60-serving lunch and dinner box contains the following: 
4 servings of cheesy lasagna
8 servings of creamy pasta
4 servings of pasta alfredo
4 servings of chili mac
4 servings of chicken noodle soup
8 servings of savory stroganoff
4 servings of hearty tortilla soup
4 servings of potato pot pie
4 servings of teriyaki and rice
4 servings of tomato & basil soup
4 servings of baked potato casserole
4 servings of southwest beans and rice
4 servings of cheesy macaroni
As you can see, there's something for everyone there! They're super simple to use, too, needing just a single cup of hot or cold water and a good stir before you can tuck in.
Peak Refuel Beef Pasta Marinara | 49g Protein | 1040 Calories | 100% Real Meat | Premium Freeze Dried Backpacking & Camping Food | 2 Servings | Ideal MRE Survival Meal (2 Serving Pouch)
AMAZING TASTE & QUALITY – If you wouldn't eat it at home, why take it into nature? What you eat matters and we have gone to great lengths creating a flavorful just add water backpacking meal for whatever adventure you are on, whether on the mountain or at your favorite campsite.
100% REAL MEAT & 2X THE PROTEIN – Peak Refuel will never use TVP or any other filler in the meat we use. Our meals will always contain 100% USDA inspected meat with nearly double the amount of protein per serving than most outdoor meals on the market.
PREMIUM FREEZE-DRIED INGREDIENTS – Our meals are premium freeze-dried which locks in important nutrients, so your meal maintains its natural texture and flavor and tastes like it came straight from your house. We only source the highest quality, non-GMO ingredients. Never any junk or artificial preservatives.
LIGHT WEIGHT & EASY PREP –We understand that time and weight on the trail is valuable. That's why Peak Refuel prepared meals are lightweight, require less water to cook or rehydrate, and are ready to eat in 10 minutes or less.
MADE IN THE USA – All Peak Refuel meals are freeze-dried and packaged in the USA. If you are not satisfied with your purchase or have any other questions, contact us directly and we will make it right!
You'll have to wait 15 minutes before you can get your fill, or 30 minutes if using room temperature water, but what's a little longer waiting when you've been waiting to tuck in for hours?
Another key selling point is that these pouches keep the food inside fresh for up to 25 years! So, next time you go hiking, pop a pouch or two in your bag- just in case of emergencies. 
Final Thoughts
We hope that this article has answered any questions you may have had about freeze dried meals. They're a great, if not perfect, meal option for when you head out into the backcountry.