In this article, we're checking out the top cookware sets for backpacking trips. We don't need to tell you that packing for a backpacking trip involves a unique set of considerations. You're highly constrained by the size of your pack, which means that anything you bring along has to really count.
We'll be taking you through the best cookware on the market and helping you make the best decision for your ideal backpacking excursion. 
What is Backpacking Cooking Gear?
Backpacking cookware is a simple concept, but you might be quite surprised at the level of innovation and practicality available. When you start to consider cookware, the options start to add up fast. Pots, pans, cups, dishes, cutlery, and the list goes on!
Therefore, choosing the proper cookware for a backpacking trip is all about packing the right gear for your needs. In other words, you need to pack only the gear you are going to use. Also, make sure that this gear is compact, lightweight, and functional.
Before we jump into our list of the best products on the market, we're going to examine the types of cookware you should be considering. This way, you can match your preferences to the cookware that you need for your trip.
Backpack Cooking Gear Choices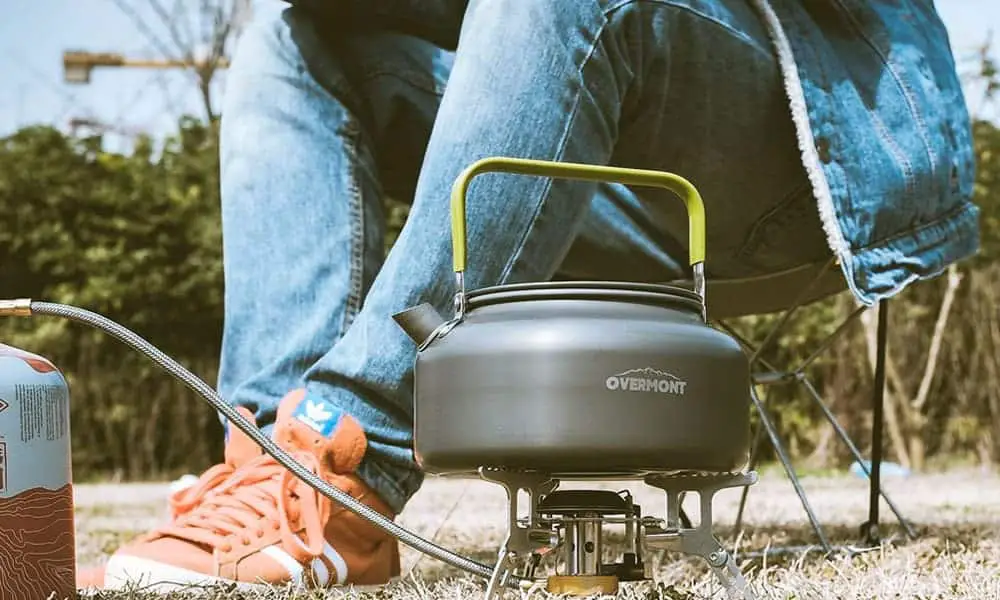 Your goal should be to pack cookware that is as multi-purpose as possible so that you can pack less to meet your needs. In this section, we'll break down the major types of cookware you should be considering:
Pots: A backpack cooking pot is not your average pot. It almost goes without saying why it wouldn't make sense to pack a big, bulky pot into your backpack. For this reason, backpacking pots are on the smaller side (usually around 1L). Often, they have an attached handle, so you can use it as a cup/water bottle and take them off the heat with ease.
Many of these pots have a wide base so that you can fry or saute items in the base of the pot if needed.
Because pots are big and empty, they also make ideal spaces for nesting other cookware, such as cutlery, smaller cups, small plates, etc. You'll see this nesting innovation when we talk about cookware sets below.
Pans: Like pots, backpacking pans also need to be on the small side. You'll find many backpacking pans that are small and lightweight, with functions that rival that of traditional cookware. Often, they include a "folding" handle so you can pack them efficiently.
Pans are not quite as popular among backpackers because they are not capable of boiling water. While many backpackers do bring pans, a pot is a more popular choice.
Kettle: Some opt for a kettle over a traditional pot. A backpacking kettle is the most efficient way to boil water, as it will include a tight lid and a pouring spout. A kettle can also double as a pot in a pinch. Generally, you'll choose between a pot or a kettle because both are bulky, and it wouldn't be efficient to pack both.
Like pots, you can use kettles to nest other backpacking supplies to maximize space.
Burner: If you don't want to make your fire the old-fashioned way, you'll also want to pack a burner. Many small, lightweight burners are designed for backpacking, and we'll check out some of our favorites below. Many will nest their burner inside their pot or kettle. Burners can run on gas, but many pack a wood-burning burner and a lighter. 
Sets: You'll find that many backpacking cookware items are sold as part of a cookware set. We'll cover some of the better sets in our product overview below. Backpacking cookware sets can be as extensive or as minimal you need. That said, any quality cookware set will focus on maximizing functionality given the space occupied, which often involves clever nesting techniques or cookware that can be compacted, folded, etc.
The most important part is buying a cookware set that contains what you require. As is the case with any backpacking gear, you want to avoid overbuying because space is at an absolute premium.
Cutlery, Dishes, Accessories: Finally, we have cutlery and accessories. Many cookware sets will contain compact versions of these accessories. When it comes to cutlery, plates, cups, and the like, your main concern is only bringing as much as you need. Many backpackers might avoid some of these items altogether. For example, they might use their pan as a plate or their pot as a cup!
Best Products
Now that we've given you an overview of the types of cookware available on the market, let's jump into some of our favorite products. We've included a wide range of products on this list. We know that different backpackers have different preferences & requirements, and we think that there's something for everyone here.
We'll start with our favorite cookware set:
Product Overview
We've chosen this cooking set from Stanley as our top pick for those traveling in groups. Simply put, we think it does the best job of combining portability, functionality, innovation, and affordability. It's a complete cookware set, with all the components nested inside an exterior pot.
The exterior pot is 10.7 x 6.3 inches, and you can house 20 components inside. This feature is ideal for those who are not backpacking alone, as it contains components for multiple people. This cookset has a pot, a frying pan, a cutting board, plates, bowls, cutlery, a drying rack, and more!
The components are well-made and durable, using stainless steel design. They're functional for cooking, resistant to scratches, and easy to clean, plus this cook set is covered by Stanley's usual lifetime warranty.
The only concern here is that it might be too much for certain backpackers. While it's certainly an extensive set, some backpackers may not need all this equipment. And while it's certainly possible to set certain items aside and only pack others, we think it's better to buy what you need. It's more suitable for backpacking in groups. A solo ultralight backpacker would likely require an even smaller cooking pot than this (like the one directly below).
Pros
Very extensive set.
Quality stainless steel materials.
Lifetime warranty.
Very affordable considering what's included.
Cons
Likely too much gear for solo backpackers.
Product Overview
The REDCAMP set utilizes innovative nesting techniques to fit a lot in a small package. Included are a small pot (1000 mL capacity), a small pan, two bowls/cups, a tool card, a ladle, a spork, a wooden spoon, and a cleaning sponge. Everything you need to cook, eat, and clean!
The tools and cookware are high quality, with the pot and pan using a durable aluminum design. The entire package is very lightweight, measuring in at just 0.57 lbs.
Of course, the main trade-off with these small (highly portable) cookware sets is that, well, they're small! You can't cook a lot with one of these, and it definitely won't be enough for multiple people.
These are the trade-offs you need to consider when packing for a backpacking excursion!
Pros
Convenient nesting design.
Super lightweight and portable.
Includes everything to cook, clean, and eat.
Very fairly priced.
Cons
Might be a bit small – more suitable for one person.
Not the highest quality pots and pans.
Product Overview
If you prefer not to buy your cookware in a set and only the exact components you need, then this kettle is a great place to start. It's one of our favorite kettles on the market because it was designed specifically for backpacking purposes.
It's small, lightweight, and comes with a carrying pouch that you can strap to the outside of a backpack. The kettle is made from hard-anodized aluminum, ensuring that it is always safe and effective to use.
There's not much to say about this kettle beside the fact that it's portable and functional, which is likely all you need. It weighs about half a pound and holds 0.8 L of water. It's small enough to carry but big enough to boil a functional amount of water for coffee, cooking, or anything else you require. It even has an insulated handle for easy grabbing while hot.
Pros
Functional and portable.
Made with hard anodized steel.
Can "nest" other tools inside the kettle.
Cost-efficient.
Cons
Will likely still require other cookware and tools.
Not built to last for years.
Product Overview
If you want a superior quality camping pot, then look no further than TOAKS. This pot uses titanium, which means it is extremely lightweight while remaining very durable and resilient.
TOAKS designs products specifically for backpackers, and it shows. The design is perfect for nesting other components inside. The pot itself is lightweight and portable, weighing in at only 3.9 ounces! It holds 750 mL of water, which is enough for a single person.
The pot features fold-out handles, which keep it compact for packing into your backpack. It also can easily double as a cup in a pinch.
Overall, this is our top recommended camping pot. It has the perfect functionality for a backpacking trip, with its super lightweight design and ultimate durability. It's pricier than most camping pots, but that's to be expected of titanium design.
Pros
Titanium design is extremely lightweight – 3.9 ounces.
Ideal size for a single backpacker – holds 750 mL of water.
Fold-out handles for easy-packing.
Comes with a mesh sack to string outside a backpack.
Cons
More expensive than most camping spots.
Small pot – most ideal for a single person.
Product Overview
Here is one of our favorite pans for backpacking. It combines Stanley's traditional attention to detail with a functional design built for portability and effectiveness. It's an ideal pan, and we like that it is deep, which makes it ideal for boiling water in a pinch.
This pan has a fold-out handle for more compact portability. It's slightly on the larger side but will still fit inside most backpacks with relative ease.
This pan comes with tools nested inside, including plates, sporks, a spatula, and more! It's a full set for preparing meals and serving them too. And if you want to pack other camping tools inside, you're free to do that as well. It has a snap-on lid which makes it the ideal nesting vessel.
The pan is durable and strong and will hold up to many excursions to come.
Pros
Fold-out handle for added portability.
Big and "deep", which allows you to boil water.
Contains plates, sporks, and a spatula.
Snap-on lid for nesting components.
Cons
Not as lightweight as titanium cookware – 2.1 lbs total.
Might be a bit on the larger side for solo backpackers.
Product Overview
Of course, a cookware set is made much more functional when you have the right backpacking stove to go with it! This wood-burning stove from TOAKs has portability and functionality in mind, and it's our favorite ultralight backpacking stove.
The burner is very easy to set up and use. Disassemble the pieces to put the burner together in seconds. Then, fill with wood and light. It's that easy, and all you need is a lighter. You'll have a fast, condensed heat source for boiling water or cooking food. The burner is optimally ventilated for a strong flame.
The product is extremely portable. It nests together into a very compact shape for easy packing and weighs only 227 grams (thanks to its titanium design). It's designed to be packed right inside TOAKs pots (like the one mentioned above).
The strong titanium design ensures that the flames won't damage the burner over extended use. You pay a premium for this burner, but it's one of the highest-quality camp accessories you can purchase.
Pros
Compact design for easy packing (can fit inside TOAKs pots).
Titanium design is lightweight (227 g) and long-lasting.
Easy to assemble and start a fire.
All you need is a lighter or matches.
Cons
Buying Guide for Backpacking Cookware
Before we wrap up our guide, we want to give you the tools to make the right choice among the options above. Ultimately, it's not about which cookware is best, it's about which is best for you. Consider these factors to see how each cookware set matches up to your preferences to help you make the best choice from the products above. 
Portability vs. Size
Perhaps the most important consideration with backpacking cookware is portability. But, of course, there's a catch! Portability will come at the cost of one important variable – size.
The smaller your cookware gets, the less you can cook. Therefore, you need to settle on the perfect balance of portability vs. size. Consider how much you eat and how much you plan to cook.
You should also consider how many people you are cooking for. If you have a larger group, it may make sense to pack a larger cookware set and pack it all inside one person's bag.
It's often a good idea to nest all your cookware inside of your biggest pot, giving you maximal space considering your portability requirements. Most quality cookware sets are designed in this way.
You need to put a lot of consideration into this trade-off, as it is perhaps the most important decision you will make when deciding on the ideal cookware set!
Materials
As you have seen from our above list, cookware sets use different materials. The materials you choose will influence the weight, functionality, portability, and costof your cookware. Here's a quick rundown of each major material:
Aluminum: Aluminum is a good choice for cookware, as it provides a nice balance between lightweight and functionality. Aluminum (especially anodized aluminum) is close to titanium in weight and is a highly portable option for camping cookware. Aluminum is functional and evenly distributes heat for a quality cook.
The one downside of aluminum is that it isn't quite as durable as titanium or steel, but that will also depend on the quality of the construction. Overall, it's a good choice, and it's usually priced quite fairly.
Stainless Steel: Stainless steel will usually be the cheapest option for camping cookware because it also tends to be the heaviest material. That said, it's still quite functional for cooking and is durable enough to withstand many bumps or drops. It's not the best cookware option, but it can be very cost-efficient.
Titanium: You can consider titanium to be your premium option when it comes to camping cookware. It will cost more (sometimes much more) than competitors, but the quality difference is real. It is among the lightest metals and also one of the strongest.
Titanium cookware is ideal for backpacking because it is thin and lightweight, which means that the heat source can quickly heat the pot or pan, allowing you to cook without using as much heat or fuel. But be careful because it can potentially heat up quite fast, and you can burn your food if you aren't attentive.
Picking the Ideal Material: As you can see, each material has its advantages and drawbacks. The best choice is the one that most closely meets your needs. All differ in terms of functionality, durability, portability, and cost. In terms of pure performance, we'd recommend titanium, but do be aware that it is also the most expensive material. Consider the factors above, settle on your ideal preferences, and pick the ideal cookware for your next backpacking adventure! You'd be surprised what a difference quality cookware can make!