If you're looking to enjoy an active vacation in one of the most naturally beautiful places on Earth, make sure to check out these best multi-day hikes in Norway.
Listed below are our favorite trails in the historic land of Vikings and European settlers, suitable for a mixture of experience levels.
Many of the routes offer a wide array of scenery and expect to find mountain paths, low-lying valleys with rivers flowing through them, walks through towns, and even hidden rural villages.
These ten multi-day hikes are the best you'll find in the historical Scandinavian country. Time to pack the supplies, and purchase a decent pair of hiking boots.
Trollheimen Triangle Route
Trollheimen, located in the counties of Møre og Romsdal and Trøndelag connect three mountain lodges:
Gjevilvasshytta
Trollheimshytta
and Jøldalshytta
What we like about this route is that each side of the triangle is going to take you most of the day.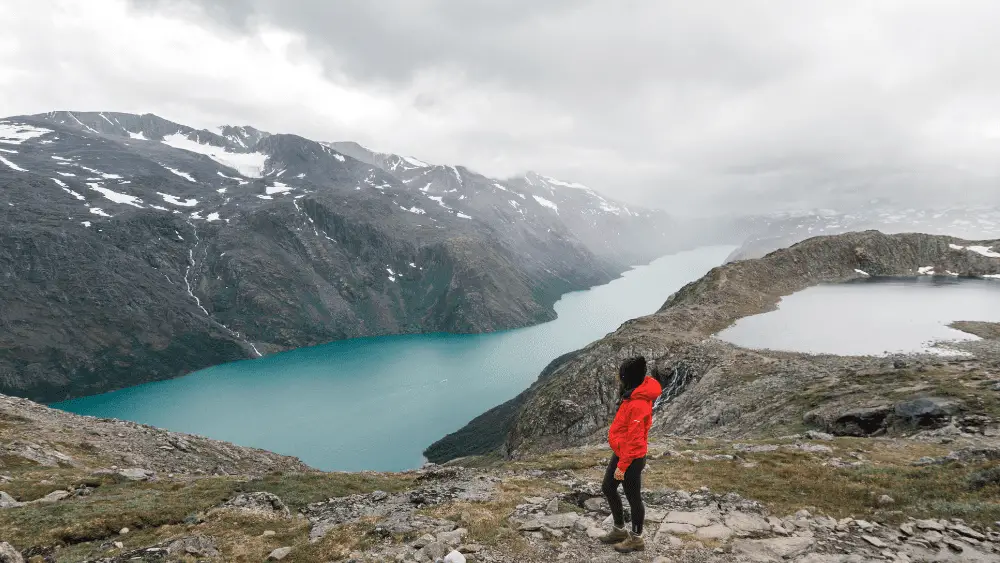 There's plenty of time to make camp in between each point of the triangle, so you won't need to march the entire way round.
There are some challenging sections located on this hike, so make sure you are prepared for rocky paths and undulating terrain as you take in the glorious scenery.
The Arctic Circle
Don't be fooled by the name; you won't be traversing arctic conditions over the expanse of ice. At least, not on this particular hike anyway.
This is a gorgeous route if you are looking for untouched natural beauty, including long stretches on the tundra, a couple of scenic paths that go past lakes, and forest trails.
The perfect time to attempt this hike is during the summer months when the sun is out for most of the day.
The weather is also unpredictable, so make sure you pack clothing for all weather conditions. The course we recommend is to follow the loop at Tromsdalstinden, near Tromso.
Lake Gjende
Located in the Jotunheimen mountains in Eastern Norway you'll find Lake Gjende, one of the most historic trails in Norway.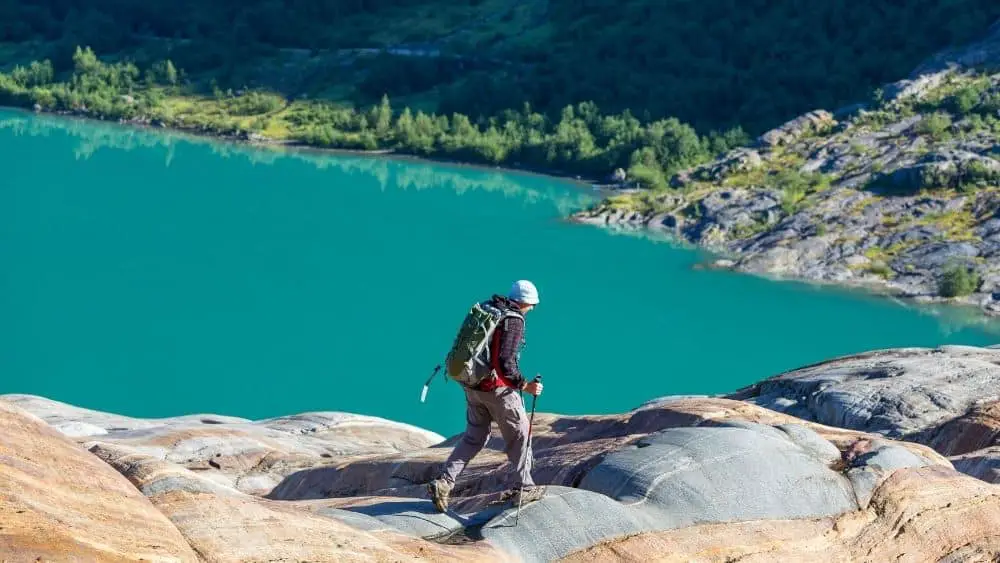 Following an old trading route, you begin to head up the mountainous trail, before reaching the top and traversing the mountains and descending onto Besseggen.
Expect to see some of the best views on this trek, and don't forget to pack a camera as you'll want to snap a photo of the scenery from the top.
Rondane Triangle Route
This national park was established in 1962 and covers a landmass of more than 360 square miles.
This 5-day round trip, broken up into roughly 6 miles, will take you across long expanses of rivers, grass fields, low valleys, traverse wooden bridges over wild waters, and waterfalls.
This isn't the most difficult hike, and there are places to rest after each stage. To get access to the starting point at Spranget, take a train from Oslo to Otta, where buses will take you to your destination.
Nordkalottleden
This 500-mile long trail is a beast, so be prepared before taking on this epic journey.
Covering three countries as it crisscrosses between Sweden, Finland, and Norway, you'll feel like you're in a barren wasteland with no civilization for hundreds of miles.
Read Next – Hiking In Finland Guide
There are many cabins, both staffed and unstaffed, so make sure to bring plenty of food along for the trip!
Expect a mixture of different weather conditions, as snowstorms are very common on this route due to the geographic location of being the northernmost trail in Europe.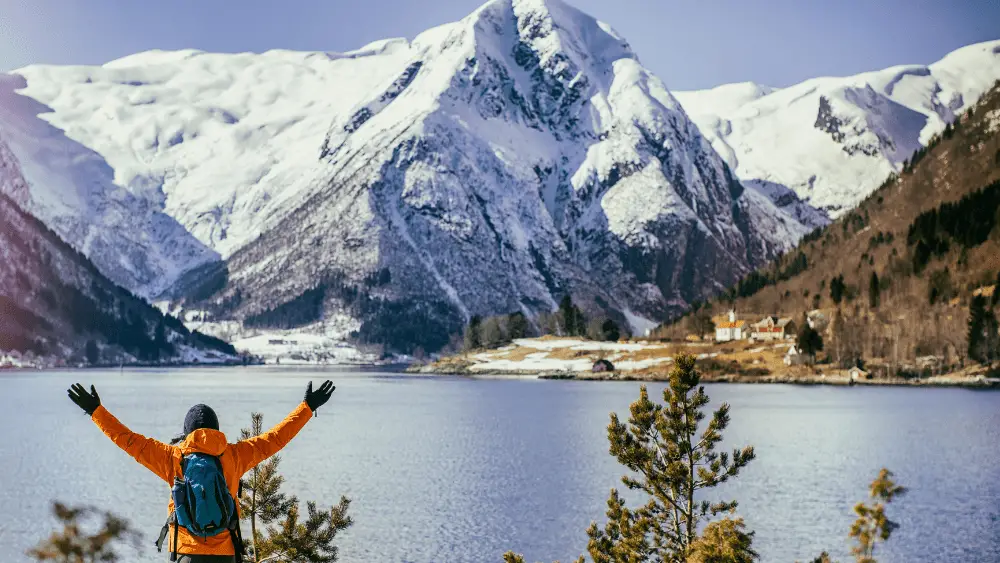 Nordmarka
You can find this forested trail in the northern part of Oslo. There are many paths you can choose with cabins at Sinnerdammen, Katnosdammen, Kikutstua, Kobberhaughytta, and Frognerseteren.
This is a fan-favorite of many local and foreign hikers, so don't expect too many long stretches on your own. This is a wonderful experience, and we recommend you take the time to explore the forest maze.
One other thing: if you're brave enough, take a dip in one of the freezing-cold lakes!
The Østerdalen Path
The old pilgrimage path that dates back to medieval times is a great trek for all abilities.
At nearly 200 miles in length, there are plenty of huts to reset and recover in if you plan to make the entire journey from start to finish.
This path may take you anywhere from 10 days to 2 weeks to complete. As you can imagine there is plenty to see on this epic hike, most of it being flat areas and forests that stretch on for miles.
We recommend going in the summer months when the weather is better so the trip is a lot more smooth sailing, especially for unseasoned hikers.
St. Olav Ways
This hike is synonymous with the traditional Christian pilgrimage that finishes at Nidaros Cathedral in Trondheim, dating back over 1,000 years.
There's plenty to see on this trip, from rural villages, churches, national parks, hidden valleys, and lots of wildlife. This 1,250 mile-long trip has 6 paths in total, and you won't need to take them all to make the complete journey.
The is one of the best all-in-one hikes complete with a great combination of history and nature.
Around the Lysefjord
Norway is synonymous with its beautiful scenery, and the fjord is one of its best features, as you make the 6 to 7 day trip around the Lysefjord.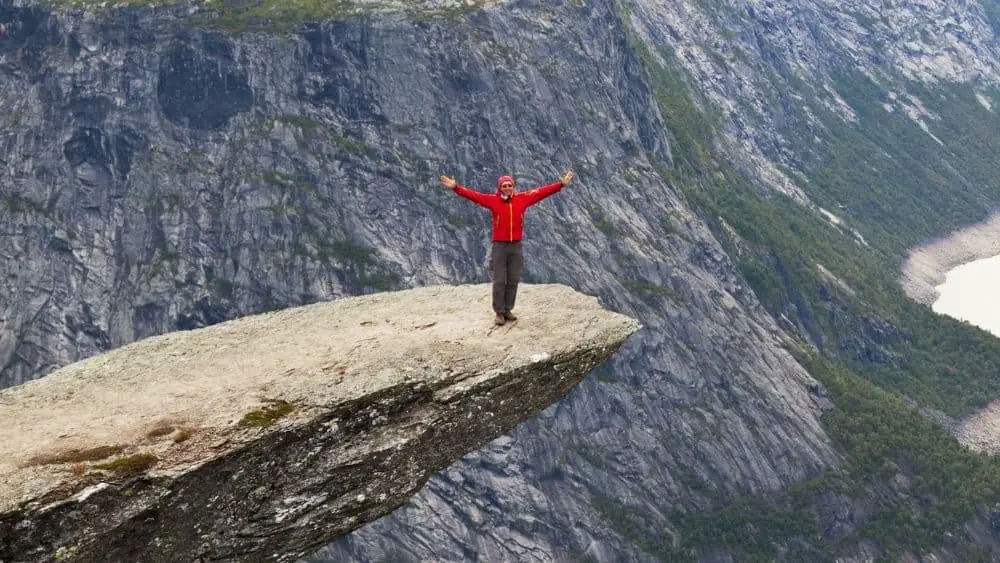 Along with some flat sections, this one covers a lot of tricky terrains, so might not be suitable for beginner hikers. Like many of the other multi-day hikes, this one has several cabins located along the route.
Springtime is the best time to come here, as much of the snow leftover from winter can still be seen in many places, adding to the experience.
Finnskogleden Trail
This 2-week long hike completes our list and will take you through forests, finishing in Søre Osen located on the Eastern edge of Norway.
Getting its name from the Finnish settlers that made a home in the Finnskogen forest region, this route is predominantly forest and flat terrain and ideal for all levels of hiker.
There are over a dozen cabins located at each stage of the trail along this 150-mile route. To get to the trail, grab a train from Oslo which takes about three hours in total.