It's no secret that Alaska is a huge state. With just over 660,000 square miles of land, Alaska is undoubtedly one of the best places to go hiking in the whole United States.
This state offers absolutely everything from towering mountains to dense forests, allowing for an abundance of hiking trails. 
It doesn't matter what you're looking for in a multi-day hike, because Alaska has got it. The north of Alaska features the arctic tundra, while further south lies temperate rainforests galore.
With the option to be up close and personal with breathtaking glaciers or amongst thick transitional forests, hikers are never without adventure in Alaska.
Here are the best multi day hikes in Alaska!
Lost Lake Trail – Chugach National Forest
Length: 13.8 miles
Difficulty: Moderate
Elevation gain: 2,631 ft
The Chugach National Forest in south central Alaska is known for its massive size and vast terrains. Made up of almost 7 million acres, this national forest is a haven for hikers of all skill levels.
While there are over 30 extensive trails in Chugach National Forest, the Lost Lake Trail is a particular favorite amongst most hikers. 
The Lost Lake Trail is a 13.8 mile-long out and back trail that is known for its wide variety of terrain and sights available.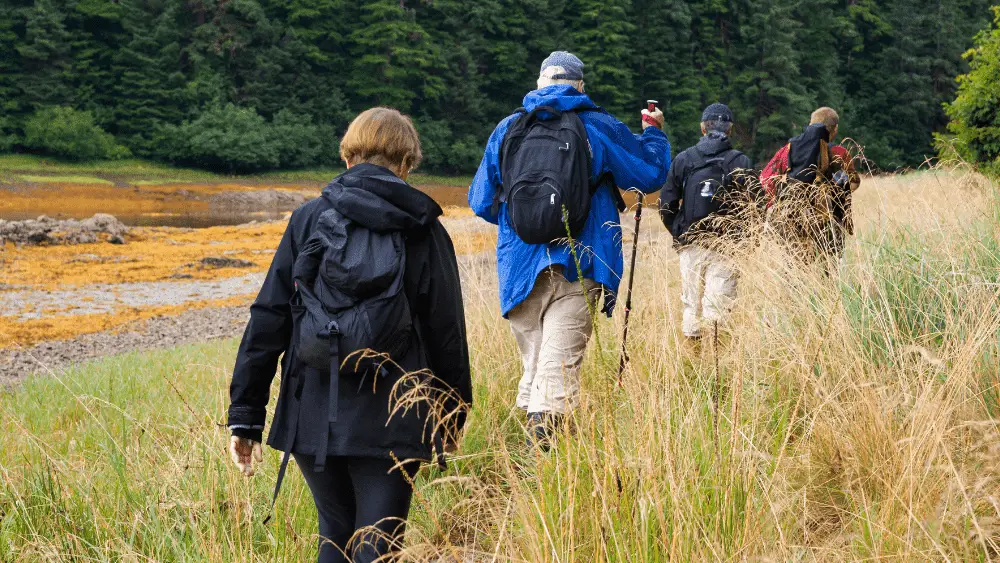 The trail's location in the national forest allows hikers to explore the depths of rainforests at the start, before venturing into large alpine meadows with serene mountains towering in the background.
Hikers will also walk alongside crystal clear lakes, providing the ideal backdrop for photography and snack breaks. 
Due to the 2,600 ft vertical gain, the Lost Lake Trail is only suitable for hikers with a moderate skill level. While it is still fairly difficult to hike in summer, the trail becomes even more challenging in winter due to the ice and snow.
Regardless of when you take this multi day hike, you're in for a real treat as the trail features everything Alaska has to offer. 
Resurrection Pass – Kenai Peninsula
Length: 38 miles
Difficulty: Hard
Elevation gain: 4,171 ft
If you're looking for a fairly long multi day hike, the Resurrection Pass trail lasts a total of 5 days. Split into smaller day-long hikes, this trail is situated in the Kenai Peninsula, just south of Anchorage.
This is one of the best trails to explore the iconic mountain range of the Kenai Mountains.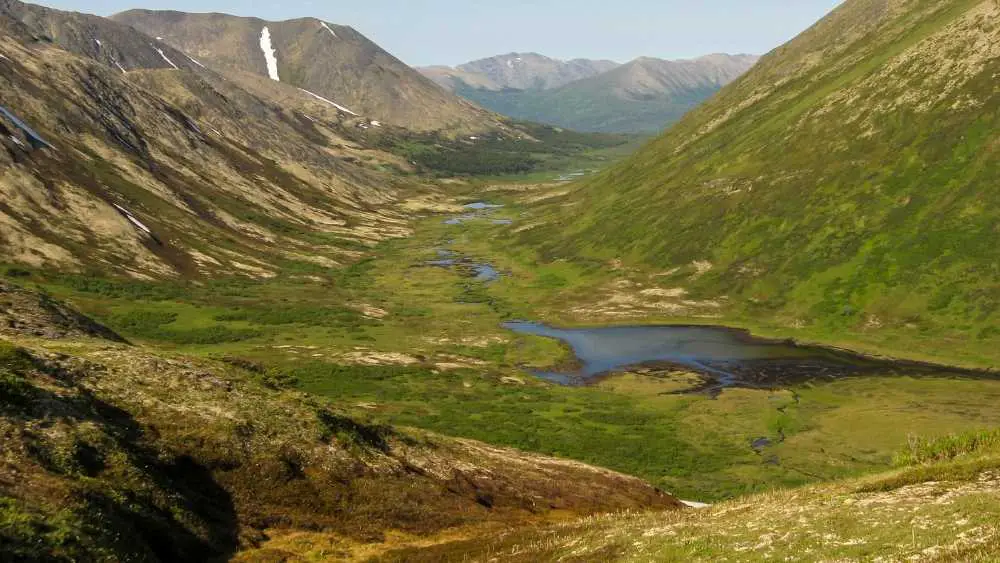 Resurrection Pass is a treat for experienced hikers who want to push themselves further out of their comfort zone.
This trail consists of deep valleys, winding woodland paths, dramatic waterfalls, peaceful rivers, and vast alpine lakes.
With an elevation gain of over 4,000 feet, Resurrection Pass certainly isn't for the faint of heart. This is why the trail is mostly recommended for experienced and advanced hikers. 
However, the ground of the trail is surprisingly smooth despite the range of terrains.
This means that if you're looking to push your limits in your first backpacking trip to Alaska, breaking the trail into shorter hikes over a period of 5 days is ideal. 
Kesugi Ridge Trail – Denali State Park
Length: 29.2 miles
Difficulty: Hard
Elevation gain: 5,990 ft
Based in central Alaska, the Kesugi Ridge Trail in Denali State Park is something of a hidden gem.
While it's quite difficult to find a densely populated hiking trail in Alaska due to the sheer size of the state, this trail is ideal for those who want to explore off the beaten track.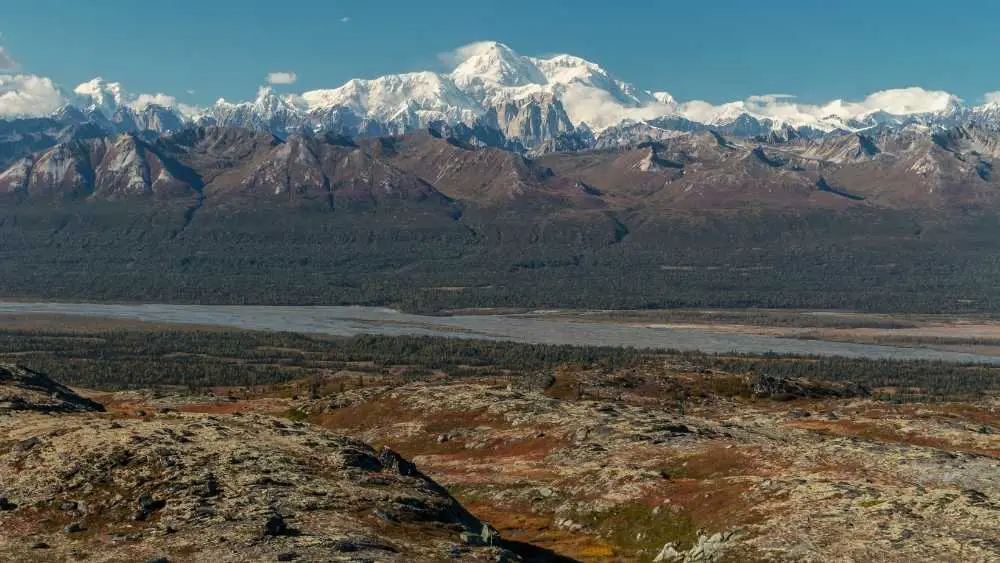 The Kesugi Ridge Trail lasts almost 30 miles, making it more suitable for multi day hikers. 
This trail isn't for beginner hikers. Featuring an abundance of steep climbs and a total elevation gain of almost 6,000 ft, this is a rugged trail that challenges hikers to the best of their abilities.
However, the results are certainly worth it. On clear days, hikers can see Denali (once known as Mount McKinley) penetrating the blue sky in the background.
Other sights include vast mountainous ranges, open tundra, lush forests, lakes, and more.
Plus, you're likely to have the trail almost entirely to yourself. 
Chilkoot Trail – Skagway
Length: 33 miles
Difficult: Moderate
Elevation gain: 6,043 ft
The Chilkoot Trail based in the borough of Skagway in the southeast is one of the longest trails on our list, but hikers have the option of taking one day or 3-5 days to make use of the trail.
This is certainly one of the most historic and educational trails in Alaska, as the Chilkoot Trail meanders through indigenous and archaeological sites and even an outdoor museum to teach the hikers about the area's fascinating history.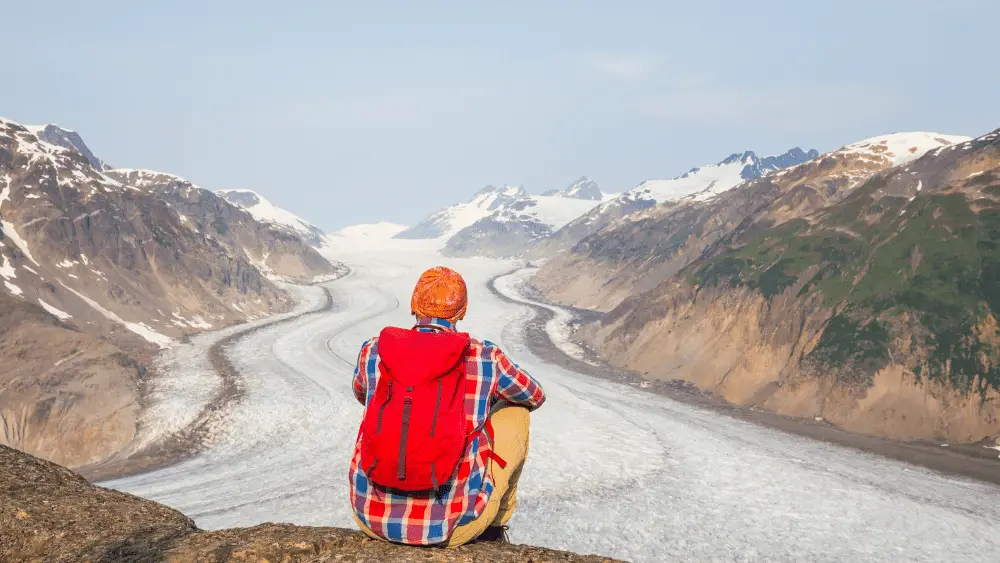 As the Chilkoot Trail crosses slightly into Canada, hikers are bound to come across an abundance of stunning views.
The terrain ranges from massive lakes to the dense wilderness of Canadian forests, which is a haven for native wildlife such as the iconic Bald eagle. 
Gold Mint Trail and Reed Lakes loop – Palmer
Length: 20.5 miles
Difficulty: Hard
Elevation gain: 5,921 ft
If you're looking for a multi day hike trail in Alaska during July and October, check out the Gold Mint Trail and Reed Lakes loop.
This isn't an easy trail, but the results are worth it in the variety of sites on offer.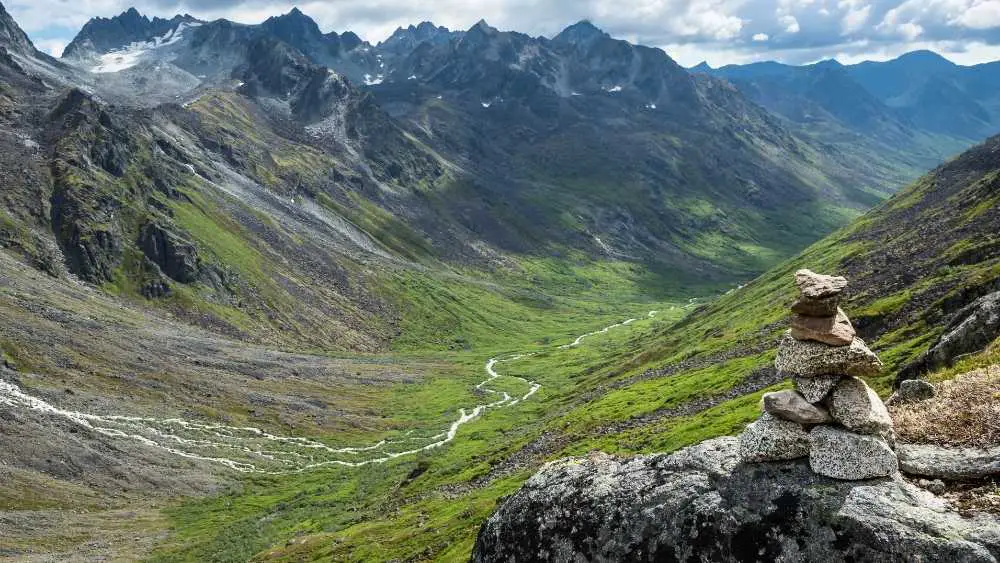 Just be prepared to get wet and potentially a bit muddy!
This loop trail explores everything from deep valleys to unstable rocks off the beaten path, making this an ideal trail for the adventurous hikers.
Based in south central Alaska, this trail is safest to hike between July and October to prevent injuries from ice and snow. However, you will undoubtedly come across arctic conditions on this trail, including the Bomber glacier that features a handy fixed rope. 
The difficulty level of this trail means that it is best suited for experienced hikers. Hikers must prepare themselves for the terrains available throughout this trail, particularly the icy glaciers.
The best place to rest between hikes is on the floor of the valleys which provide a mossy and comfortable ground for camping.