Sure, a city-hopping trip through Europe is something we should all do, at least once in our lives, but there's so much more to Europe than just cities!
From the soaring Alps to the rolling countryside, and the historically significant trails, hiking in Europe is like nowhere else on earth.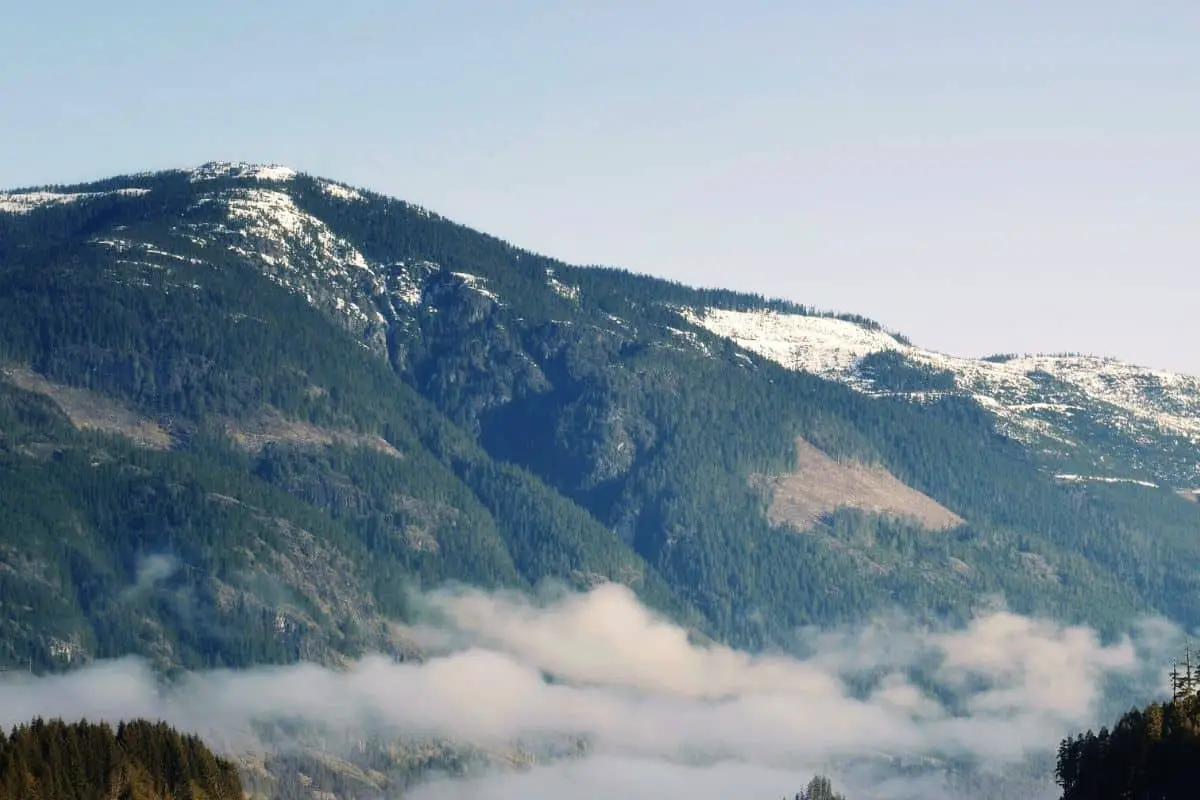 The multi-day hikes below cater to experienced mountaineers and first-time hikers looking for inspiration beyond Europe's big city lights.
1. Tour Du Mont Blanc – France, Switzerland, Italy
At the pinnacle of European hiking, sits the Tour Du Mont Blanc.
This 105-mile loop around, up, down, and through Europe's largest mountain range is a monumental challenge that should take experienced hikers 11 days to complete.
Due to being covered in copious amounts of snow through the winter, this classic European Alpine trail is only open from May to September.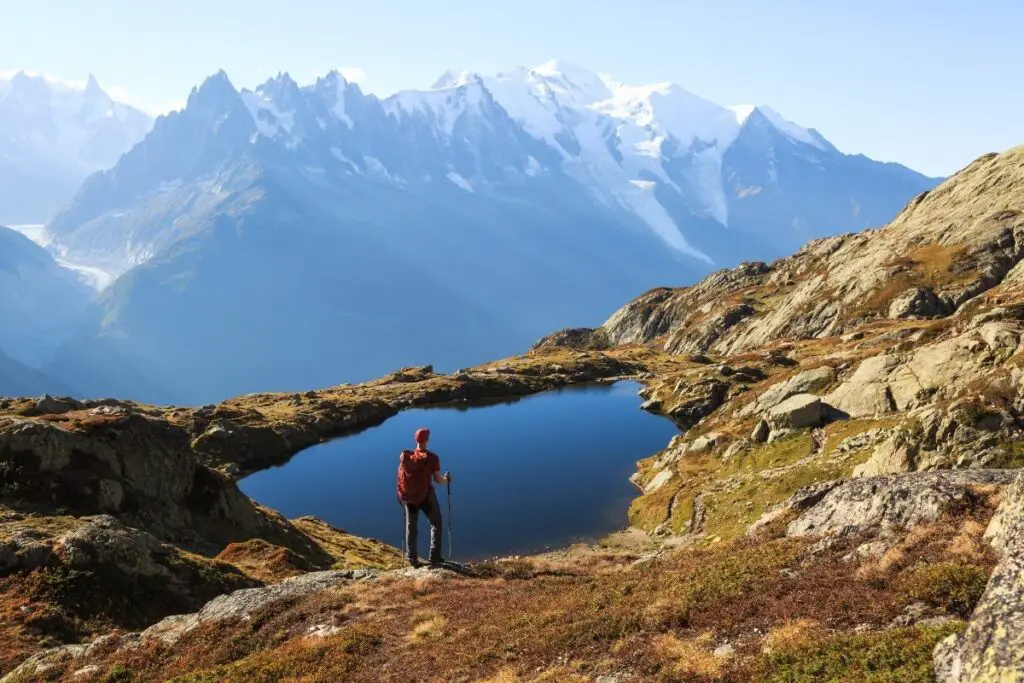 The beauty of hiking the Tour Du Mont Blanc in the summertime is it is thoughtfully lined with accommodation.
The Alps are big on its "refugees", which are essentially mountain huts.
These small refuges are well maintained and regularly stocked with supplies like firewood and gas by local people who ask you to leave a small fee for your stay.
If you'd prefer to stay somewhere with creature comforts then there are charming B&Bs nestled into the valleys en route ready to take hikers in, give them a hot shower, a traditional Alpine dinner, and the most important thing, a comfortable bed.
But don't think those creature comforts come easy on the Tour Du Mont Blanc.
With 32,800ft of elevation, this is a huge undertaking that demands mountaineering experience and rigorous training to safely accomplish.
If you are up for it, then get ready for some of the most spectacular mountain passes, and views of your life, with high-altitude lakes, and the jagged teeth of the European Alps on full show.
2. West Highland Way – Scotland
If the colossal elevation of the Tour Du Mont Blanc gave you a gulp of hesitation, the West Highland Way in Scotland is a moderately hard hike with a nice and considered 10,000ft of elevation.
However, and very much unlike the Alps, a lot of this elevation is gained and lost by gently rolling hills, with the occasional rugged mountain peak submitted once you get into the back half of the hike.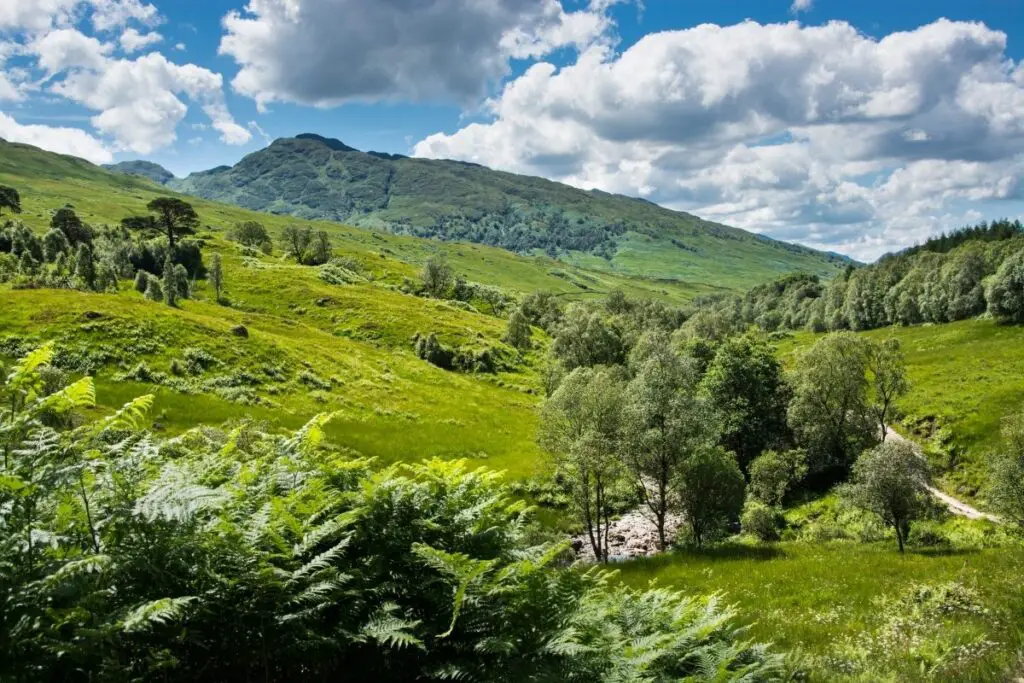 Mostly hiked south to north, this 90-mile hike should take about a week to complete, with the option to stay on and hike all the way to Glasgow for the intrepid crew.
Not that you need to though, as the West Highland Way is a spectacular snapshot into the raw and honest beauty of the Scottish Highlands in all their rain-soaked glory.
It goes without saying but high-quality wet weather gear is essential for this hike, as even in summer, weather systems can move in from the wild North Atlantic and rip through the Scottish highlands.
This means that if you've got the luxury of time, it can pay to play for a few weeks over summer and strike when the weather is looking its driest.
If you do manage to land on reliable weather, then hiking the Scotland Highlands can be super pleasant and very rewarding.
Traversing across Glen Nevis, Rannoch Moor, and Glencoe, you will be taken in your surroundings from the highest peaks in the UK. All we can say is fingers crossed the sun shows up for you.
3. Camino De Santiago – France, Spain
Setting off from the historic French town of Saint-Jean-Pied-de-Port at the foothills of the Pyrenees, the Camino De Santiago is Europe's most famous trail.
A one-in-a-lifetime pilgrimage for Catholics everywhere, this 780km hike takes pilgrims and keen hikers across Northern Spain and finishes in the Galician city of Santiago De Compostela.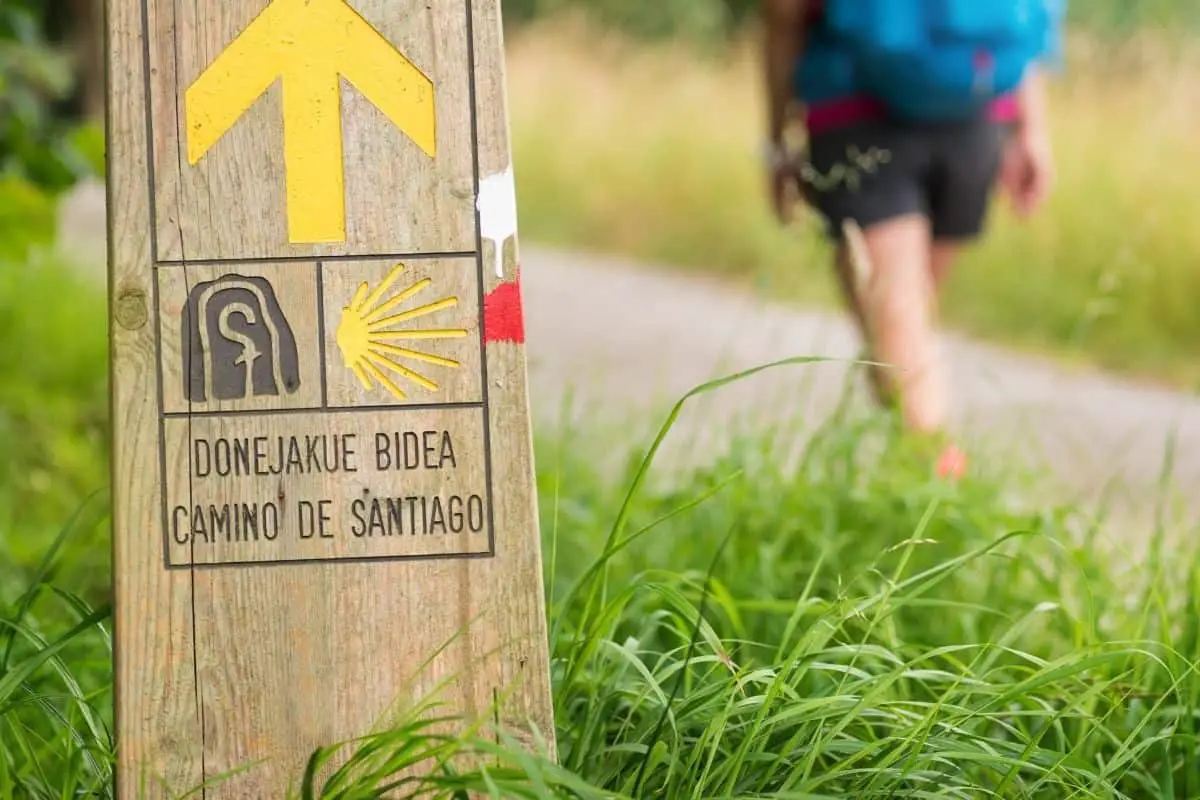 The entire route typically takes hikers about a month to accomplish. If you haven't got a month up your sleeve, then jumping on for a 100km section is a commendable endeavor by any hiker's standards.
If you do manage to complete a 100km stretch of the Camino, you will also earn a 'Compostela" certificate for your efforts.
Because of its popularity, accommodation and amenities are abundant, allowing pilgrims to pack light and, subsequently, eat, drink and sleep well en route.
Another cool aspect to this hike is that because it is well-trod, you will likely end up making friends along the way and book into the same hiker-specific hostels if you so desire.
Making memories and friends for life is all part of the Camino De Santiago experience, and walking, lots and lots of walking.
4. GR 20 – Corsica
Often termed "the toughest trek in Europe" by all who take it on, the GR 20 is a grueling 110-mile up-and-down undertaking.
That's right folks, there is very little flat along the GR 20, and as a result, this hike requires a high level of fitness to accomplish.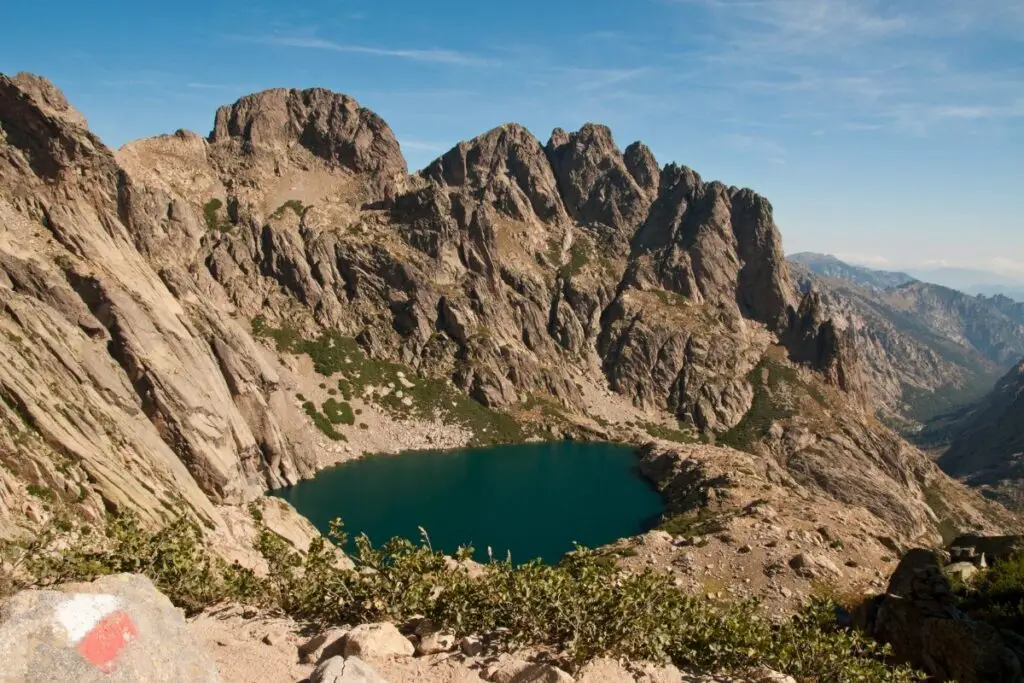 If you fancy your chances on the GR 20, then you'll also be pleased to know that it is famously regarded as one of the top trails in the world.
Running along the mountainous center spine of the French Mediterranean island of Corsica, the scenery along the GR 20 is as gorgeous as it is unforgiving.
So immense is its natural beauty, that, by the end, you will almost become numb to breathtaking mountain passes.
The notorious Cirque de la Solitude is a hair-raising climb at the halfway point that, once completed, will have you sleeping much easier.
Unlike some of the other hikes we've featured on the list, the GR20 isn't as accommodating in terms of mountain refuges and places to stock up on supplies.
For this reason, you will need to pack your camping gear and multiple days of food and supplies before reaching a village/ town where you can figuratively fill your boots up again.
5. Cinque Terre Coastal Trail – Italy
After the long and grueling multi-day hikes above, we thought it would be nice to finish with a stunning trail that is accomplishable by all.
The Cinque Terre Coast Trail links five UNESCO world heritage listed towns across seven miles of Northern Italian coastline.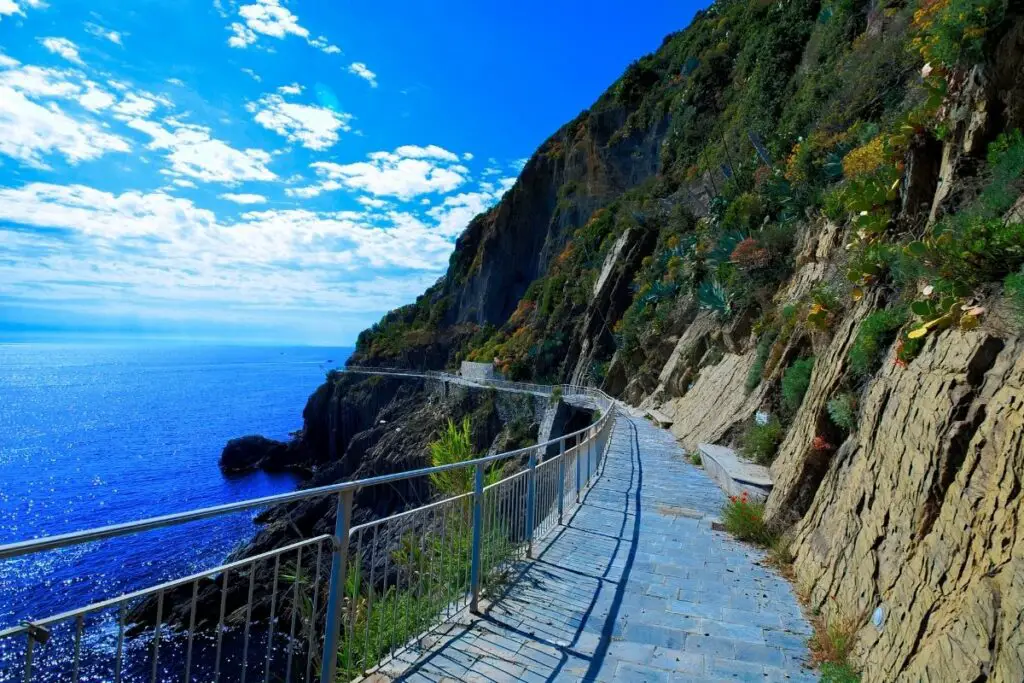 Of course, at this length, reasonably able hikers could complete the Cinque Terre in a single day, but where would the fun be in that?
By stretching the hike out over a long weekend, you conveniently leave time for eating, drinking, and enjoying one's self along the way.
If you would rather crush the miles than the pasta then the picturesque Cinque Terre coastline stretches an impressive 70 miles and features 48 trails, just waiting to be hiked.
Summary
Setting your goal, training hard, and accomplishing a multi-day hike is one of the most rewarding experiences in life.
It doesn't matter who you are or where you do it, these strenuous endeavors fill us with a sense of pride, like yeh, we can do anything.
When you throw the unrivaled beauty of Europe into the equation, it isn't a stretch to say that the experience will likely be the most unforgettable of your life.
So whether you just want to eat and drink your way along the Cinque Terre (casually). Or, do it tough on the GR 20, we hope very much that this article was but a small stepping stone in getting you there.