The greatest part of fishing, aside from the fish you can catch, is the fishing gear, and in this article, we have the best choices for you.
So, if you want to plan ahead and make wise purchases, keep reading below!
Why Should You Plan Before Buying Your Kayak Fishing Gear?
Ask any kayak fisherman and they will tell you that shopping their fishing clothing and accessories or exploring the propulsion selections in addition to those with rods, reels, lines, but also baits is what makes their hobby so great.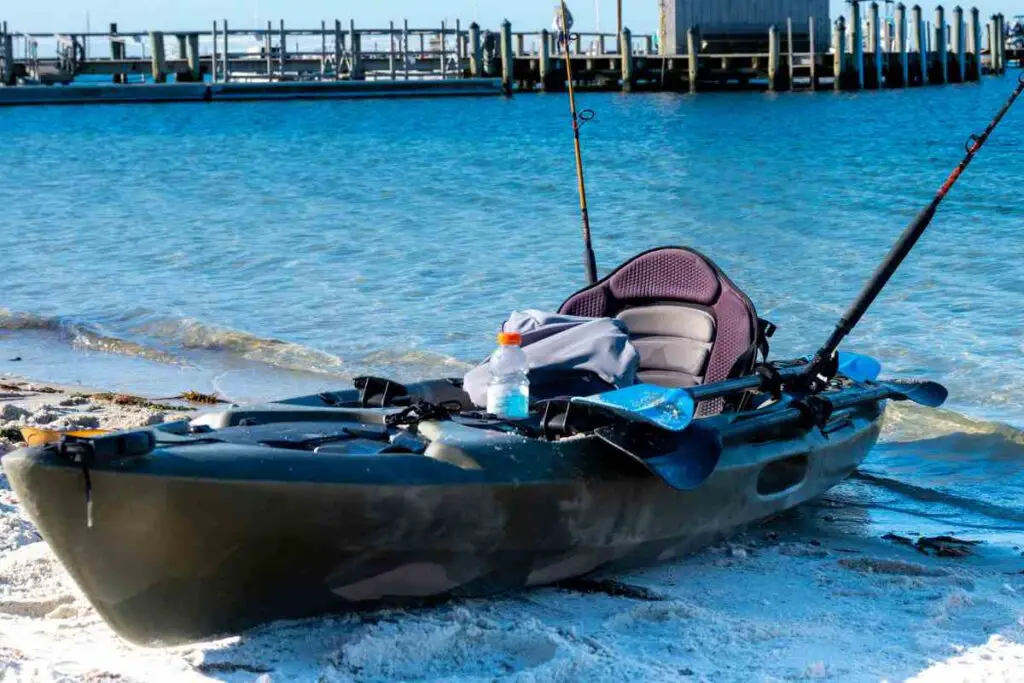 To avoid feeling intimidated by the plethora of things you need to buy and have with you, assembling an array of kayak fishing gear necessitates making sensible choices regarding the most appropriate equipment for your fishing activities.
Kayak fishing, by definition, necessitates a fisherman to trim the fat and leave only that which is essential for the areas and methods of fishing.
Is it really necessary to have twenty crankbaits in one's storage container? Rather than carrying too many unnecessary things, choose three colors that will attract the most fish.
Instead of using huge rod holders, you need to set up your kayak boat with gear that is carefully installed and lighter in weight to facilitate your fishing style.
Kayak's meteoric rise has flooded retail aisles with high-tech gear designed to make kayaking and fishing simpler and more enjoyable.
The finest kayak fishing gear has become more widely available and at a cheaper price, but which brands and pieces of gear are the best for you?
The Best Kayak Fishing Gear
It goes without saying that the most essential part of your kayak fishing gear is the kayak boat, and the best one you can buy is the Elkton Steelhead Inflatable one.
This boat weighs 17.7 kilograms, and its strong drop stitch bottom ensures a stable and convenient position for casting your baits.
Specially developed for fishing enthusiasts, the Steelhead kayak's design is great for fishing, with a front bungee storing area and several widespread hard mounting spots.
The rider's seat is padded, offering extra comfort, regardless of how long you plan to spend on the kayak boat.
Needless to mention it has a great construction to withstand troubled waters, while the floor also comes with a multi-port drainage system in the event of excessive splashing.
The Steelhead kayak is made of 1000D Reinforced Layered PVC, which allows it to smoothly float over obstacles such as rock formations.
Finally, its layout is quite simple, and the boat comes with a dual-action hand pump for instantly inflating the boat.
Once you are finished for the day, deflating the boat is just as simple, and the travel bag included in the package is perfect for storing it.
Elkton Outdoors Steelhead Inflatable Fishing Kayak - One-Person Angler Blow Up Kayak, Includes Paddle, Seat, Hard Mounting Points, Bungee Storage, Rigid Dropstitch Floor and Spray Guard
Solid drop stitch floor for a solid bait-casting position. Cast your bait expertly! The Elkton Outdoors Steelhead Fishing kayak has a solid drop stitch floor that allows anglers to steadily stand and position themselves for better bait-casting.
Especially designed for fishing. From its front bungee storage to its multiple universal hard mounting points, the Steelhead kayak is especially designed for fishing. Keep your rods, fish finders, action camera and other fishing essentials safe and dry in the bungee storage or attach them steadily in the multiple universal hard mounting points. It also has a padded seat to keep you comfortable while waiting for your catch.
Rough build to last rough waters. Features a self-bailing floor with well-positioned ports for water drainage in case of excess splashing. The Steelhead kayak has a 1000D Reinforced Layered PVC, so it safely bounces off against obstacles like rocks and logs.
Stress-free setup and storage. The package comes with a dual-action hand pump to inflate the kayak quickly. Deflate it just as easily and store it in the inclusive travel bag for grab-and-go convenience! It's a kayak that lets you have a good time from start to finish.
GUARANTEE ON WORKMANSHIP & MATERIALS - All Elkton Outdoors Kayaks come with a 1 Year Guarantee on materials, workmanship, and assembly + 30 Day No Hassle Returns
Dedicate a few extra dollars on a paddle because the lightweight design some come with will be very valuable.
Anything under 1 kilogram of weight is ideal, while when it comes to length, you should look for anything around 240-260 centimeters.
The Bending Branches paddle comes in different lengths, so you can get it in either 220, 230, 240, or 250 centimeters.
This leisure paddle is adjustable, which means that it quickly disassembles into two parts for convenient storage and transportation.
The Angler Classic also features a snug-fitting three-hole snap-button ferrule that can be adjusted for layering angles ranging from 0-60°, as well as hand control for either side.
BENDING BRANCHES Angler Classic 2-Piece Snap-Button Fishing Kayak Paddle; (Black Shaft/Orange Blade - 240cm)
CLASSIC DESIGN, ULTIMATE VALUE: The Angler Classic gives you all the bells and whistles that our high-end fishing paddles do, at a price any kayak fisherman can afford.This paddle enables you to smoothly pull through water and maintain a flutter-free stroke no matter your skill level.
ADJUSTABLE CONSTRUCTION: This recreational paddle easily separates into two pieces for compact travel and storage.The Angler Classic comes with a snug-fitting 3 hole snap-button ferrule that is adjustable for feathering angles 0° and 60°, left or right hand control.
PADDLE FURTHER AND LONGER: The rugged fiberglass-reinforced blades offer a perfect blend of weight and durability, resulting in smooth paddling with less fatigue, even with a heavy load. The grips are ovalized to sit better in your hand and the shaft is coated with your comfort in mind.
HOOK-RETRIEVAL NOTCH: One blade has a convenient hook-retrieval notch so you can rescue your line and lure in case of a less-than-perfect cast. Get those pesky hooks free again with the hook retrieval system built right into the blade.
MADE IN USA: As the world's largest manufacturer of quality canoe and kayak paddles, our products are built in Northwestern Wisconsin and our company is staffed by paddling enthusiasts. Since 1982, Bending Branches has been producing paddles with a breakage rate of less than 0.03%. Every single component of our paddles is made from durable, lightweight, and reasonably sourced materials.
So apart from a kayak boat and a perfectly matched paddle, the next essential piece of equipment for any kayaker – fisherman or otherwise – must be a life jacket.
Regardless of whether the water is only a few feet deep, or you are one of those people who can boast about their gold medal-winning open water abilities, a life jacket is absolutely necessary, and the Onyx Kayak Fishing life jacket is the best of all.
When it comes to PFDs developed pretty much exclusively for fishing, the Onyx Kayak Fishing Life Jacket includes everything you need.
From front pockets for your gadgets to 6 adjustment spots for a comfortable fit, as well as mesh panels for your body to breathe, combined with a uniformly distributed foam that makes you feel extremely comfortable in it.
Sale
ONYX Kayak Fishing Life Jacket, Universal, Tan
Six adjustment straps to cinch vest up for a snug fit
High foam back accommodates high back seats
Pockets designed for your essential gear
Breathable mesh lower back
Comfortable neoprene shoulder pads
The Gradient Fitness Marine Anchor weighs 3.5 pounds and features 4 flukes. It is foldable, folded down to 12 x 3 inches, lightweight, and portable.
It comes with a padded drawstring pouch where you can store it, making it an ideal choice for adventure lovers on the move, while also preventing scratch marks on your kayak boat.
Moreover, the anchor's great quality can resist the development of rust and comes with a 25-foot length of green or black marine-grade cord with a thickness of 7 millimeters.
It also comes with a PVC floating buoy and a stainless-steel snap hook for speedy and simple fastening or attachment, which makes this a complete kit at a great price.
Gradient Fitness Marine Anchor, 3.5 lb Folding Anchor, Grapnel Kayak Anchor Kit Also for, Canoes, Paddle Boards (SUP), Jet Ski Anchor, Small Boat Anchor Kit
𝐅𝐎𝐋𝐃𝐈𝐍𝐆 𝐀𝐍𝐂𝐇𝐎𝐑: Our 3.5 lb 4-fluke folding boat anchor kit is compact and convenient. Included is a padded draw string storage bag that is perfect for the outdoor person on-the-go.
𝐂𝐎𝐍𝐕𝐄𝐍𝐈𝐄𝐍𝐂𝐄: The fluke anchor folds into a 12" x 3" size and slips into a fully padded storage bag that will prevent scratches to your paddle or surfboard, kayak, or Jet Ski.
𝐌𝐀𝐑𝐈𝐍𝐄 𝐆𝐑𝐀𝐃𝐄: The small boat anchor is rust resistant with 25 feet of green/black marine grade rope (7mm thick). It also includes a PVC flotation buoy and stainless steel snap hook for quick and easy connections.
𝐃𝐄𝐒𝐈𝐆𝐍𝐄𝐃 𝐅𝐎𝐑 𝐓𝐇𝐄 𝐎𝐔𝐓𝐃𝐎𝐎𝐑𝐒: From SUP Yoga, jet ski anchor, to fishing from a kayak anchor we've got you covered. The anchor is storage friendly, and ideal for environments of any kind.
𝐄𝐀𝐒𝐄 𝐎𝐅 𝐃𝐄𝐏𝐋𝐎𝐘𝐌𝐄𝐍𝐓 & 𝐑𝐄𝐓𝐑𝐈𝐄𝐕𝐀𝐋: The boat anchor accessories are user-friendly design simplifies the deployment and retrieval process. The grapnel arms easily fold for efficient storage and deployment, and the anchor is quick to set and retrieve.
To make your kayak fishing experience as effortless and enjoyable as possible, you need to carry your kayak boat in a cart that needs no tools to assemble and disassemble, but this is only one of the things the Railblaza C-Tug cart can offer you.
The C-Tug is constructed of reinforced composite materials, thermos-bonded elastic boat pads, and rust-free stainless steel shielded axle shafts.
Its puncture-resistant wheels and elevated rubber tread make any concerns about a flat tire disappear, and the customizable kickstand is built for all types of terrain, allowing you to kayak wherever you want.
Sale
RAILBLAZA Genuine C-Tug Kayak Cart with Puncture Free Wheels Ctug Canoe Trolley Cart
Puncture-free wheels with high grip rubber tread; Never worry about getting a flat tire on your kayak and canoe cart; Includes adjustable kickstand; The c ctug kayak cart is designed for all terrains to get you kayaking anywhere
Durable Construction: The C-Tug is made of Reinforced composite material, thermos-bonded elastomeric hull pads, and stainless steel reinforced axels that will not rust
Reinforced composite materials, thermo-bonded elastomeric hull pads
Puncture-free wheels with hi-grip rubber tread
Is it necessary to explain the reasons why rod holders are an essential piece of kayak fishing equipment? We don't think so, but let's talk about why the YakAttack Omega Rod Holder is the best of all.
This model appears to be the ideal fit due to its customization: it is simple to attach to almost any fishing kayak, and it features an extendable lock to support rods of varying lengths.
Indeed, the Omega Pro includes an expandable head that helps with raising the reel off the water to cater to extended rods.
With its LockNLoad system, you can mount the rod holder on your kayak boat and get an incomparable track mount safety and flexibility.
Sale
Yak Attack Omega Pro Universal Fishing Rod Holder - RHM-1002
Works flawlessly with spinning, casting, larger conventional reels (even fly rods of all sizes)
Allows spinning reels to be stowed in the natural downward position, not hung off the side
A 360-degree rotating collar offers the ability to quickly secure the rod by capturing the reel
Multiple modes allow anglers to easily stage rods for quick access or lock them in for maximum security
Although a fish finder isn't included in the rundown of essential kayak fishing accessories, it is still a valuable part of your gear.
A sonar-equipped device, this fish finder can assist you in determining where to throw your lines, making sure that you won't throw baits by chance.
With its 2-beam CHIRP transmitter, a GPS with navigation routing, speed monitoring, as well as other features, the Garmin Striker 4 surely outperforms its competitors.
Sale
Garmin 010-01550-00 Striker 4 with Transducer, 3.5" GPS Fishfinder with Chirp
Clear Vu scanning Sonar shows you more of what is in the water around your boat; This high frequency sonar gives near photographic images with detailed representations of objects, structure and fish
The power of simple offers a keyed interface with dedicated buttons; The device is easy to use and easy to install; Available in 3.5, 5 and 7 inch display sizes; Water rating IPX7
Waypoint map: Use the way point map to easily view, mark and navigate to locations such as brush piles, stumps and docks; Maximum depth 1,600 feet freshwater, 750 feet saltwater; Current draw at 12 volt: 0.23 Ampere
Chirp Sonar sends a continuous sweep of frequencies which provides a wider range of information; Chirp Sonar is able to create crisper fish arches with better target separation
Built in flasher: View your sonar data in the classic flasher format; Ideal for ice fishing or vertical jigging. Display size: 1.9 x 2.9 inches (4.9 x 7.3 centimeter); 3.5 inches diagonal (8.7 centimeter)
No products found.
The AMIR digital fishing scale might have several equally good competitors, but when it comes to a value-for-money option, this is the best pick.
It is 100% waterproof and extremely lightweight, weighing only 350 grams but with the ability to hold up to 50 kilograms!
Its digital system is very accurate offering high precision numbers, while it also comes with a memory function and a power-saving mode.
Featuring a fish gripper, you can also use these scales for catching fish, but you can also use the scales to measure other things like suitcases and food.
No products found.
Catching fish when you are on your kayak boat is challenging enough because of their tiny size.
Factor in trying to stay stable, control the paddle and rods and deal with some fish trying to get away and you can understand why a fishing net is an essential part of your gear.
The Frabill Bearclaw Net is the best one thanks to its convenient, compact size, and the fact that it is quite lighter to hold than other fishing nets.
Providing perfect balance, you can easily hold the Frabill net in one hand and stay in control of your kayak boat while you try to catch the fish.
Its asymmetrical flat-bottomed net is made from environmentally friendly materials with a snag-proof fish slide to make sure the fish land and stay in there.
Frabill Trophy Haul Bearclaw 1418 Fishing Net, One Hand Designed Landing Net with built in Light, Black and Gold (FRBNX14L)
Frabill | Trusted By Anglers Since 1938
Compact, efficient and powerful one-handed design, built for the one handed scoop | Handled yoke and support bar provides control and balance and folds for easy storage | Integrated light module provides visibility when night fishing
Asymmetrical flat-bottomed net is made with conservation material and features a snag-proof fish slide to ensure your catch lands safely and smoothly | Hoop Size: 14" x 18" | Net Depth: 11" | Handle 18"
Light module located where the handle meets the net improves visibility to guide movement | Reflective hoop allows you to see the net when fishing at night
Buyer's Guide
How Can I Choose The Best Kayak Fishing Gear?
When selecting the appropriate kayak fishing equipment, you need to consider several elements.
From making sure that you evaluate the gear based on its desired uses to working to ensure that you can actually buy it, the following are the factors we to think about when choosing the greatest kayak fishing gear:
Objective
Results and real-world efficiency
Functionality
Cost
Product availability
How Much Should I Spend On My Kayak Fishing Gear?
There is no specific amount of money you should or have to spend on your kayak fishing gear. However, you should know it is not going to be a cheap buy.
If you are just starting out and have no gear at all, you will need to spend at least 1500-2000 dollars on your fishing gear.
That is because you will not only need to buy things like fishing scales and fishing nets, but also a kayak boat, paddles, and probably new fishing apparel.
What Should I Avoid When Buying My Fishing Gear?
First of all, you should avoid buying cheap pieces of gear and ones that are of low quality. Kayak fishing is a hobby that is worth investing money in, not to mention that it is important for your safety too.
Another thing to avoid is short kayak boats that are supposedly ideal for anglers. Short kayak boats are frequently designed by low-cost import manufacturers.
Anything less than 10 feet long might work for calm waters and for a casual time on the water, but when it comes to carrying your fishing gear, mounting your rods, and moving in rough waters, they are not safe at all.
What Are Some Tips For Kayak Fishing?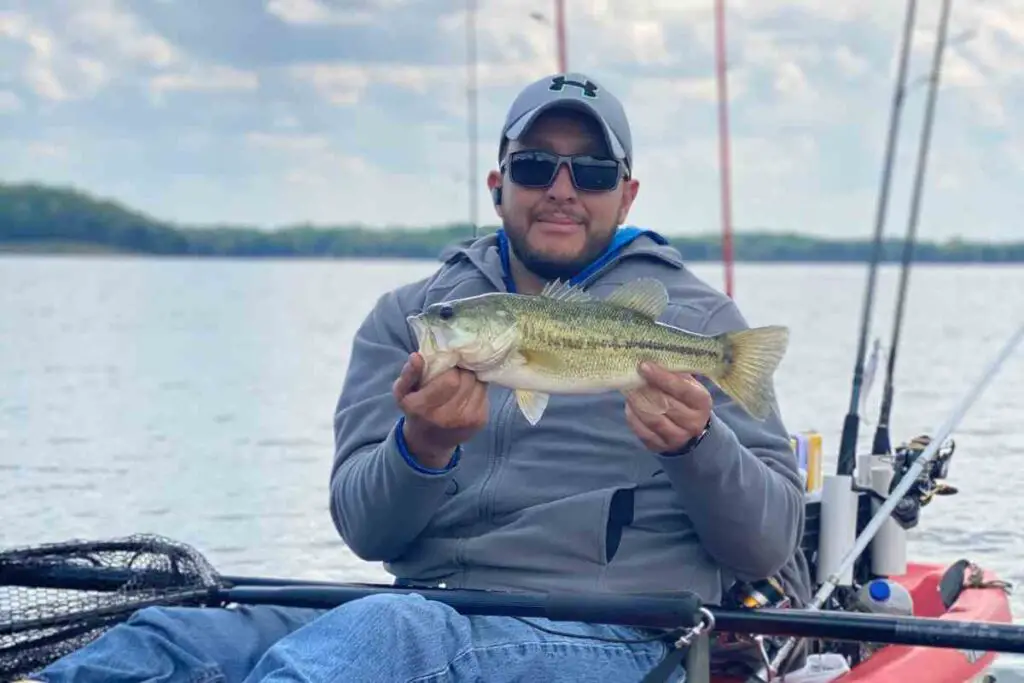 Make Sure To Have Your Safety Gear
Your safety gear is the most critical thing on your packing list because it will be the thing that will keep you alive in case you are in danger.
So, your life jacket and other accessories like whistles, headlamps, and apparel pieces like gloves are essential to carry with you and wear at all times.
Always Wear Sunscreen
With or without the sun being out, another thing you should do is wear sunscreen to protect your skin from the sun's rays.
Even if you can't see them, they are there, so do not forget to apply them generously before going out on the waters.
Don't Forget About Your Food And Water
While we have highlighted the importance of certain pieces of gear, bringing no food or water with you is like putting yourself up for a disastrous adventure.
Kayaking can be intense, and you will end up burning lots of calories, so pack some meals with you and get lots of snacks to enjoy too.
When it comes to water, a couple of bottles or a big water pouch are necessary and depending on the weather and the amount of time you plan on spending out there, you should plan accordingly.
The Bottom Line
Kayak fishing is a hobby that's growing in popularity as it combines both the thrills of kayaking and the chilling experience of fishing.
In this article, we have shared the best kayak fishing gear you can buy before heading out on your adventurous trip, so save this list, plan your budget, and enjoy your time fishing!