Nashville, Tennessee, otherwise known as 'Music City'. The first thing you think of is a busy bar filled with live country music, or cowboys and cowgirls wandering down the busy downtown streets, or some of the best southern comfort food in the lower half of the US.
Well, believe it or not, there's one more hidden gem behind visiting Nashville, and that is that it's home to some of the most scenic hikes in the entire region.
With miles of beautiful forestry, stunning rock formations, and falling waterfalls, hiking in Nashville allows you to really appreciate Tennessee's natural beauty.
But where on earth would you find the trails? Luckily, we've put together this guide on some of the best hiking spots in Nashville, including their exact locations, to get you moving and heading in the right direction.
So, grab your hiking boots, and let's get into it.
Narrows Of The Harpeth
1640 Cedar Hill Rd, Kingston Springs 37082 (Harpeth River State Park)
We're kicking off our list with a super short and sweet 1.1-mile hike perfect for beginners, located just 30 minutes outside the city.
Located in Harpeth River State Park, which is open from 7 am until 7 pm from April to October and 8 am to 4.30 pm from November to March, this trail is famous for its incredible rock formations and as you hike along the trail you'll be able to take in the breathtaking landscapes, realizing why it's so popular with both locals and visitors from afar.
You'll also end the trail in one of Tennessee's most famous natural landmarks, a flowing waterfall that runs out a wide hole in the rock formation. 
Lake Trail
1160 Otter Creek Road Nashville, TN 37220 (Radnor Lake State Park)
Located in Radnor Lake State Park and only 20 minutes outside of Nashville, this trail offers some of the best wildlife in Tennessee.
All through the year, you'll be able to spot wild herons, geese, frogs, salamanders, snakes, lizards, and turtles, as well as plenty of species of wildflowers, fungi, shrubs, trees, and other beautiful plants that are worth getting the camera out for.
Not only is the wildlife impressive, however, but Lake Trail has some of the best vista views in Nashville, along with some of the highest hills in the Nashville Basin. Accessible from 6 am until 20 minutes before sunset and only 1.35 miles long, the hike is perfect for family day trips where you want to both relax by the lake as well as take a short hike to take in some scenery.
A lot of the hike is mulch and gravel yet is still dog-friendly and ADA accessible. It works its way around the side of Radnor Lake and offers several different observation points to take a breather whilst taking in the famous vistas and wildlife. 
Fall Creek Falls Trail
10821 Park Rd, Pikeville 37367 (Fall Creek Falls State Park)
A slightly harder trail at 2.4 miles long, but still accessible to new hikers, the Fall Creek Falls Trail, is the place to head to if seeing some of Tennessee's most beautiful waterfalls is top of your list.
The viewpoint trail offers fantastic photo opportunities as you pass the outstanding cascade and as the state park offers a bird's eye view glimpse at Fall Creek Falls, it is a popular destination for adventurers and waterfall enthusiasts in Nashville throughout the year.
During high water flow, the falls cascade down a truly vertical cliff and if you end up on the trail during winter, you'll even get to experience the frozen falls, which is a sight that will take your breath away (if the cold hadn't already)!
Mossy Ridge Trail
7311 Highway 100, Nashville, TN 37221 (Percy Warner Park)
A popular hike, located just 25 minutes outside of Knoxville, next on our list is the Mossy Ridge Trail. You'll find the trail in the Percy Warner State Park which is open from dawn to 11 pm and is 4.5 miles long, making it accessible for both dogs and hikers of all ages and abilities.
Read next 🐶 – Best Hiking Dogs
If you were slightly more experienced, feel free to extend the hike to 6 miles by using the Cane Connector trail. This route will require you to have adequate hiking boots as the paths can be particularly hilly and rocky.
With vistas and stunning views around every corner, whether you take the main path or extended route, this hike promises to please everyone. There is also a shorter side trail that leads to a 'quiet point' overlook if you wanted a peaceful moment in the heart of the woods.
Montgomery Bell Trail
1020 Jackson Hill Rd, Burns 37029 (Montgomery Bell State Park)
We're stepping up the mileage with this hike, at 10.4 miles long and with 1049 feet of elevation, we would only recommend the Montgomery Bell Trail to slightly more experienced hikers wanting more of a challenge.
Located around 45 minutes from the city center, this hiking trail has something for everyone to enjoy, from stunning landscapes to varied terrain, to some interesting history as you pass the historic log cabin as well as a mining area.
With a few flowing waterfalls, streams, and lakes along the way you'll also be able to take a moment of rest and dip your feet in to cool down or even attempt to cross one of the stream crossings for an extra challenge!
Virgin Falls
Scotts Gulf Rd, Sparta 38583 (Virgin Falls State Natural Area)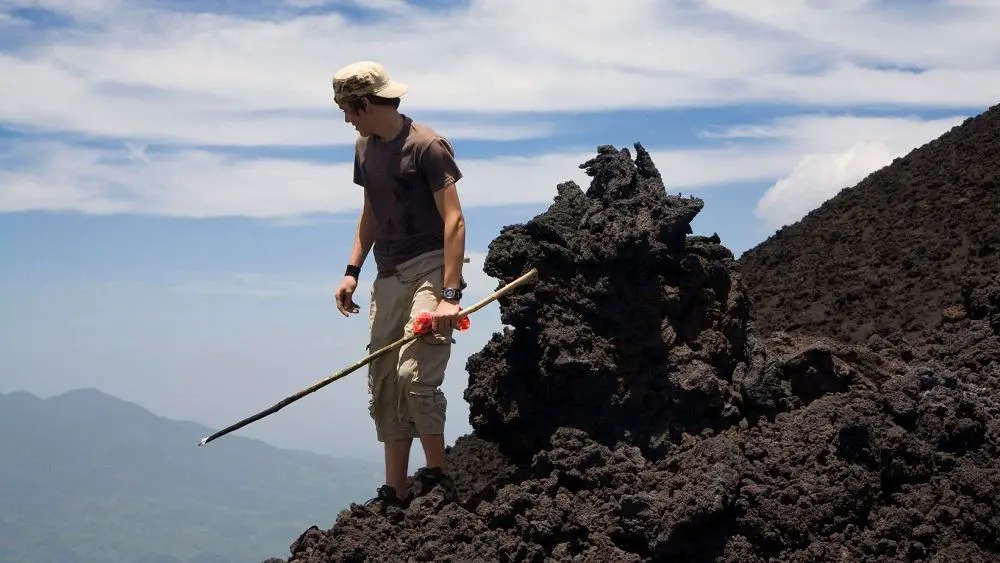 Although you might have to drive a couple of hours out to reach this hike, if you're an avid adventurer and thrill seeker, we promise it's worth it.
At 8.7 miles and with 1,381 feet of elevation gain, this challenging hike includes some very difficult terrain, rock scrambling, and steep ascents and descents, but the beautiful Virgin Falls that flow in front of a rocky cave at the end of the hike are more than worth it.
You'll also be accompanied by hundreds of wildflowers that line the trail and during the fall, you'll be able to see some of the trail's great foliage.
As a result of the karst topography on the Cumberland Plateau, the area has many sink holes, deep caves, flowing falls, and rivers, so come for the day or stay for the week on one of their campsites, to take in the real beauty of nature that Tennessee has to offer.