If you're looking to charge your electronic devices during camp or need some electricity for an appliance or lights, then a solar panel can be just what you need.
You don't need to worry about charging battery packs before your trip or ration how much battery power you have as a solar panel can give you a constant stream of electricity.
Plus, solar panels are eco-friendly and produce clean and renewable energy!
In this article, we will look at the best camping solar panels available and discuss the features and functions you should consider before you make your purchase.
Let's begin by looking at some solar panels.
This solar panel from BigBlue is a great choice of any camper that needs to travel light and carry their gear.
It is remarkably light at only 360 grams and also folds down to a small size. It isn't the most powerful or effective solar panel you can find so it is best for campers that are only looking to charge cell phones and similar devices instead of powering anything that needs more energy.
We found that it can charge a smartphone in around two hours in good conditions. This panel is rated IPX4 so it won't survive being submerged in water but will survive bad weather and rainy conditions. 
The panel can be attached to your backpack so it will catch the sun as you walk. It needs to be set at around 45 degrees to catch the best sunlight and this is difficult when attached to your backpack.
Sale
[Upgraded] BigBlue 3 USB Ports 28W Solar Charger(5V/4.8A Max), Portable SunPower Solar Panel for Camping, IPX4 Waterproof, Compatible with iPhone 11/XS/XS Max/XR/X/8/7, iPad, Samsung Galaxy LG etc.
【Upgraded Triple USB-A Ports】Each maximum output is 5V/2.4A and total maximum current of 3 USB is at 5V/4.8A. BigBlue 28w solar charger allows you to charge multiple devices at once. It comes with smart charge technology which can recognize your device smartly then providing optimal charging speed vary with different devices. BigBlue ensure 100% safe charging with overcurrent, overheating and short-circuit protection.
【Higher Solar Conversion】Highly efficient SunPower solar panel convert up to 24% of solar power into free energy in enough sunlight, which is the most durable panels at present, standing up to elements and wear and tear better than conventional panels. This special PET polymer surface protects solar panel from occasional rain or wet fog and three ports are covered with rubber cover to protect them from dust or water damage.
【Portable Camping Solar Panel】BigBlue solar charger is a great option if you're taking an extended camping trip or if you're traveling somewhere with an unreliable power grid. With compact size (11.6 × 6.3× 1.3in folded) and lightweight (20.5 oz) design, it is portable and light enough to fit into any camping backpack or hiking daypack. It is also a must have for stashing in an emergency kit.
【Wide Compatibility】BigBlue USB solar charger offers a tiny power plant that can generate power for your phone (Android and Apple) and small electronics to keep them charged when the sun is out (Note: you need the extra original cable for Apple devices). Our solar phone charger can't store the electricity and can't charge the laptops and iPad Pro.
【Package & Support】You will get BigBlue 28W Solar Charger, 50cm USB-A to USB-C Cable, User Manual and friendly Customer Service. Note: Any cloud or cover may influence the charging speed. Although our solar charger with automatic restart function, we still suggest you to reopen the solar panels and replug your device if the charging is too slow.
The way the panel folds means you won't get full effectiveness while it is on your backpack, but it will catch enough energy. 
Ideally, the solar panel needs good conditions to work as it does struggle on overcast days more than most other panels do.
We would advise getting a power bank so you can store energy and take advantage of the sun while you have it.
Pros
Compact and lightweight – doesn't take up too much space or weight
Backpack – can be attached to your backpack to catch the sun
Water-resistant – the solar panel can survive rainy days
Safety features – protected against overcharging and surges
Cons
Poor performance when cloudy – overcast conditions hinder the solar panel more than they should
The SolarSaga panel from Jackery is a very high-quality solar panel that has a high price to match. It is very durable and the quality of the materials is obvious from the second it's removed from the box.
It folds down well and there are magnets on the sides to keep it closed and neat while folded. When folded it's too big for a backpack, but will fit easily in vehicles.
It can generate up to 60W of power and has a large surface area when unfolded. The panel has adjustable legs so you can change the angle to ensure it gets the most amount of sun possible.
Jackery SolarSaga 60W Solar Panel for Explorer 160/240/500 as Portable Solar Generator, Portable Foldable Solar Charger for Summer Camping Van RV(Can't Charge Explorer 440/ PowerPro) Black
EASY TO CARRY & KICKSTAND INCLUDED: Weighing at only 6.6 lb, this solar panel is foldable and handy with a TPE rubber handle. The kickstand leans on an angle that makes the solar panel to easily soak energy from the sunlight.
HIGHER CONVERSION EFFICIENCY: The monocrystalline silicon solar cells provide conversion efficiency of 23%, higher than other conventional panels, allowing your Explorer 160/240 power station(sold separately) to be charged in 4.5hrs/6.5hrs. Ideal for RV camping, off-grid road trip and unexpected power outages.
DURABLE & SPLASH-PROOF: The ETFE-laminated case is durable enough to extend the lifespan of the solar panel. It is IP65 water-resistant that will protect from water splashing (Do not place it under the rain, or to soak in water). The zippers on the pocket can hold the power cords, and cover the power port.
COMPATIBLE WITH JACKERY EXPLORERS: It takes 4.5hrs and 6.5hrs to charge Jackery Explorer 160 and Explorer 240 with Solar Saga 60. This portable solar panel is also equipped with 1* USB-C and 1* USB-A port that allows you to charge up to 2 devices at once.
WHAT YOU GET: 1*Jackery SolarSaga 60 Solar Panel, 1* User Guide.
There are USB-A and USB-C ports on the panel so you won't need an intermediate battery to charge any devices that use these ports.
You can run two of these solar panels together to generate even more electricity, but this does require the purchase of an additional power pack.
This is a very high-quality solar panel that delivers a consistent and considerable amount of electricity. We would recommend this panel if you have the space and the budget for it.
Pros
Quality materials – the SolarSaga is built to last
Adjustable legs – catch the sun by adjusting the angle of the panel
Slim – the panel is very slim when unfolded
USB-A and USB-C – direct charging for these ports
Cons
Expensive – at nearly $200, this panel is expensive
This is a monocrystalline solar panel. It's available in a variety of wattages ranging from 10W to an impressive 200W and of course, as the wattage increases so does the size and price. For the purposes of this review, we looked at the 10W version of the panel. 
The panel is foldable so it can be opened up to catch more sunlight and generate even more energy if needed.
When folded, it's more portable and it can be clipped onto your backpack for ease of carrying.
There is a foldable stand as well so you can prop up the solar panel to catch the sunlight better. It has a built-in USB port, is splash-proof, and heatproof.
As far as small and portable solar panels go, the Nomad 10 is a good purchase. It's a little more expensive than some comparable solar panels but it is a quality build and works well. It is a little heavier than we expected, but not prohibitively so.
Pros
Several wattages – available in a wide range of wattages
Foldable – opens up to catch more sun
Portable – the solar panel can be attached to your backpack as you walk
Stand – foldable stand allows you to catch the sun
Cons
Heavy – although not too heavy to carry, it's heavier than expected
At 9 pounds (4.2 kilograms) this might not be the kind of solar panel you want to carry on your back, but it is a good choice if you need a solar panel that can produce higher amounts of wattage. It folds down to a surprisingly compact size so it is easy to store in your vehicle or campervan.
It's a polycrystalline solar panel and is available in several different wattages. For this review, we looked at the largest, which can produce around 120W.
This version has enough power to even charge a car battery, so if you're worried about being stranded in the wilderness with a flat battery, the Eco-Worthy 120W panel will give you some peace of mind.
ECO-WORTHY 120W Foldable Solar Panel for Jackery Explorer/Flashfish/BALDR/Goal Zero Portable Generator Power Station, with 20A Charge Controller to Charge 12V Battery
【Lightweight 】: ECO-WORTHY upgraded 120w portable solar panel, weighing only 9 pounds (4.2kg). Ideal for camping, hiking, RV, van, traivel trailer, and unexpected power outages. Easy storage and move around.
【10 DC Adapters for 95% Power Station】: 8mm for Jackery/Goal Zero, 5.5*2.1mm for Flashfish and 5.5 *2.5mm for Rockpals etc
【More Safe】20A built-in LCD solar charge controller provides overcharge protection, reducing fire risk. Negative-ground charge controller for compatibility with your RV, boat, trailer, etc.
【Get up to 25% Sunlight】: Built in kickstand allows you to get up to 25% more solar energy than flat laying. The 3 meters cable allow solar panel to follow the sun without worrying about power station over heating
【WARRANTY】: 12-months friendly customer service available 7×24 hrs. (Tip: Due to the version upgrade, some solar panels have no protective film on the surface, please rest assured)
The panel comes with its own charge controller and a wide variety of cables and connectors so you can connect everything you need to charge or power.
It performs as well as expected on sunny days and although the output takes a big hit on overcast days, it still performs better than some other solar panels of comparable quality and price.
You have a variety of options of how to set up the panel to best catch sun. It comes with kickstands, so you can leave it outside and angled to catch the rays but it can also be hung on the side of your campervan or even placed across the windshield of a car.
However, this solar panel doesn't have an IP rating so we wouldn't trust it to be waterproof or resistant.
We didn't have the chance to try it in rainy weather and wouldn't recommend leaving it outside and exposed if you're caught in a downpour.
Pros
Powerful – strong performance in sun and cloud
Large wattage – can even charge car batteries
Versatile – charges a wide-variety of batteries and devices
Compact – folds down to a surprisingly compact size
Cons
No IP rating – don't leave it out in the rain
Buying Guide
Before you buy a solar panel for your camping trip, there are a few features that you should consider. By deciding what you need, you can make selecting the right solar panel for you an easier experience.
Types of Panels
Broadly speaking, there are three types of solar panels.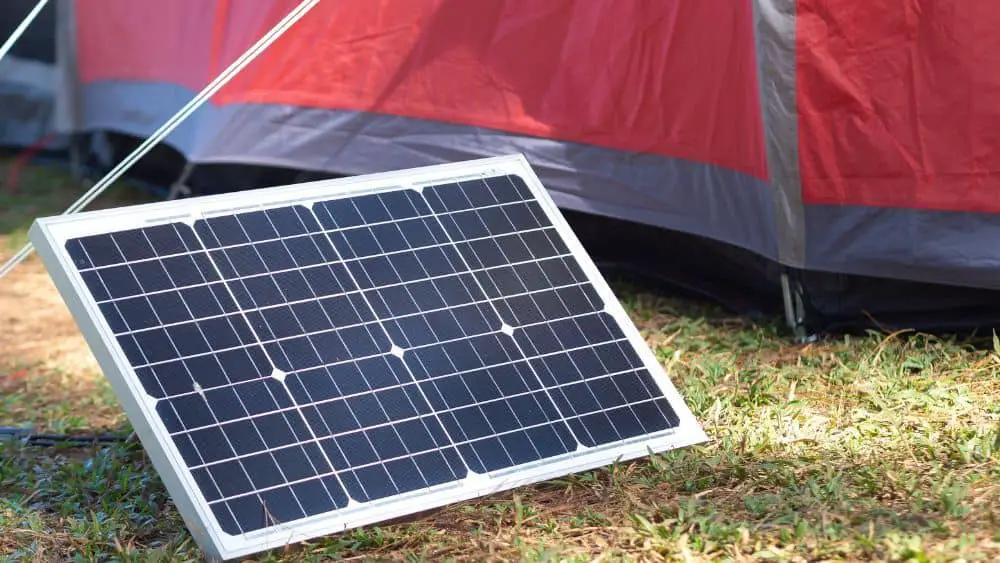 They all have their advantages and disadvantages and you will need to consider these before deciding which one to buy.
Monocrystalline solar panels – these are the classic type of solar panel and were the first to be developed. They're made from the highest purity of silicon and come at a premium price. However, they are very durable and efficient so they are bound to produce lots of energy for many years to come.
Polycrystalline panels – these are also made from silicon, but unlike monocrystalline panels, the silicon is melted together from tiny fragments. This means this type of panel is cheaper but is also less efficient.
Amorphous solar panels – unlike the other two types of solar panels, these are thin and flexible. They're not as efficient as either monocrystalline or polycrystalline panels, however, and will not last as long. Due to their lower efficiency, they require a larger surface area to produce enough energy. Amorphous panels can be folded and are generally lighter.
Portability
This is a very important factor to consider when camping.
If you are traveling in a large vehicle and have plenty of space to store your equipment, then a larger and more bulky solar panel may not be an issue. However, for most campers, portability will be key.
Look for panels that are light and easy to carry, especially if you will be doing some hiking before setting up camp. Some solar panels are small and light enough that they can be clipped onto your backpack.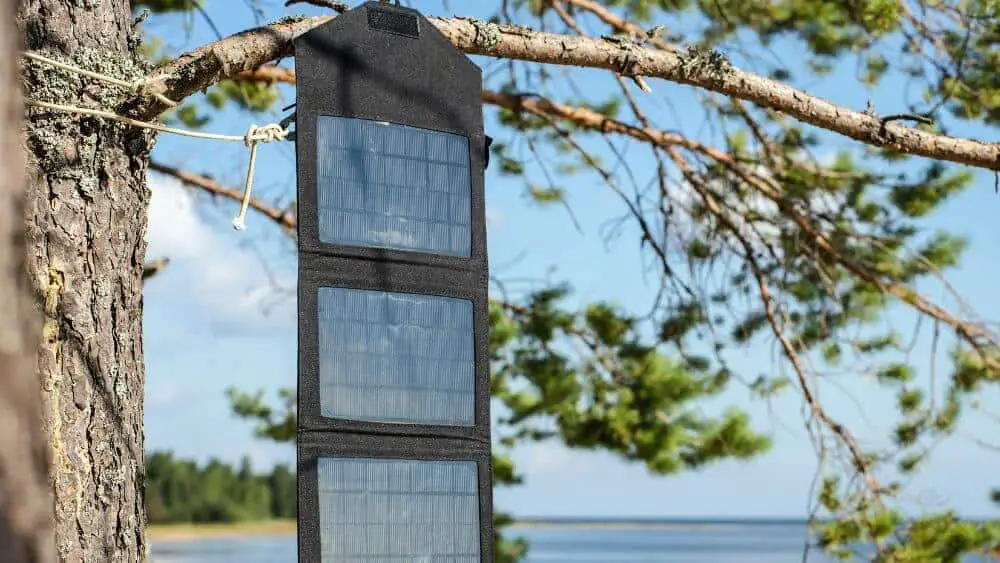 You can find decent solar panels with enough wattage to charge phones and similar devices that weigh around 1 kilogram. 
Power Rating
Another factor of vital importance is the power rating of your solar panel. Power ratings are measured in wattage and the higher the wattage, the more power your solar panel will be able to produce.
However, there is a tradeoff between power rating and other factors, such as size and price. Panels that produce the highest wattages will undoubtedly be larger and heavier, so you may want to opt for a panel with a lower wattage.
As a General Guide – Solar panels that are 5W can charge small, portable devices such as phones. Panels between 10 to 30W are suitable for laptops, SAT phones, or GPS units. For coolers or other big appliances, aim for panels that are around, or above, 100W. 
If the device you wish to charge has a wattage of, for example, 20W, we would advise purchasing a solar panel that is a little higher than this.
Solar panels always lose some energy and as the wattage of a solar panel is based on it operating under perfect conditions, you might not get that level of performance.
By going for a wattage higher than you need, some energy loss or poor conditions won't be a problem.
Connectivity
Your solar panels will need to connect to your devices to charge them.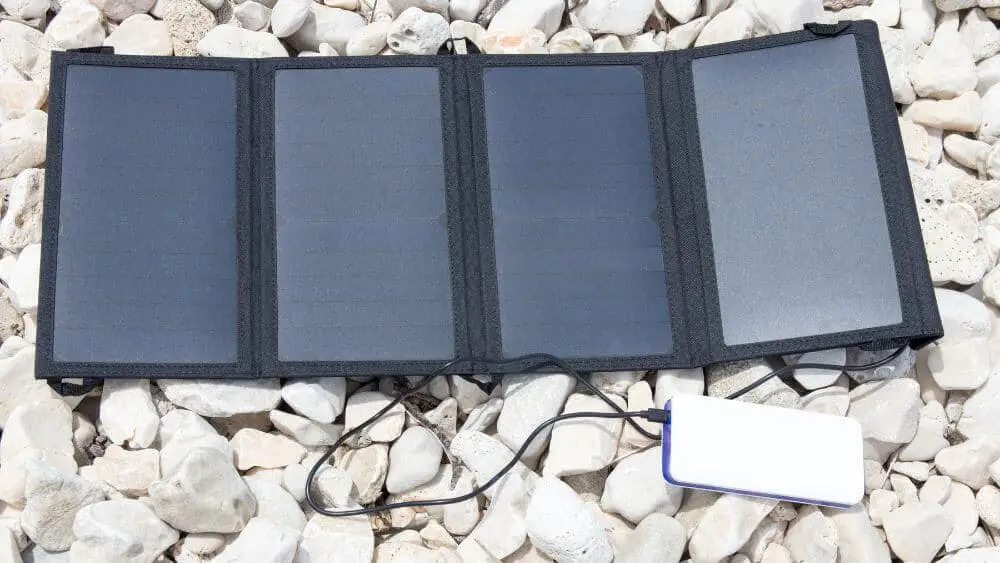 Some solar panels have the necessary connections built in so you won't need to carry any extra wires, whereas others will require charging cables. Double-check which connections you need and that the solar panel you're looking at has them.
Water Resistance
If you're a regular camper then it is inevitable that at some point, you will face some rain. You may also have to cross some rivers or streams during your hikes, so having a waterproof solar panel will come in handy.
There is a universal rating that shows how resistant electrical devices are to both water and dust called the IP rating.
This takes the form of two numbers, with the first referring to the protection against dust and particles, and the second referring to water. The higher the number, the more protected your device will be.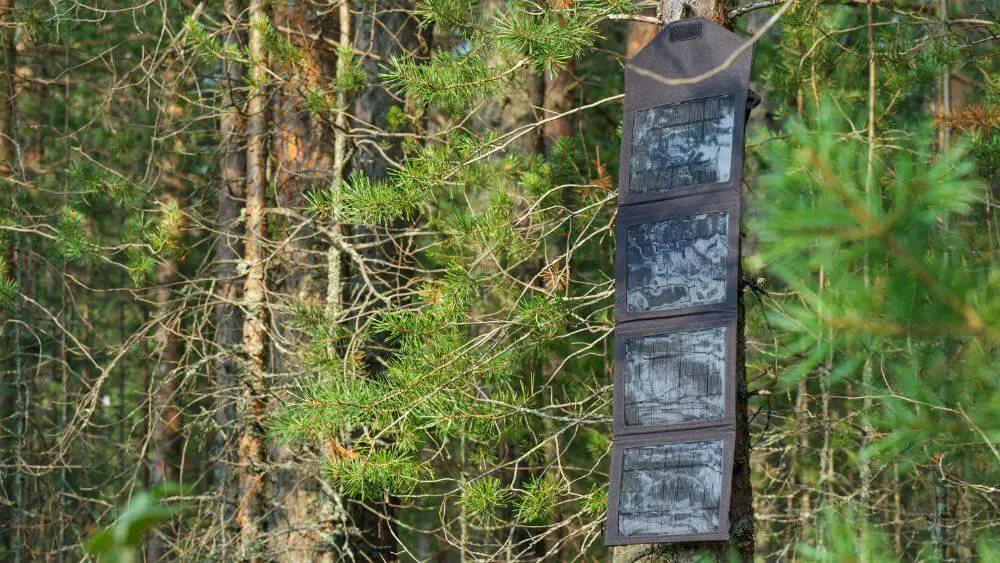 At IPX7, for example, the device will survive being fully immersed in shallow water (up to one meter) for up to 30 minutes. IPX5 will survive light rain and IPX6 should be fine in heavier rain.
Final Thoughts
Taking a solar panel with you while you camp is a great way to charge your devices or power any of your appliances.
You don't need to worry about charging devices and batteries before you travel and you can have a continuous supply of energy while you are camping.
Solar panels also provide clean and green energy that is off-the-grid and renewable.
There are several factors you should take into consideration when choosing a solar panel, including the type of panel, how portable it is, its power, and compatibility with other devices.
We hope that whatever solar panel you choose for your camping trips will keep your devices going throughout your vacation.