Campers in Australia know how important it is to have one of the best camping fridges available.
Can you imagine traveling for hours and opening your fridge to see that it is no longer cooling your drinks?
With the best camping fridges, you can keep your drinks and food fresh for the days you are traveling!
Best For Compactness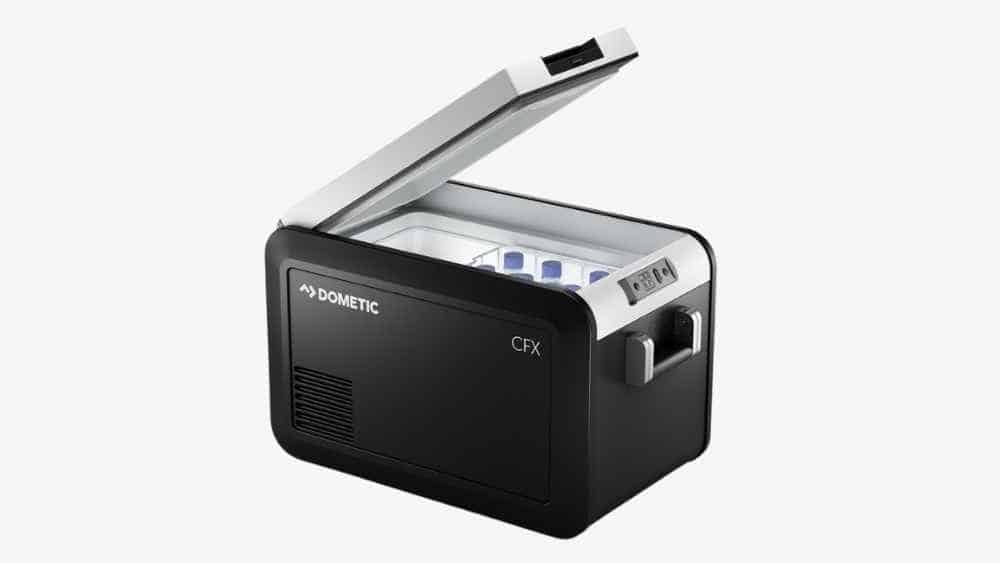 When there isn't enough room in your car, the Dometic CFX3 35 Fridge/Freezer is a compact and effective solution for your camping trips.
This refrigerator has a compelling VSO3 compressor cooling system that effectively refrigerates and deep freezes down to -22°C while maintaining cold air with an advanced covering.
The ExoFrame structure is heavy-duty but still light, offering cover in harsh conditions, and the sturdy spring-loaded aluminum grips contribute to making its transportation convenient.
The CFX3 35 can be fueled by AC, DC, or photovoltaics, and it can be operated and monitored via WiFi/Bluetooth with a free application.
The 36L interior can hold up to 50 cans of beverages and features a crafty internal layout that does not include a dairy storage area for proper organization.
It also includes an advanced USB connection for charging your smartphone and a simple display unit that displays the temperature and condition of the Dometic CFX3 35.
Pros
36L storage space
Heavy-duty while remaining lightweight
Spring-loaded aluminum alloy handles
AC and DC power sources
Three stages of battery protection
Cons
---
Best Cooling Performance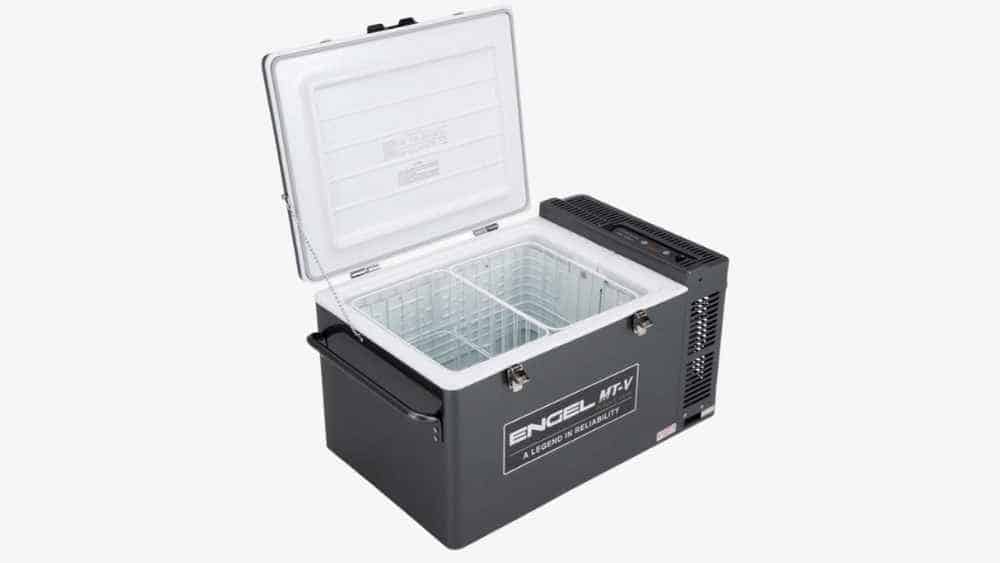 The Engel MT-V60FP Portable Fridge, with its bigger storage space and handy double storage baskets, can transport raw and ready-made food on weekend getaways.
The hard steel cabinet, grips, and top cover of this mobile fridge, supported by half a century of cooling efficiency, guarantee that it is working effectively even in the toughest conditions.
At the heart of Engel's effectiveness is the Sawafuji Swing Motor, which provides the best cooling performance from only one mechanical system.
It has an installed battery sensor and digital controls that help with the easy adjustment of the unit.
It also features an on/off internal LED light, optimized handles and door protection, and a bigger sealable door latch.
For your reassurance, this fridge is equipped with a 12V wire that plugs straight into your car's cig socket, a 240V lead with a three-pin connector, and a cooling unit guarantee that lasts for 5 years.
The Engel MT-V60FP Portable Fridge Freezer allows you to store cold beverages and meals for your traveling expeditions.
Pros
It can preserve 80 cans
Three stages of battery protection
Extra detachable hinge
Compressor/swing motor guarantee of 5 years
Cons
---
Best Value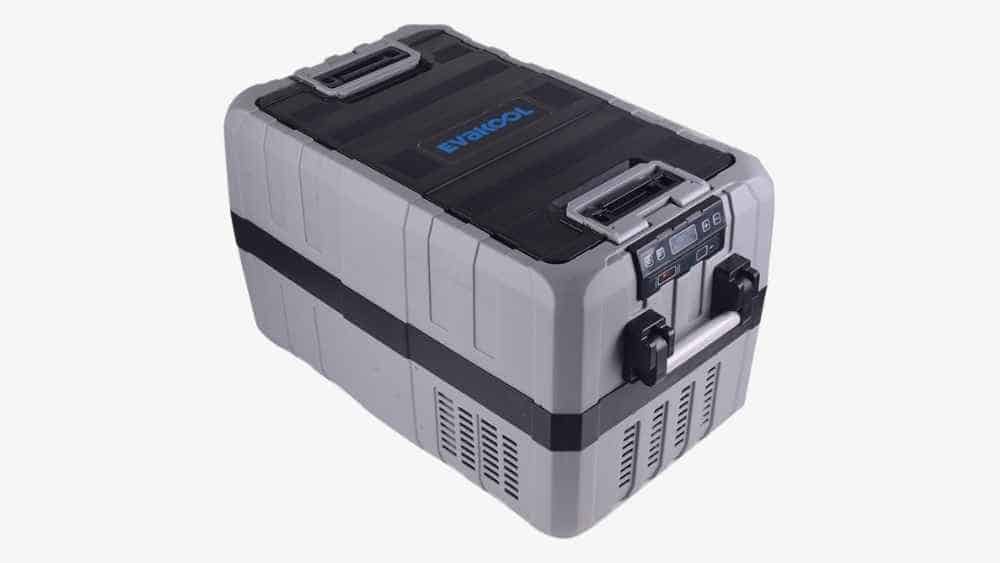 The EvaKool TMDZ60 is a fantastic mid-range fridge that offers several of the functionalities of more premium brands but at a cheaper price.
They rely on the same SECOP compressor found in numerous other fridge manufacturers, which has been shown to be extremely reliable in a variety of Australian seasonal changes.
This compressor is quiet, durable, and equipped with a self-diagnostic fault system.
It is also suitable to be used in warmer temperatures, making it perfect for usage in the Northern Territory, Western Australia, and Queensland.
The EvaKool has plenty of great features which make it an easy-to-use camping fridge. It features an easy-to-access bi-directional cover, an inbuilt LED light, and detachable baskets.
Pros
Detachable baskets
Works on angles of up to 30 degrees
The base and lid are completely insulated
Cons
It is a mid-range fridge that might not be suitable for everyone
---
Best Overall Features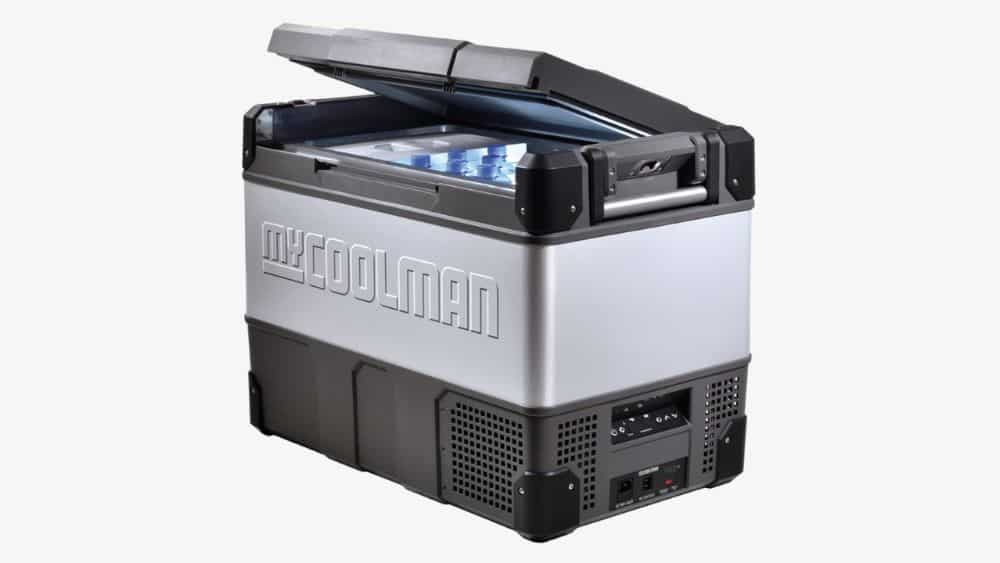 MyCoolman joined the mobile fridge supply chain in 2019, but it took little time for the newcomer to establish itself alongside established companies like Engel, Dometic, and Evakool.
This is due to the brand's models' great quality, its abundance of functions, and advanced technology.
This outdoor fridge/freezer features three levels of battery protection and two 12/24V and 240V power outlets.
The fridge has inlets on both sides, which make it convenient and flexible when trying to pack and operate the unit.
In contrast to so many other portable camping fridge freezers, the myCOOLMAN CCP69DZ Dual Zone Portable Fridge/Freezer comes with built-in handles that do not overhang the end of the unit, which means it has handles without them affecting the fridge's size.
The detail-oriented design distinguishes this My Coolman model. It also has built-in bottle openers, a harder cover to prevent deformations, and a USB port and charger are included in this dual zone unit.
The model can be controlled by using a display or the relevant application.
The MyCoolman fridges have all the functionalities you'd anticipate from a portable travel fridge, plus a few extra perks. While it isn't as well-known as Dometic, there is no doubt that this fridge freezer meets all the top standards and has all the high-end features necessary.
Pros
Larger bottles can be stored upright
Handles for carrying and tying down the fridge/freezer
Bottle openers are positioned on both ends
Cons
---
Best For Longer Trips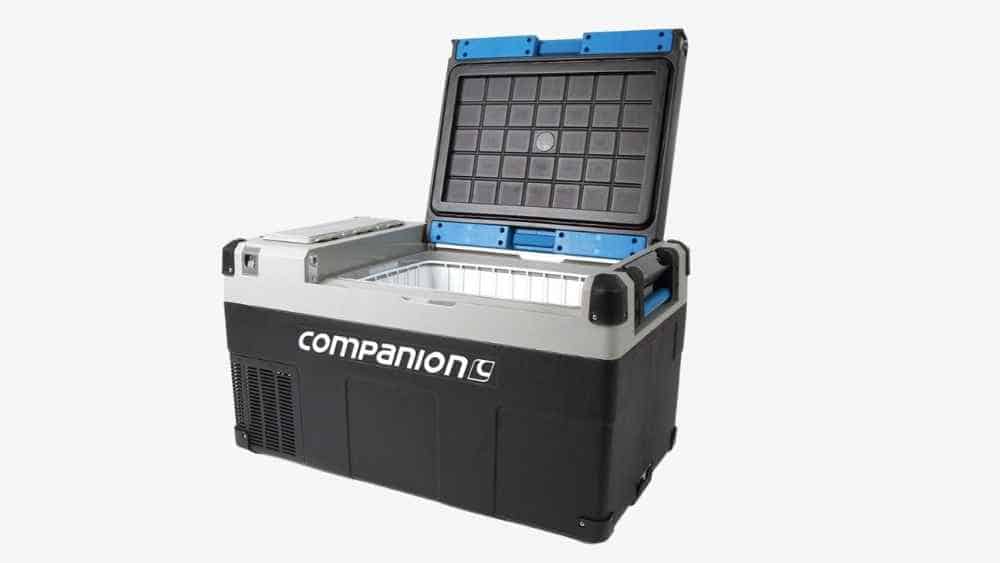 The Companion Lithium 60L Single Zone Rechargeable Fridge/Freezer is a single zone camping fridge that differentiates itself from the rest because of its built-in lithium battery, which transforms it into a fridge/freezer and power supply in one.
This model has a dependable dual-speed SECOP compressor and is ideal for vacations and long rides. It has a storage space of 60L and a variety of power alternatives to meet all needs.
This vehicle fridge can run on 240V AC or 12V/24V DC and includes an Anderson power cord inlet for attaching photovoltaic power panels.
Furthermore, there are dual USB outlets that provide energy for charging your small devices.
The Companion Lithium 60L Single Zone Rechargeable Fridge/Freezer can be charged once and then last for 16 hours, which is considered a significantly prolonged time that is accomplished thanks to its use of solar energy.
As a result, this unit is the most ideal one for longer trips.
Pros
A single zone with a lid that rotates in both directions
Dual DC power jacks
Operates with solar energy
Lasts for up to 16 hours at a time
Cons
Motor noise might seem a bit louder than other fridges
---
Best For Harsh Weather
The National Luna 50L Legacy Camping Fridge is an advanced model suitable for long drives and frequent use.
This unit was designed and manufactured in South Africa and can guarantee great durability in extreme weather.
The Legacy is built similarly to the Engel MT-V60F and their prices do not differ much.
This refrigerator includes a brand-new National Luna off-road compressor, a digital temperature control system, and a temperature control range of -24°C to +20°C.
Each one of these items is contained in a small container with a 50L capacity, three baskets, and dimensions of 71 x 38.5 x 50.6cm.
This unit also ranks among the lightest portable outdoor fridges/freezers included in this article, weighing less than 25 kg.
As a whole, the National Luna 50L Legacy Dual Zone Fridge Freezer Grey 50 Lis is a high-quality choice that is ideal for long journeys and exposure to harsh weather.
Even though this model is quite expensive, it lacks some additional features such as USB connectivity options, while it also offers a warranty of 3 years instead of 5 years that is provided for other models in this list.
Pros
Extremely light- total weight of less than 25 kg
Top quality
Durable in harsh weather conditions
Cons
No USB connectivity options
Expensive
---
Best Upright Fridge
This upright fridge freezer is ideal for camping. It is self-standing and has an 80L capacity.
The Engel ST90F utilizes an energy-efficient Sawafuji swing engine, which sets it apart from the majority of the portable units included in this list.
This is a trustable choice because it is well-made and only contains one moving part, reducing the likelihood of it breaking or getting damaged.
Even though this is an upright fridge/freezer with a bigger capacity of 80 liters, it is relatively small in comparison to, for example, the Companion 60L.
Moreover, one disadvantage of the ST90F-G4 is that it is not great at controlling the temperature, while it also comes with a smaller temperature range.
This outdoor fridge moves from 12/24V to 240V power automatically, has an independent freezer storage area, and is a thermostat monitored.
It also comes with 2 ice cube trays, 2 door compartments, a drainage pan, and 2 racks for more practical storage of meals and drinks than a chest-style fridge/freezer.
Pros
Designed to fit into small spaces such as caravans and kayaks.
80-liter capacity
Upright design
Cons
Average temperature control
---
Buyer's Guide
What Is A Camping Fridge?
Let's make this simple: camping fridges are usually mobile refrigerators.
This suggests that these fridges are not mounted on a specific surface inside your vehicle.
Rather, they are portable so that you can take them with you and leave them inside or outside your camping tent.
In addition to that, you can also take them with you to the beach or move them back into your trunk and head to the next destination.
This flexibility they offer means that these fridges are an excellent piece of equipment for your camping adventures in Australia, as well as any other outdoor activities.
Even when you want to keep your drinks and meat cold during a backyard barbeque, camping fridges are the perfect solution.
What Kind Of Camping Fridges Are Available?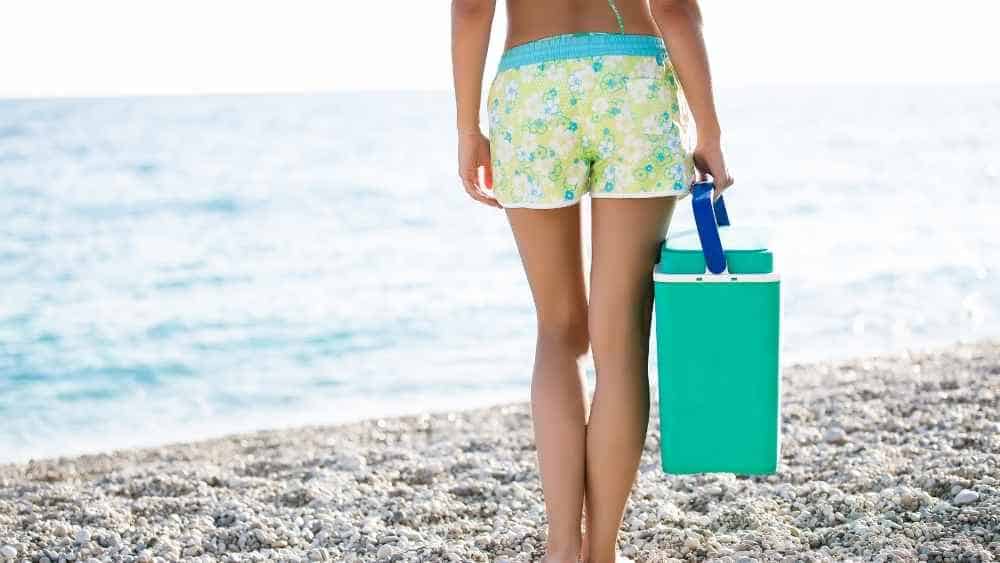 Nowadays, there are plenty of camping fridge options available on the market.
Most of them are designed as chest fridges, so they can be opened from the upper side, allowing you to easily access what you want.
Others are less popular and allow access with a door at their front, similar to classic upright refrigerators.
The vast bulk of camping fridges are 2-way compressor units that utilize a compressor to cool their inside, similar to the refrigerators we have in our houses.
Another option is a 3-way fridge (also known as an absorption fridge), that can run on three distinct types of energy.
How Can I Charge My Portable Fridge?
Camping fridges must be powered in order to function.
A 2-way compressor fridge that can operate on either 240 Volt mains electricity or a 12/24 Volt power supply is probably the most popular type of camping fridge.
These types of fridges are generally extremely efficient, drawing no more than 100 W of energy.
3-way absorption portable fridges can be powered by 240V, 12/24V, or a gas bottle.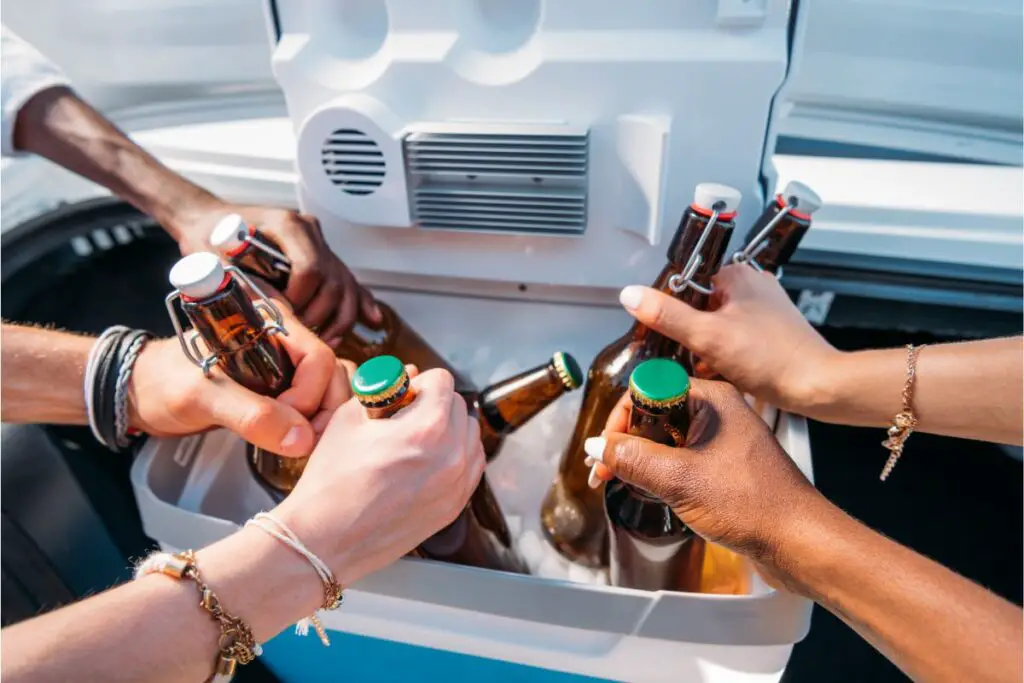 While 3-way portable fridges can still be purchased, the upright fridges you can fix into the kitchen of your travel trailer are way more popular.
These camping fridges are very effective when powered by gas, but not as reliable when powered by 12/24V as 2-way fridges.
On the whole, the most popular method of powering a camping fridge is through a 12/24V supplier from the camping or auxiliary batteries.
This is particularly true in the case of free camping and whenever mains power seems to be unavailable.
Campers can start charging their batteries while driving, with solar energy, or with a generator and battery charger.
It really is pleasant to be sleeping in a tent in a quiet area, entirely independent in terms of power so that you can effectively keep your camping fridge operating!
What Dimensions Should My Camping Fridge Have?
Camping fridge dimensions are characterized in liter form, just like regular fridges.
Their starting point is at approximately 10 liters, and they can reach up to 110-liter models! Upright fridges in your vehicle can be even bigger.
The key is to avoid buying a refrigerator that is way larger than you require, as you will probably be wasting energy on unused fridge space.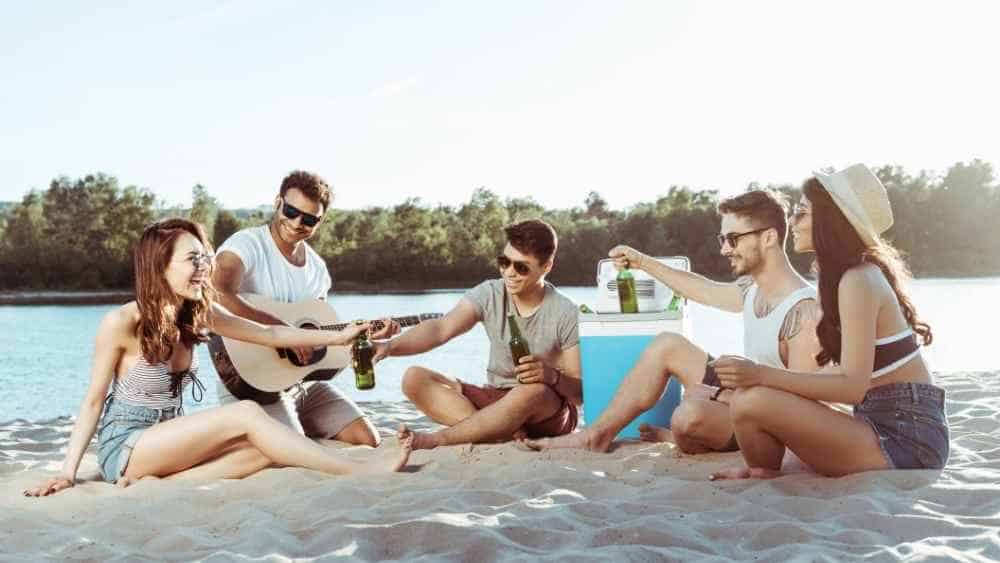 The smartest approach to choosing the right camping fridge size is to consider what you'll be using it for on a frequent basis.
Are you going to be using it to chill a six-pack of beers, or will you use it daily to keep the food and drinks cold for your kids and yourself when camping?
How Long Will My Camping Fridge Last?
Again, it is dependent on what you purchase and the way you maintain it.
Most refrigerator producers provide two- or three-year warranties, while others, such as the Dometic CFX3 camping fridge we have included in our list, provide a warranty of five years.
If durability is essential for you, we suggest going with a quality brand like Dometic, Engel, and myCOOLMAN, as all these companies back their refrigerators with decent warranty coverage and, more notably, have nationwide service representatives assistance and spare parts channels.
Which Are The Top Brands That Sell Camping Fridges?
We've got some amazing news on this matter.
Most of the camping fridge brands sell units of premium quality, so you can be confident that no matter which fridge you buy, you will get a value for money result.
It is up to you to decide what brand suits you best, based on what matters the most to you when it comes to the features each camping fridge has.
Are you looking for a camping fridge with all the bells and whistles?
Or is it more of a value for money issue? Answering these questions can help you figure out which camping fridge is the best for you.
As for the options available, this article has the top ones available in Australia.
Frequently Asked Questions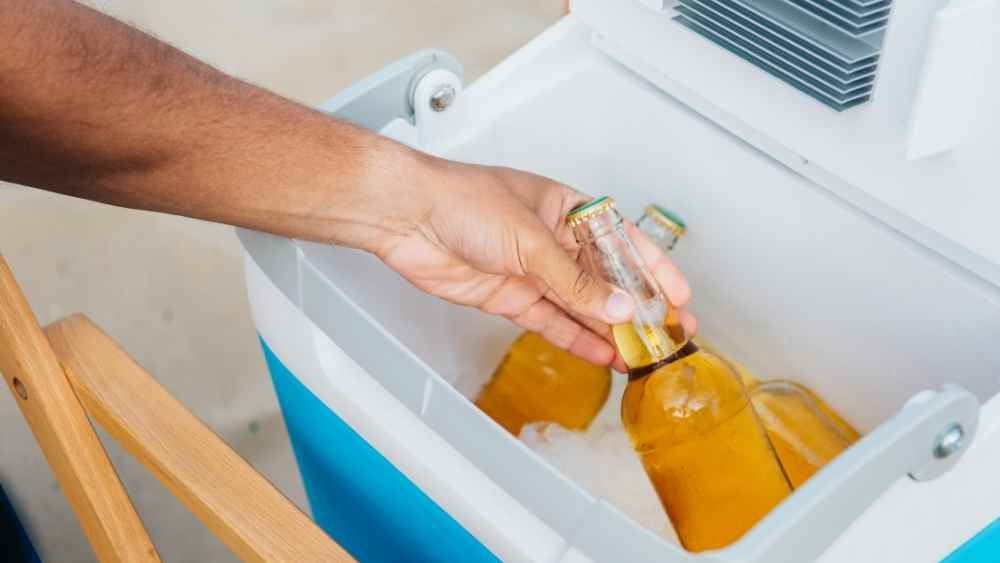 What Camping Fridges Are Made In Australia?
EvaKool's first model, the Infinity Fibreglass Fridge/Freezer was alone in the list of Australian-made portable fridges.
In 2021, however, that changed, with ranges like the popular Down Under, Tourer, and Platinum – among others – being now produced by the EvaKool brand in their Queensland headquarters.
Can I Use A Normal Fridge For Camping?
While a conventional fridge can be used for camping, it depends on personal individual taste, aesthetic, and desire. You could certainly carry a classic fridge if your car has enough room to fit it in, but that does not mean that that's the best idea.
A kitchen fridge, even a mini-fridge, way more that camping fridges and their cooling system takes up more space. Since they were designed for home use, they are not the ideal option for a camping trip.
Is Engel Australian Made?
In case you were wondering where the Engel and Dometic fridge/freezers were manufactured, let us tell you that both of them are made in Asia.
Engel, in particular, is equipped with a Sawafuji motor from Japan, while the fridges are made in Thailand. Dometic fridge/freezers, on the other hand, are manufactured in China but use a European – German, to be precise – compressor.