California is one of those U.S. states that have breathtakingly beautiful and varied sceneries, biodiversity, and practically infinite wilderness areas that are accessible to all.
Therefore, it is more than obvious that campers from all corners of the U.S. and the world would want to go to California for some backcountry camping.
If you are one of them, keep reading below for the best camping spots in California!
Where In California Can I Go Backcountry Camping?
In general, camping is allowed on BLM and USFS territories in the state of California.
There seem to be certain discrepancies to that, but you can consider backcountry camping as legal on BLM land or in any of the California National Forest lands, except for those where it is clearly stated as illegal.
United States Forest Service, aka USFS
The US Forest Service handles 18 National Forests in the state, in addition to two more along the California-Oregon borders.
In fact, California is the state with the most national forests, making it ideal for anyone interested in backcountry camping.
Except for Angeles National Forest, the rest of the National Forests in the USFS control are accessible for campers.
Bureau Of Land Management, aka BLM
The BLM is the second major public landowner in the state of California that permits camping along with USFS.
BLM territory in Cali has a lot of isolated campgrounds, and thus you should always keep it in mind when searching for your next camping spot.
There are many great BLM campgrounds on the south side of California, especially closer to Joshua Tree and Death Valley, in addition to several others that are on the north side of the state.
However, you should be aware of the fact that the BLM territory is generally more difficult to pinpoint as to whether or not it is accessible for campers and whether or not you are actually allowed to set up your tent there.
Therefore, make sure to contact the appropriate district office before planning your camping trip.
Backcountry Camping Spots In California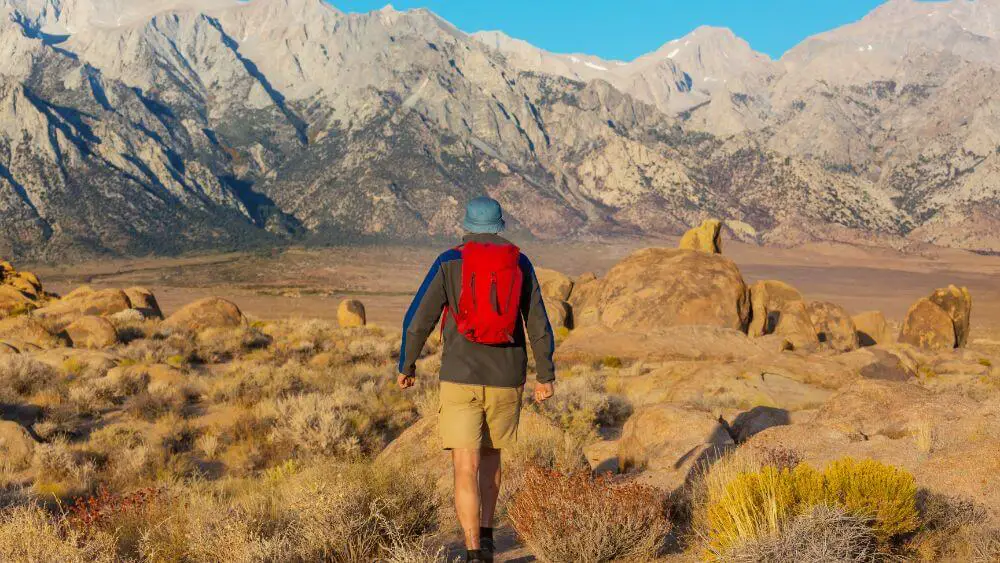 1. Alabama Hills
The Alabama Hills National Scenic Area continues to be among the top locations in California for backcountry camping.
Even though the latest changes to the rules limit camping only to specific camping locations ("No Camping" signs are now plentiful throughout several places where backcountry camping was once permitted), you can still set up your tent there.
Most Importantly – An open backcountry camping permit is now necessary. This isn't a permit in the fashion of a booking. Rather, it is more of an instructional permit comparable to those for California's campfire permits.
These initiatives are aimed at assisting in reducing human impact on the site.
However, this latest 'inconvenience' is nothing when compared to the beauty of this desert scenery that emerges between the huge rocket formations.
Obtaining a permit to enjoy the breathtaking views of Sierra Nevada, along with Mt. Whitney? That sounds like no issue at all!
2. Painted Canyon
Painted Canyon is many people's favorite place for camping near the Joshua Tree National Park.
You only need half an hour from there to get to Joshua Tree's south entrance, which is approximately an hour's drive from Palm Springs.
The Salton Sea is also located nearby if you want an extra stop for your itinerary.
Painted Canyon is known for its massive canyon walls, which look their best the time the sun rises and sets.
There is ample space in this area, and even more so when you are willing to face the depths of the sand.
The majority of campers appear to pitch their tents closer to the Painted Canyon Trailhead.
There seem to be, nevertheless, numerous scattered campgrounds across the Painted Canyon main road, as well as the side one before you, to get to the point at which the trail begins.
3. Usal Beach
Usal Beach offers some of the best camping spots on the Lost Coast.
These lovely seaside camping areas can be found inside the Sinkyone Wilderness State Park.
The lengthy, country lane to Usal Beach begins with a left turn off Highway 1 roughly 15 miles south of Leggett, and onto Usal Road.
After a 6-mile dirt road with many slope parts, numerous extremely narrow curves, and a few terrifying drop-offs, you will find yourself in this beachy paradise.
There is lots of space to camp when you arrive at the seafront.
There are randomly placed picnic tables and fire rings, but you could even set up your tent further away from them.
Some of the best places are hidden in the woods, closer to the river.
4. Prewitt Ridge
Prewitt Ridge is amongst the most beautiful camping settings in Cali.
It offers a big camping area, tucked away higher in the coastal cliffs over Big Sur, so you can enjoy the amazing views of the California shore and the great big ocean.
To get to these picturesque campgrounds, however, you need to first travel through the Nacimiento-Fergusson Road and the suspenseful Coast Ridge Trail, a very bumpy and sharply sloped route with many sharp turns and big sprawls of loose dirt.
Plan enough time for the journey, and refrain from trying it if the path is wet after a long rainy day or is full of mud.
Same as the rest of the camping areas in Big Sur, Prewitt Ridge, is a destination lots of people prefer right now.
Even in the dead of winter, it can be crowded, particularly during the weekends.
The Bottom Line
California is certainly known for its beaches, but its backcountry camping opportunities are otherworldly.
This article gave you only a taste of what the state offers, so head to the BLM and USFS websites to explore the rest of the places you can visit and camp in.